Best Bulk Email Service in 2023: Several companies provide a platform to let you link your company to a large-scale new audience and potential clients by sending them email messages in quantity.
Using these services, you can ensure to deliver your emails into the inbox. Consequently, not just the repeat visit rate increase, but also proves to be a tremendous method of successful branding. In contrast to most email marketing platforms, these tools are pretty cheap.
We've handpicked a superb list of the Best Bulk Email Services free in 2023, and we highly believe that you can skyrocket your business using these! Our list comprises the list contains both commercial(paid) and open source(free) software, and we've ensured that the paid ones are entirely worth money.
But wait!
These email bulk services will bring no good to you if you don't have a Reliable Email Verification service! No worries, there's a magical Email verifier tool for you!
Articles worth your interest:
Best Bulk Email Service in 2023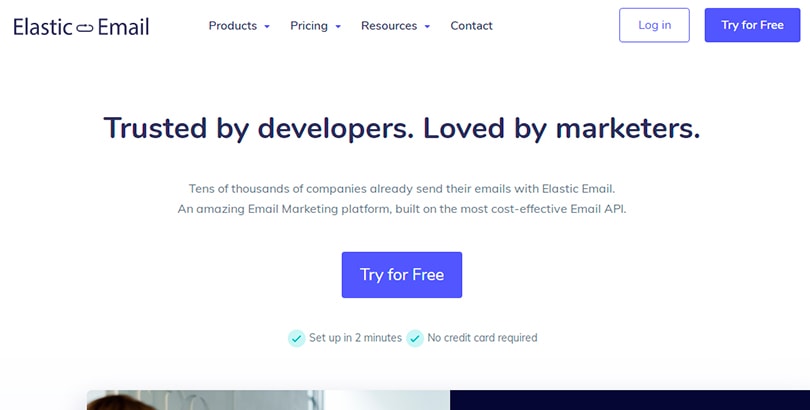 Here comes Elastic Email in the first position in our best bulk email service review. It is a successful, amazing Email Marketing platform, and it's built on a very cost-effective Email API. You can build tremendous relationships with your recipients with all campaigns you send.
It runs on a modern algorithm that helps you recognize invalid emails, and it also avoids duplicate addresses automatically. With Elastic Email, you enjoy all the marketing tools you require for making your contacts feel connected. It ensures great Deliverability, scalability, and reliability.
You can conveniently join by sending your email via their SMTP or HTTP API relay and scale to over 100 million emails per month on their ultra-fast global infrastructure. Isn't that surprising? You can create an account and get an API Key.
Just complete the setup (which takes less than 3 minutes with their standard SMTP configuration) or use our API to fully integrate their tools into your app or website. Undoubtedly, you enjoy control over your integrations and highly secure your sending processes through their multiple API key option and specific Access Levels.
It permits the template's quick modification with its convenient drag and drops editor.

Elastic Email tool brings you detailed statistics.

It permits easy connection through HTTP API.

A/X testing is possible to discover what works and what doesn't.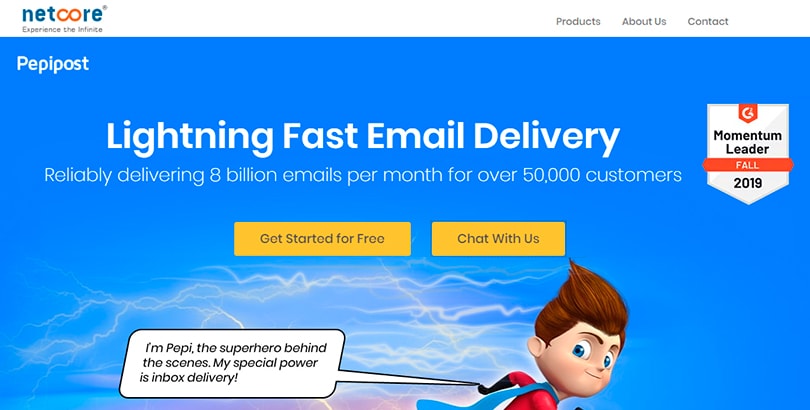 Pepipost is a very popular transactional email delivery service based on the cloud that helps businesses send their crucial emails such as notifications, updates, newsletters, etc. the majority of the users love Pepipost because it focuses just on the things that matter: pricing, deliverability, and easy to understand analytics.
This highly scalable platform is efficient at delivering billions of emails each hour with highly impressive inbox rates. Disruptive pricing model and Easy integration make Pepipost the perfect email delivery partner for industry bigwigs as well as burgeoning startups.
You can select choose between HTTP API or SMTP. Pepipost is the most praised Transactional Email Software for startups and Small businesses. You get 5 plans here – Starter, Basic, Growth, Scale, and Enterprise. In all the plans, it sends emails in the inbox is nothing more than 3 seconds. Because of Pepipost's fantastic performance, it conquered the second position in our best bulk email service review.

24/7 live chat support, which is appreciable. 

You enjoy an immediate report of the email delivery's health.

Ensures email safety (with VAPT) 

You can save the tracking history for up to 90 days.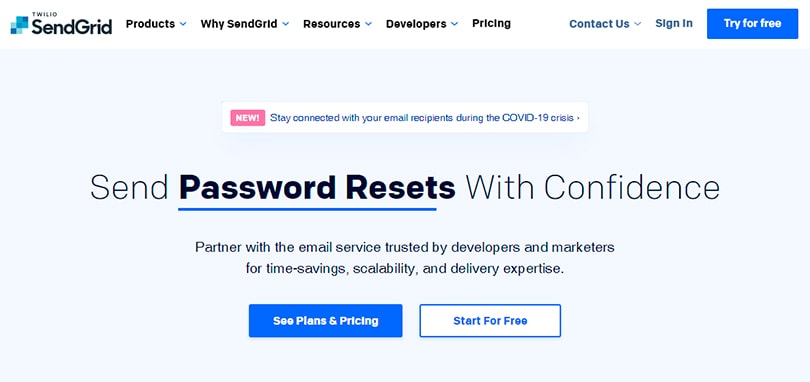 SendGrid is a highly appreciable cloud-based email marketing tool which is perfectly assisting developers and marketers with audience engagement and campaign management. A/B testing, predefined templates, image library, mailing list management, and reporting come in Its key features.
The application arrives with a convenient editing tool, enabling users to create highly responsive add fields and email templates. The campaign management feature permits marketing teams segment contacts, which are based on customer data and engagement metrics.
Besides that, the system includes compliance and ISP outreach and domain authentication to optimize email delivery. SendGrid arrives with SMTP and web API and links with cloud-based email service providers. You get that on a monthly subscription, and you get email and phone support. 
The tool permits the non-technical clients to conveniently and peacefully send bulk newsletters by providing the drag-and-drop facility.

Its Webhook option notifies spam reports, bounces, and unsubscribes.

The Comma-Separated Values file feature is there to add contacts.

You can manage recipients, testing, scheduling, and content from one platform.

You enjoy actionable real-time analytics.

Highly suitable and free bulk email service.

This software permits you to easily collaborate with other people.

You can send emails securely via dedicated IPs and custom domains.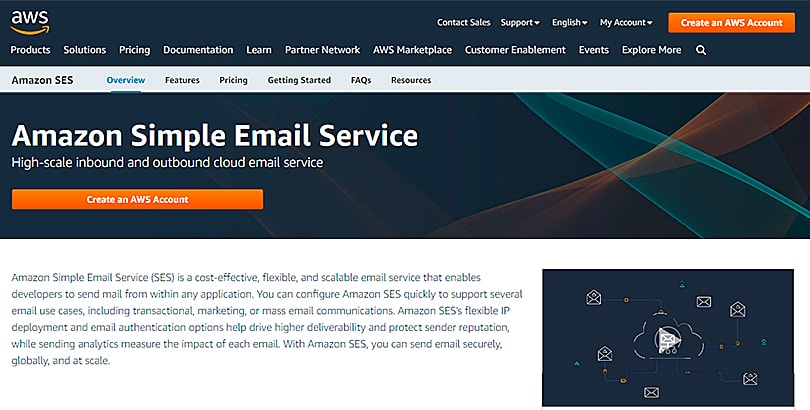 The Amazon Simple Email Service is an essential part of the Amazon Web Services (AWS) that is Amazon's subsidiary of (parent company), which offers on-demand platforms of cloud computing. The platform was launched in 2002. However, it was after 4 years redesigned & relaunched in 2006.
The Amazon Simple Email Service was first introduced about 5 years later, in 2011, as a new and effective way of sending huge bulks of emails in no time. In case your organization deals with email marketing in any form, or in case your business just has a very busy B2B communication, which needs bulk and transactional emails every day, then this simple bulk email service will be highly suitable for you.
TIt's considered among the best yet effective transactional email sending services in today's market. Thus, the end goal is that all your emails will go directly into the inbox rather than the spam folder. Sending any number of emails to any number of receivers is possible without worrying about the blockage of the email servers or storage space.
Amazon Simple Email Service allows you to monitor numerous sent & delivered messages.

Sending highly personalized messages to your consumers is possible.

You can accept/reject mail according to the sender's domain, IP address, or email address.

This tool comes with a dashboard, which helps you in tracking issues that can impact your delivery of emails.

Integrating this tool with other AWS services, incorporating AWS IAM is possible.

It offers numerous ways of sending emails, for example, SES API, SMTP, and console.

Amazon SES allows its users to keep track of the sent and delivered emails.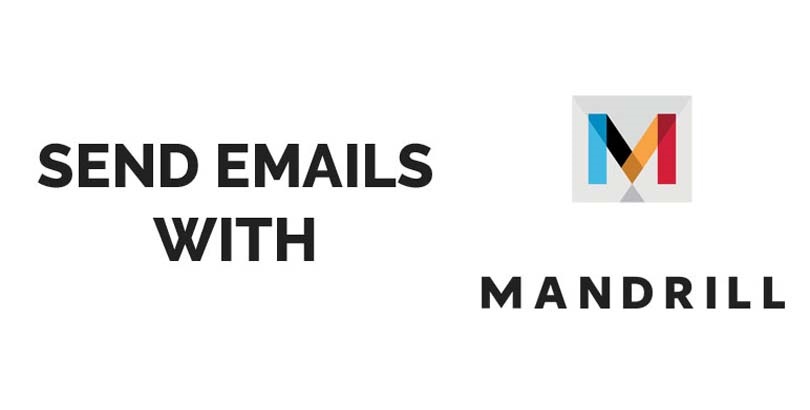 The interface of Mandrill is simple to navigate & very intuitive. Also, domain masking is very easy to set-up, and the process of verification is fast in this app. Mandrill is great for platforms searching for a third-party app to take care of all email communication.
The app is capable of handling an incredibly large number of emails and sends out those emails in no time. Undoubtedly, It does take some training to know about the platform entirely, so in case you're a smaller company, searching for an email marketing tool, which is simple yet effective, then you'd most likely need to use Mailchimp that owns Mandrill.
You can connect emails' info with your CRM (Customer Relationship Management) or even with your database.

Generating reports based on numerous criteria is possible here.

The tool enables you to add more than one dedicated IP address.

Sending more than one email with a single mandrill account is possible in this tool.

Mandrill allows its users to send emails with existing CSS & HTML.

The customized email tracking options are offered with this tool.

Mandrill automatically tags emails relying on the sender & template.
A necessary halt!
Hey, have you not picked a bulk Email service yet? No worries, there are 16 more to come! We'd love to remind you, A bulk email service will prove to be nearly worthless if you're not concentrating on verifying your emial lists. Our tool costs just $1.55 for 500 credits! pricing and features will win your heart!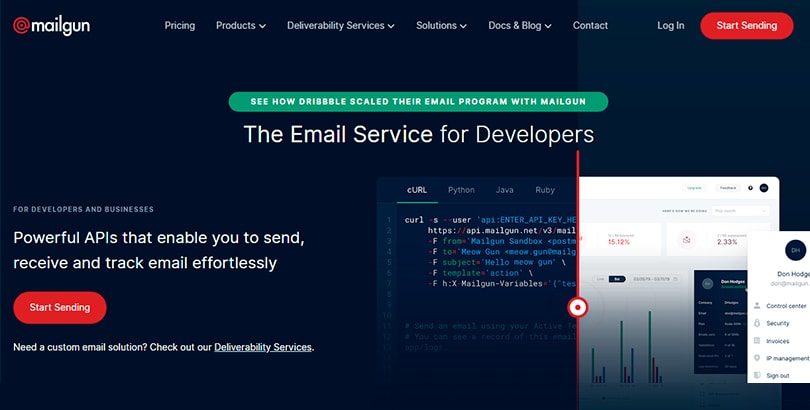 For getting a great user experience with Mailgun is to install it with reputable platforms, which make sure the least appearance of issues and errors, and that also upgrades the lack of good sales intelligence. With Mailgun, you can know exactly what is happening within the chains of your email.
Email chains are also known as "strings," as there are numerous emails sent simultaneously. However, in reality, with Mailgun going further and customizing is possible with some of the emails depending on the customer list type that you are using.
That means shipping campaigns can be made to the information and different lists and can be separated by patterns, which you decide, so the control you'll be having on the entire marketing process will be extensive. Mialgun is among the best bulk email software.

Mailgun assists you to send transactional and bulk email effortlessly.

It offers real-time email validation API (Application Programming Interface)for securing your web forms.

Mailgun automatically parses incoming emails to understandable information.

The platform provides advanced email analytics.

Mailgun gives you flexibility by constructing strategies according to your requirements.

SMTP (Simple Mail Transfer Protocol) can be integrated easily with this tool.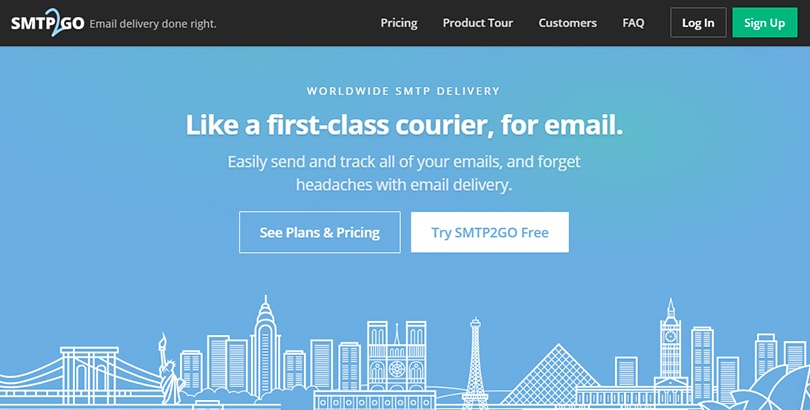 SMTP2GO is a fast yet reliable free bulk email service provider, which numerous marketers, developers, and travelers prefer to send a huge amount of emails from remote areas around the world and keep an eye on the deliverability of such emails.
The famous email management software that is using the SMTP protocol to forward emails over the internet has a goal to help organizations and professionals save both their time and money by managing the technical components of email delivery.
With SMTP2GO, clients can send any sort of emails, no matter whether they are forwarding transactional emails from their app, or usual emails from Outlook, or marketing emails, which are having a built-in unsubscribe link.
SMTP2GO also enables the outgoing emails' authentication to assist users to verify to their clients and customers that they are the ones in reality, which are sending their emails. 1,000 emails are the initial sending quota for all fresh accounts.
The robust testing enables its users to test the emails against spam filters.

SMTP2GO offers visual reports on every bounced and spam emails that are sent.

With the help of SMTP2GO, sending marketing, transactional and promotional emails is effortless.

Constructs as well as maintains valid DKIM & SPF records for the domain of your site.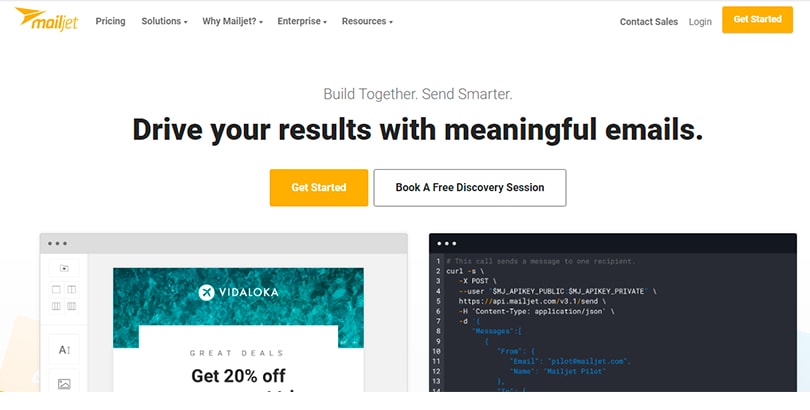 Founded in 2010 in France, Mailjet is among the most used by thousands of organizations for sending their email campaigns & transactional email. In recent years, Mailjet has also added a feature called "multi-user collaboration," which permits both marketers and developers to work together live on a similar email.
Not only collaboration, setting up automation, SMSs, and transactional email is all can be done effortlessly with Mailjet. It supports a bunch of integrations, and there is a handy subscription widget editor, which permits you to build and embed an opt-in form on your site.
Mailjet has a really solid offering, especially considering that it's among the most affordable newsletter software suppliers on the market – it also arrives with a cool collaboration feature that's not available to other email provider software. This software is great and grabbed the 9th position in our best bulk email services review.

The software's contact management is really useful for mass email services.

Integrating it with the existing server configuration is possible.

Mailjet has an intuitive drag-and-drop editor that you can use for absolutely free.

It helps in converting the company's data into segmentation.

Comprehensive documentation is provided, in which all important info is available.

The template system this software has is user-friendly with an intuitive layout designer, which rapidly builds automated emails. 

This tool offers analytics to track your results as well as optimize performance.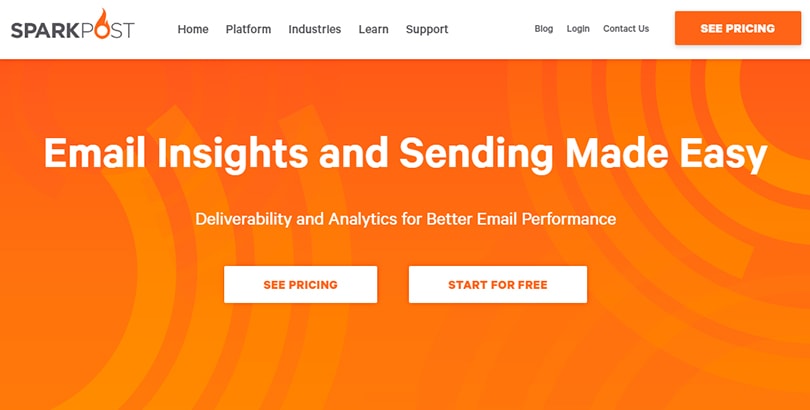 SparkPost is an amazing platform for email delivery that helps all kinds of businesses predict and track email bounce rates, spam traps, and ISP responses in real-time. The competitive tracker of SparkPost permits companies to benchmark & compare subject lines, customer segmentation, engagement metrics, and email frequencies with the help of key business competitors.
The inbox tracker allows marketers to build and send emails using numerous ways, incorporating subject line prediction, brand impersonation protection, and blacklist monitoring. Additionally, administrators will be able to configure two-factor authentication & SSL encryption to offer protected user experience, also maintaining compliance by General Data Protection Regulation (GDPR) rules and regulations.
It allows financial institutions to upload lists of email recipients and validate email addresses of customers, which helps in reducing email bounce rates, frauds, and errors.
The app comes with client libraries, supporting numerous languages, for example, nodejs, ruby, go, elixir, python, php, and java.

SparkPost offers an SMTP cloud server, which can be used for sending emails.

Create custom-designed as well as personalized emails via multiple email templates.

This app has one dashboard, which provides you detailed logs & statistics related to your emails' activity.

Attaching a file of a maximum of 50 MB is possible.

Sparkpost offers unlimited bandwidth.

You'll enjoy support through telephone & Skype.

Track email campaign summary, delayed, bounced, rejected, emails, etc. via the convenient dashboard of this SMTP service.

Here, the facilities of Email API & integration are provided.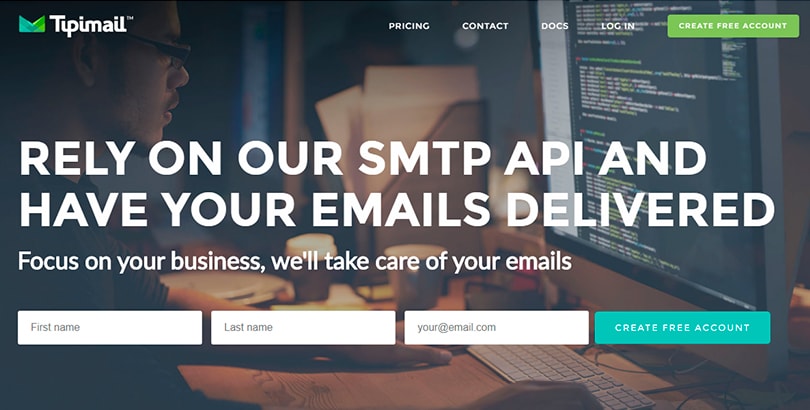 Tipimail is the solution for helping you send your emails for which they make it to the inbox of your recipients quickly and easily. Integrating Tipimail SMTP API is too easy, and using it with any system, app, or website is possible.
Tipimail makes sure you have the right deliverability possible thanks to their team's expertise and the smart, proprietary technology they provide. The parent company of Tipimail specializes in routing emails & delivers more than 10 million of them every year. 
Tipimail will send you real-time warnings every time in case there are some errors with any emails you sent. No matter whether you are a marketer willing to follow-up utilizing their dashboards or a developer who needs to integrate their tools in the process of your developments, Tipimail is great for you.
Tipimail is among the

best bulk email software

and provides real-time warming in case there are any errors with sent emails.
It permits you to track emails in real-time and is a great

mass email service

.

Integrating API is easily possible and can be used with any system, for example, a website or app.

This tool is specially built using proprietary technology, which helps you to deliver email quickly.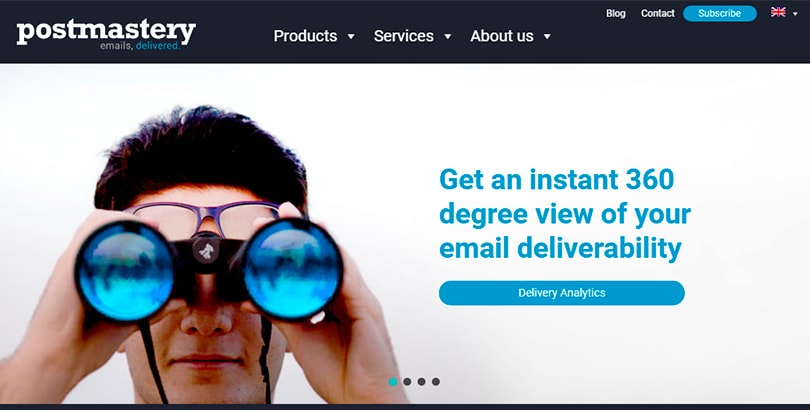 Postmastery is a great free bulk email service provider and assists valid email senders to be known as trustworthy senders for making sure email delivery to inboxes. This tool is actually based in Amsterdam, Netherlands. However, its sister company, DeliverNow, is completely based in Paris.
 Postmastery provides deliverability consulting for optimizing infrastructure, inbox placement, and configuration. The Delivery Analytics of Postmastery helps senders to upgrade deliverability, sender reputation as well as the performance of transactional and marketing emails. 
By analyzing all the email delivery (SMTP/ log data), reputation data, and blacklist data, it's Delivery Analytics that will point out delivery issues, for which you can prevent any serious problems in the future after fixing them. Maarten Oelering leads this organization, and Jérôme Gays and Willem Stam help them too. They have been in this email industry for 20 years.
Postmastery will help in increasing email delivery.

This tool offers a report from internal & external data sources.

Adding eye-catching forms in your email is possible with this tool.

You will be able to detect anomalies, find error actors, and take corrective actions with the help of Postmastery.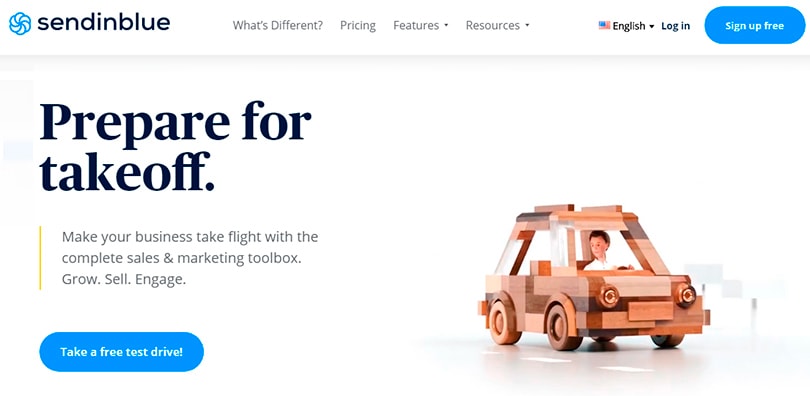 Sendinblue is typically a SaaS solution for relationship marketing. Armand Thiberge and Kapil Sharma founded the company "Sendinblue" in 2012. A cloud-based marketing communication software suite is what this company provides with marketing automation, customer relationship management, email marketing, transactional email, landing pages, SMS marketing, Facebook ads, retargeting ads, etc. 
As of April 2023, the Sendinblue reported a community of more than 80,000 users over 160 countries and sent more than 1 billion emails every day. The product also provides an email editor that has customizable email as well as landing page templates. 
Also, a database segmentation engine is there to segment contacts into lists for marketing campaigns. The analytics dashboards they offer are highly useful to track the progress of your email marketing campaigns. There are six types of languages offered by this service, including English, Spanish, Portuguese, French, German, and Italian.
SendinBlue provides a free package, which allows you to send approx 300 emails every day for an unlimited amount of contacts, and you can also eliminate this daily limit for as little as £5 per month.
SendinBlue also has expanded into marketing automation over the past few years, and you'll be getting unlimited automation workflows for about 2,000 contacts utilizing the Lite, Free and Essential version of this platform.
It permits you to construct your own custom landing pages.

Launching Facebook Sendinblue is possible here by adding from the Sendinblue account.

It offers well-detailed statistics of your mails.

Sendinblue helps you to automate the marketing messages.

The service hosts an eye-catching templates gallery.

Sendinblue permits its users to connect multiple plugins, for example, WordPress & Magento.

The tool arrives with Drag and Drop Builder.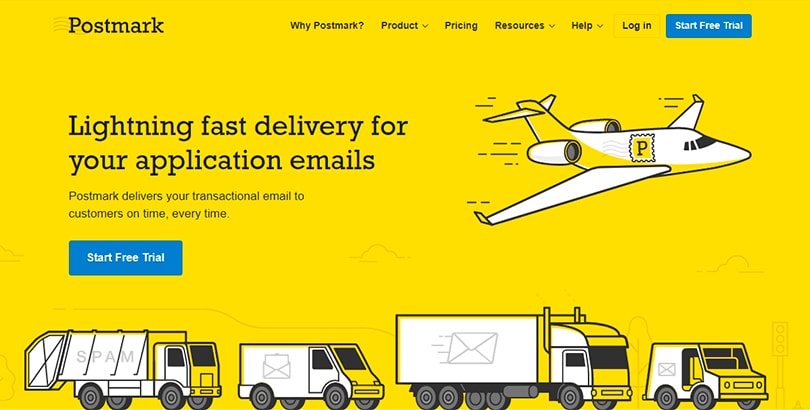 Postmark can be really helpful in your organization. The program of this software not only helps you find emails but also verifies that messages have been processed as well as delivered successfully or not.
Additionally, you will be able to confirm the ' mails contents that have been sent out, giving proof to your clients of your communications to them. Postmark is highly suitable for those who require a simple and diverse solution for quick email delivery. 
This could be something from the real basic requirement to execute email, to the robust monitoring capabilities of emails opened, tap tracking & link tracking. This is highly important in case your customer is not receiving password reset emails and is making demands to your support team. 
It provides API for sending emails.

This tool delivers emails via SMTP.

You get notifications for essential messages and events.

Postmark uses API/SMTP interface to deliver emails.

The integration of user email replies into your application is possible.

It uses 2FA (two-factor authentication) for better high security of data.

It hosts responsive and compatible email templates.

Handles IP reputation, feedback loops, reverse DNS, blacklists, and every single other low-level protocol for you.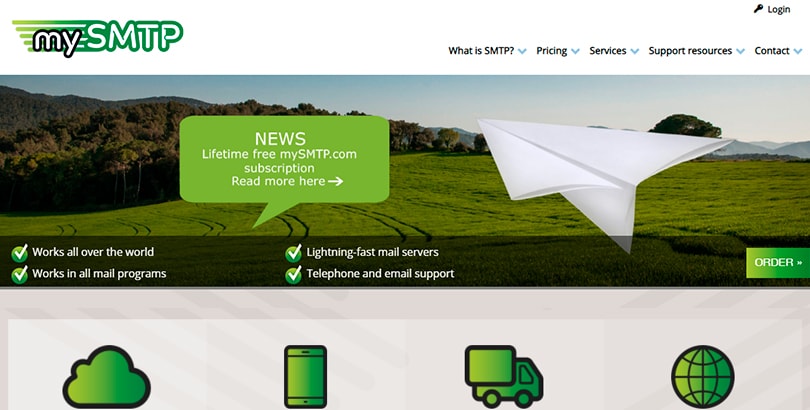 mySMTP is an awesome cloud-based SMTP service, which has sent emails since 2007 globally. No matter you send 10 or 1 million emails per day, they've got the expertise to get all your emails to inboxes. They use industry standards, including DKIM, DMARC, and SPF, to certify all your outgoing emails. 
With mySMTP, you enjoy an outgoing SMTP server that's highly efficient and always works, n matter which network you use. mySMTP ensures that you have a regular coverage service regardless of any Internet connection and max speed through their high-performance cloud servers.
 In case you're tested mySMTP free of charge and looking forward to continuing with a paid subscription, just log into your account at the www.mysmtp.com home page.
It uses industry standards, including SPF and DKIM(Domain Keys Identified Mail), to certify outgoing emails.

It provides highly dependable SMTP cloud servers to send the email.

You can send emails from laptops, tablets, or telephones.

This tool helps in avoiding blacklisting.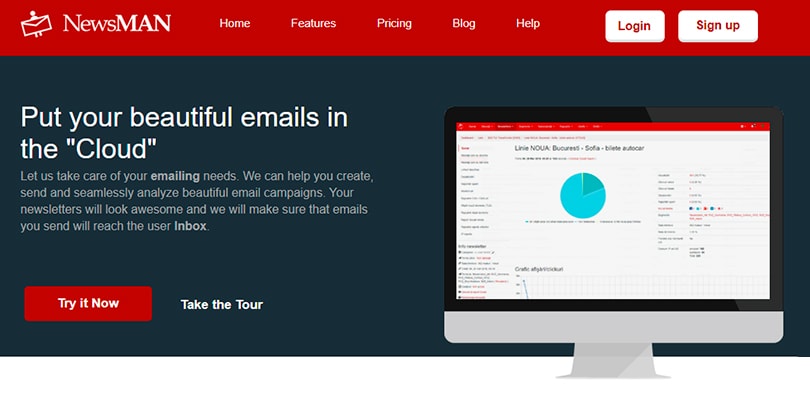 Newsman is usable in creating and managing huge lists by uploading excel or CSV files. You enjoy a range of professional-looking and highly attractive email templates. 
You're free to create the desired number of lists or import your existing lists by simply uploading CSV or Excel files. Once you create, you can segment your lists to meet your targeting requirements.
Their designers work for you without charging anything. Most importantly, they constantly update their database with attractive looking and well-tested templates. You can customize one template in a few easy steps.    
With their new newsletter, editor/builder creating a 100% responsive newsletter is extremely fast. Besides that, you also get a massive stock image gallery that you're free to use. Newsman permits you to create automation, such as the like drip campaigns, birthday reminders, follow up email, or auto segmentation, depending on your newsletter actions.          
Newsman includes an editor to create highly responsive email newsletters.

You can create automation, such as follow-up emails, birthday reminders, and more.

It permits the addition of dynamic subscription forms.

This tool offers ultra-rapid integration with SMTP or API.

You get fully- detailed email reports.
A crucial halt!
We're sure you have somewhat made your mind till now, but have you cherished our Email verification tool, which is leading the industry right now regarding accuracy? You shouldn't skip this!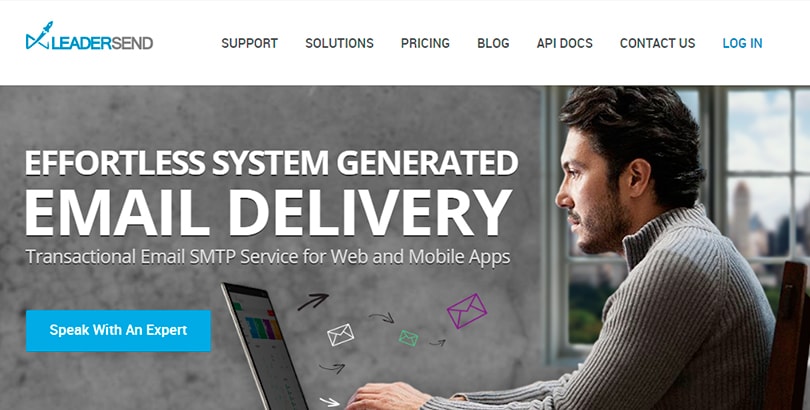 In case you're looking for a mass email service, then LeaderSend permits you to deliver transactional messaging is a fast manner. This tool is useful at creating, sending, and tracking personalized emails. The sorts of messages you can send are shopping-cart receipts, shipment tracking, personalized notifications, welcome message, payment confirmation, password reminder, etc. 
You enjoy all the info required to make decisions – open and click tracking. User-agent/unsubscribe tracking, and message tagging is available. You can send emails via SMTP and WEB API. Easy 5-minute integration and deployment cause no fuss at all. 
Log in to get API docs, and take full command over the emails with HTML content templates. Full marks to the customer support and tracking reports.
You get HTML email generating templates.

This software permits sending messages like shipment tracking, payment confirmation, welcome, and more.

You can send emails via SMTP and WEB API.

It provides real-time mouse click tracking reports.

Tremendous 24/7 customer support backs you.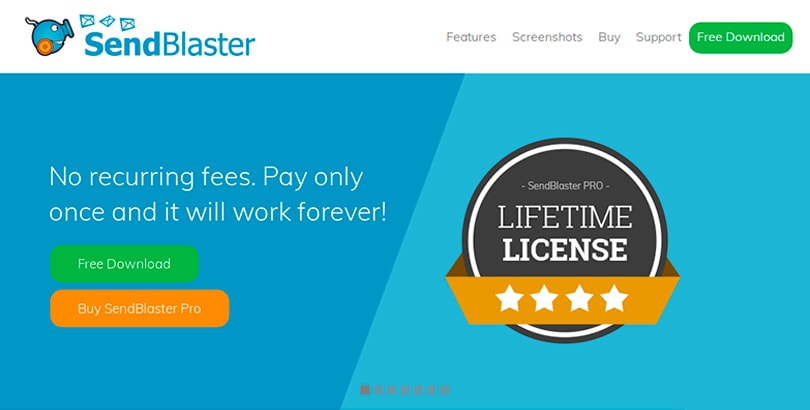 SendBlaster is among the best bulk email software to take care of all mailing lists and set up email marketing campaigns in some steps. this tool blends into one item the practicality of a mass email software along with a bulk email web service's flexibility. 
Also, you can create newsletters as well as manage lists directly on your pc. However, you can get an email tracking service to manage to report and increase your email campaigns.
Email marketing is mostly based on a trusted relationship between you and your customers, so SendBlaster bulk mailer will assist you in making it effective. With their mass mailing software, composing beautiful emails will be very easy that'll convert & create real profit.
It permits you to select the structure of email, footer, add header, or side columns.

Integrating it with the MailStyler newsletter design software product is possible.

This tool offers an advanced data filter for sorting your list.

It enables you to import .eml (E-mail)/.htm files.

Personalizing emails for each subscriber is possible with this tool.

You can add calendar events as well to email.

Filters can be applied to images.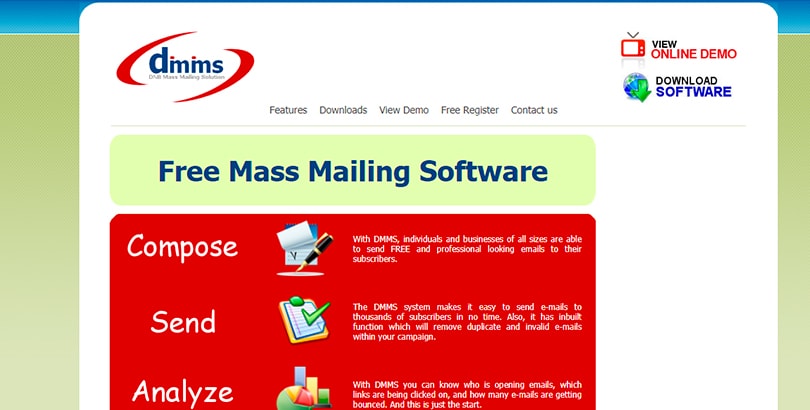 The DNB Mass mailing Solution (DMMS) creates it easy for people and organizations both huge & small to send FREE and professional-level looking emails to their subscribers. Sending emails to your subscribers with great methods will be totally effortless in case your emails aren't tidy professional-level looking. With this tool's inbuilt function, removing duplicate and invalid emails is possible within your campaign. 
Whether your emails are getting opened or not, you can see that too, which links are getting clicked on, and what quantity of emails are being bounced, everything you'll be able to see. This tool assists you to send a survey, informative newsletter, or a marketing message. 
This DNB mass mailing solution supports numerous attachments and offers you the best way of sending more details in comparison to just an email. Every DMMS email account will be capable of scheduling numerous campaigns at the same time. Thus, scheduling a campaign in advance will be possible.
Dnbmass Mailing solutions automatically eliminates invalid emails.

This tool supports numerous attachments to emails and is a great

mass email service

.

Copying & pasting content from other numerous apps such as MS Word, notepad, Excel, etc. is possible.

This tool can schedule numerous campaigns at the same time.

Dnbmass Mailing solutions automatically backups your email.

Generating customized reports with the help of multiple parameters is possible.
With the help of G-Lock EasyMail, you get a powerful and effective, IN-HOUSE email software for email marketing that is permission-based and helps you build and deliver fantastic, personalized emails to your subscribers. You will be able to send a valid email at a valid time with dynamic content as well as flexible email scheduling, and that makes G-Lock EasyMail a great bulk email service provider.

Quickly create fully-customizable drip campaigns for every single of your requirements. EasyMail7 will not replace your existing delivery service or mail server. It offers a single, user-friendly interface, which permits you to work with numerous delivery vendors or your mail server. Optimize your deliverability with email senders that are 3rd party such as Amazon SES, Mandrill, Sendgrid, etc. 
With EasyMail7, CAN-SPAM compliance, unsubscribe & bounce management is automated. Creating and managing numerous user accounts (workplaces) on the EasyMail7 Server is possible. Every account of any user is fully isolated from others. You can also install an individual EasyMail7 Client for every one of your users in your team.
This tool permits you to manage & customize your contact records data.

It permits you to customize the design of messages.

EasyMail7 helps you to optimize as well as test emails.

Connecting directly with your CRM database is possible with this tool.

It automatically builds a backup of your important data.

It's possible to connect EasyMail7 to multiple other web applications.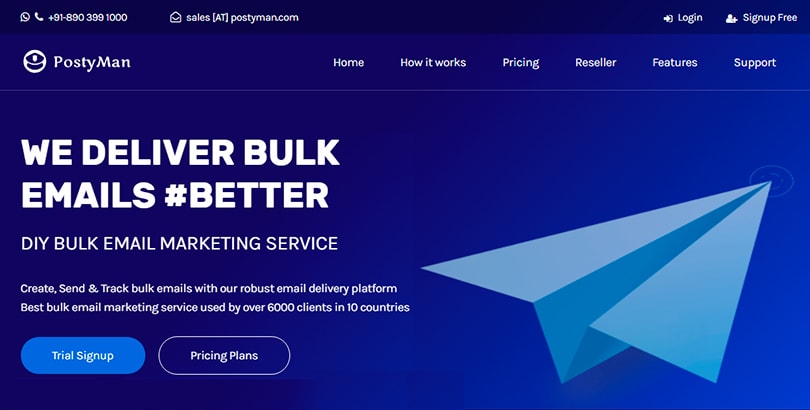 PostyMan offers bulk email service for promoting your product or service through their online bulk email marketing service. Communicating with your customers through our bulk mail service is possible, and you will achieve ROI & brand awareness as well. 
The tool offers an easy to use free bulk email service. Also, it'll be very intuitive to manage your email campaigns. You will be able to schedule newsletters or mailers to forward out to everyone, or you can only choose lists at the time & date that you choose. PostyMan is among the leading bulk email service suppliers for building and sending bulk email/marketing newsletters to your lists of mailing. 
PostyMan's bulk email tool offers email campaign tracking too with live statistics incorporating open, click rates, read, etc., that assists you in measuring ROI and refine the strategy of your business.
Postyman provides support through tickets, email, and live chat.

Scheduling sending email campaigns is possible here.

It provides live reports for email opens, links clicks, bounce, etc.

Importing your database or using website forms is possible with this tool to create an email list.

It offers an HTML email editor to construct email templates.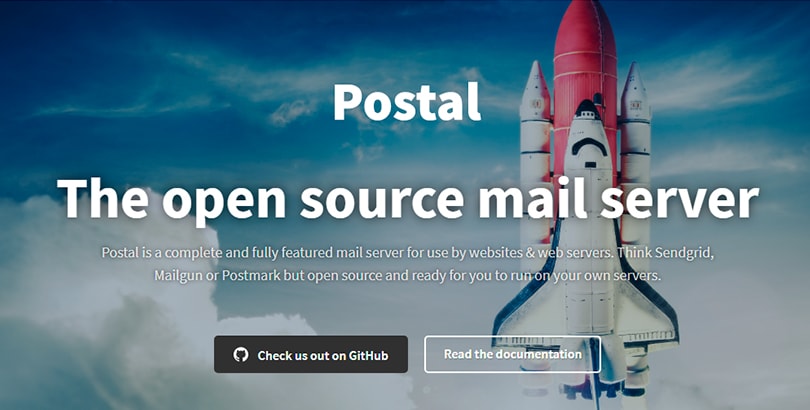 Postal is a free yet open source. Just download the source code, and you're good to run the source code on your own Linux servers. Upgrade it to meet your requirements. Scale it according to your needs. No matter whether you want to check exactly what was send or debug your app, Postal permits you to store as well as examine all messages that are sent and received. 
With the help of automated installation on Ubuntu, it's rapid and easy to get started with this tool. Configure your email system and clear documentation with simple config files. Postal offers an HTTP API for simple integration with the web applications, whereas an SMTP server is there for the integration of your existing applications & systems. 
Postal integrates with SpamAssassin as well as Amavis for easy yet effective filtering of unwanted and unsafe content. 
This application permits you to store & analyze, sent and received emails.

Downloading the source code and running it on your own Linux servers is possible with this tool.

This tool helps in filtering spam and emails that are containing a virus.

It helps you in configuring your email system with easy config files & clear documentation.
 Best Bulk Email Service in 2023: The Conclusion
Now, that way, bulk email services can brighten the way of your brand's success, and the best thing is, these services aren't costing high at all. These services are now much better than what we had int he past, and all-new features prove to be very effective.
Flexibility is also better than ever, and most importantly, with most of the services, you can perfectly track the proceedings. So, wait no more, and get your brand to heights using any of our recommended Bulk Email Services!
We hope you've grabbed one till now, but better don't move ahead without full preparation, as it's the matter of accuracy. Do send bulk emails, but if a given number out of them bounce back, your campaign (and reputation) is gone! Better to be safe than sorry! Do verify your Email list, and we're even offering the free trial for our top class email verifier tool!
That's over n out!
(Visited 704 times, 1 visits today)