10 Best Email Extractor & Grabbers in 2020: While discussing email marketing, the necessity of email extractor remains undisputed. Email extractor, besides providing you a reliable list of genuine email addresses, also saves much time/effort that you'd have used while you search for emails manually.
However, currently, the internet is full of various sorts of email extractors, we can very well understand why you're so confused about choosing the perfect extractor for your business.
Every single email extractor existing on the internet arrives with certain distinct features and pricing plans.
Here, we'll discuss the ultimate 10 email extractor chrome plugin that several internet marketers are using to accomplish their lead generation goals.
Why stay behind? Why not dominate?
Some articles of great interest: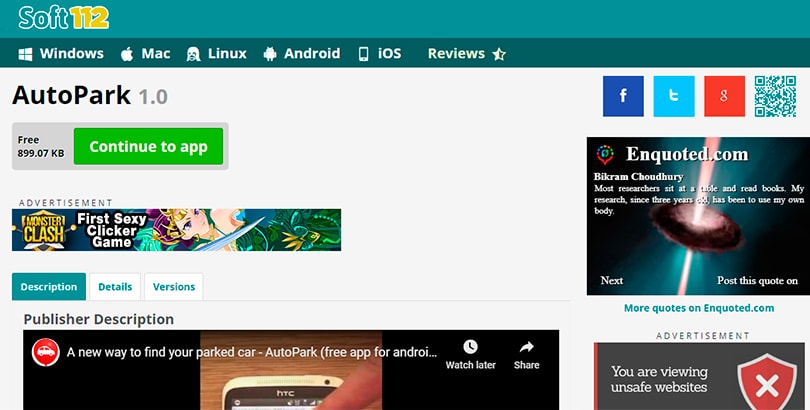 Price: $69.85 – $259 Free Trial: Available but with limited features. 
Atomic Email Hunter makes it ultimately easy by finding relevant email addresses and collecting them. "Keyword research" is among the best feature of Atomic Email Hunter. You just have to type in some keywords related to your topic, and the software begins searching for websites, which are ranked on search engines, for example, (Google & Yahoo) for those keywords.
After that, the software searches the website and extracts the email addresses after finding them. Then the software saves the addresses for future reference and utilization. However, in case you have a particular website in your mind already, where the possibility of extracting emails is a lot, simply insert the URL of that website into Atomic Email Hunter, and you're done! It'll fetch every email address effectively.
Features
Search on a website, or you can also search by keywords to extract emails

Identification of the country

Extract emails from Twitter & Facebook

Extraction of contact address from numerous email accounts

Identification of the country of the email owner
What we liked
The software can run a comprehensive search, and every single email from the particular URL that you will enter will be presented in a great nice & clean format. Moreover, for upgrading the results you get, specifying a few words that you think should be included in the search, then you can do that too. For example, adding words such as "feedback," "no-reply" will be helpful for generating all such email addresses from the end-results.
Furthermore, there are options available for exporting your freshly generated email list to numerous formats. For example, a similar email list can be saved to your desktop or can be exported to a Microsoft Excel spreadsheet/Microsoft Word file too. Adding a relevant name for all email addresses, which Atomic Email Hunter generates for you is possible.
Verdict
AutoPark Software is great for medium to large-sized businesses, which want to generate email lists from numerous sources. The price is a bit high for freelancers & small businesses. You must buy this software in case the best free email extractor, which can generate a huge amount of emails from multiple sources.
Atomic's software is undoubtedly easy to use and is exceptionally highly-supported by its website, where comprehensive information is provided for installing as well as configuring their software to your unique requirements.
Furthermore, their everyday 24/7 live chat website facility is managed by their team of professionals that offer prompt, accurate, and concise responses to both product-based and technical related queries.
In case you need a free bulk email extractor with great email facilities as well as a huge suite of support software, which is affordable, well supported, easy to use, and has all the built-in resources for making sure the ultimate possible delivery rate, then we highly recommend Atomic's software products according to our comprehensive research. Get this amazing free email extractor from website now!

Best free email extractor Expert score: 9.6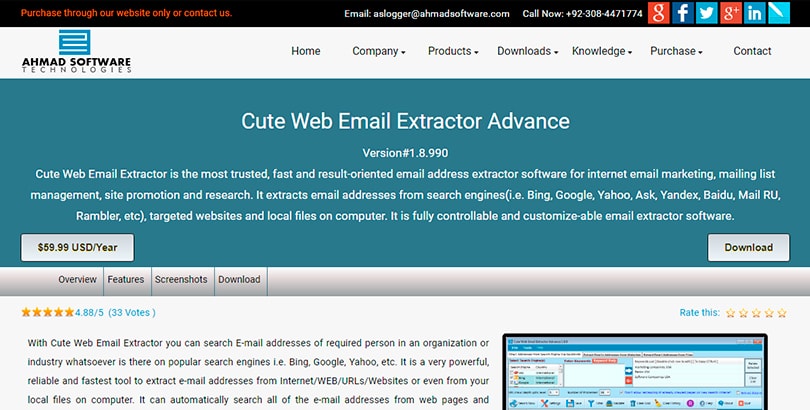 Price: $59.99/year 
Our second best email extractor is Cute Web Email Extractor, and its features win hearts! With Cute Web Email Extractor, you can find the email addresses of the needed person in the industry or organization whatsoever is there on famous search engines such as Google, Yahoo, Bing, etc. The tool is very powerful, reliable, and quickest for extracting email addresses from the Internet, URLs, Websites, or from your local files presented on your desktop too.
The tool is able to automatically search numerous email addresses from website pages and can retrieve almost all valid email addresses. After that, it generates an output file with just valid & well-formatted email addresses (with no duplicates included).
Cute Web Email Extractor will also save extracted email addresses in multiple formats, for example, TAB delimited, CSV, txt files, etc. It enables you to define rule-based searching criteria for optimizing the speed of searching and just the list of email addresses that you require from web pages rather than all email addresses; it'll surely save your much time. The tool also offers the facility to filter email addresses at the time of saving in file.
Features
Extract emails from numerous websites and search engines

Auto-save & recovery

Rule-based email extraction

Network failure detector

Custom email address limit
What we liked 
Cute Web free bulk email extractor always finds just the targeted customers' email addresses from search engines by using the keyword / specified list of websites. Setting the email addresses limit per domain is possible in this tool.
For example, in case you set per domain limit three, and the next page will not be crawled after searching three addresses from one domain. To save bandwidth as well as your precious time, the tool "Cute Web Email Extractor" offers you an option "Don't allow re-crawling of the pages that are already crawled in fresh searches."
Cute Web Email Extractor also automatically pauses and resumes on internet failure at the time of processing as well as supporting more than 65 search engines.
You can find the emails with this tool according to your country as well. Cute Web Email Extractor also supports Unicode contacts, and saving fetched contacts in Unicode format is possible.
Verdict
The cute Web Email Extraction app has a lot of features, which can help to automate the task to extract emails. The software's price is affordable as well; it costs just $5/month. No matter you are a freelancer or you own a huge business company, you can get great benefits by using Cute Web Email Extraction to extract sites.
Best free email extractor Expert score: 9.3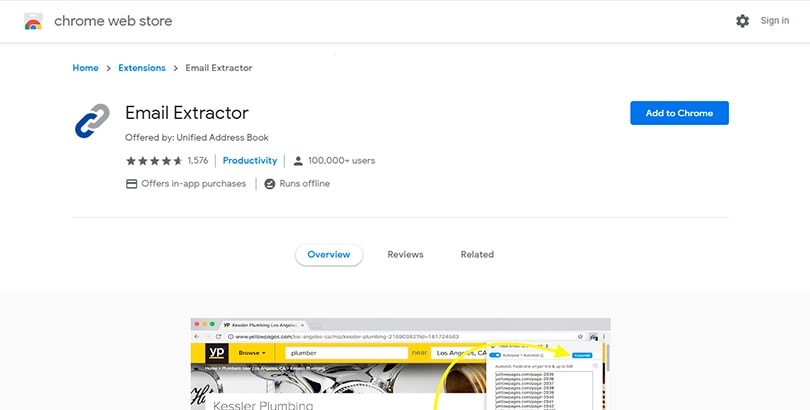 Price: Free / $10 – $150/month for automation feature / $9.99/month for cloud storage / 
All marketers know, Outreach is a major key component of online money making and successful marketing. Hence, you'll need the best free email extractor software for penetrating the deepest layers of the internet for bringing you to ease in finding the valuable emails of high management levels.
For that job, Email Extractor Chrome Extension is a superb thing, and it gained much popularity in recent years. It's among the most popular options currently. It scrapes the company's website and then analyses the adjoining positions linked to the emails.
This plugin is an expert at fetching email ids from the Source Code. It has no relevance to what's visible on the front. For example, in case 3, email ids are visible on the website; this plugin may fetch even more if it detects hidden email ids in the source. Isn't that cool? Though this extension accesses the info of your web page, the only thing it extracts is the email ids, and those also are stockpiled in your local storage.
Features
Extract emails from numerous website

Filters duplicate email ID

Automatic download of emails

Save email addresses online
What we liked 
The new automation tool successfully discovers every single email address for a given domain name. For example: if you're looking to discover email IDs of folks working at Email Hunter, you can conveniently step this tool to search for all email addresses ending with emailhunter.io or hunter.io, and the same can be done for your desired website.
While visiting web pages automatically, a 5 seconds delay can be added, so you ensure every single page is loaded, and all email IDs are gathered, even when JS (JavaScript) are delaying the emails IDs' display.
It finds all email IDs ending with a given domain name. Further, while you browse any website, you can conveniently Auto-save all those Email Addresses in the cloud and also share your premium subscription with whomever you want.
Verdict
Email extractor Chrome extension is a completely free tool, which will meet the requirements of most small business owners and freelancers. The great fact about this free email extractor tool is that it will not display any annoying ads as other tools do.
 You must have a chrome browser on your device to use this tool, as you can only install the extension of Email Extractor in your chrome to extract emails using the tool.
Best free email extractor Expert score: 9.1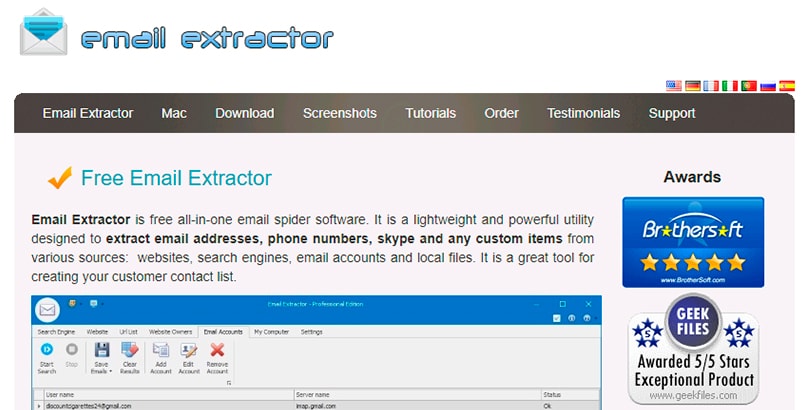 Price: $49.99 – 74.99 Free trial: Available without saving option. 
Web email extractor pro is superb at extracting email addresses from the internet/web via well-known search engines such as (Bing, Askcom, Aspseek, Google, Yahoo, Lycos, etc.). It's also capable of extracting email addresses from the website URLs list. It's a rapid tool to fetch email addresses from the internet/URLs/web/.
It can automatically fetch all of the email addresses from web pages, plus it permits you to get a list of only your desired email addresses. Web email extractor pro is a perfect automatic tool for removing duplicate email addresses. You can update Search engines to get the optimum results.
That way, it reduces your work pressure of searching, filtering, and replacing duplicate email ids. You can attain great email extraction speed with this tool. Whatever emails it extracts, it can save in several formats, including tab-delimited (.txt files) format that opens in notepad and CSV files that open in excel.
It permits you to set email searching criteria, and that's how you can get a list of only desired email addresses from web pages in place of all email addresses. It highly saves your time.

Features
Extract emails with the help of keywords

Extract emails from accounts

Scan websites for emails

Extract emails direct from the URL list

Support Word, PDF and Excel File
What we liked 
You can simply supplement your list of emails with a lot of email addresses and eliminating hours of hard work. Email Extractor Pro automatically eliminates duplicate emails. The powerful engine of Email Extractor Pro makes it among the fastest tools out there.
The reliability of Email Extractor Pro is really impressive, and the program can easily be installed and uninstalled from your desktop. The user-friendly interface of Email Extractor Pro makes it easy to use. The tool is built to automatically extract email addresses from the local files and web easily.
You'll be receiving high-quality support from their professional support team too. Email Extractor Pro works by compiling the emails to a list, hence eliminating duplicates. It uses the least of your system's resources and runs smoothly in the background of your system.
Verdict
It provides fast yet smooth performance. Also, this tool is so lightweight, and it won't consume lots of your system's space; the speed is awe-inspiring too.
In case you want a powerful tool, which has great email extraction features, then you should select an Email Extractor. This is among those few tools, which can also be used in both Mac OS as well as Windows. Get this fabulous free email extractor from the website now, by tapping the button below.

Best free email extractor Expert score: 9.0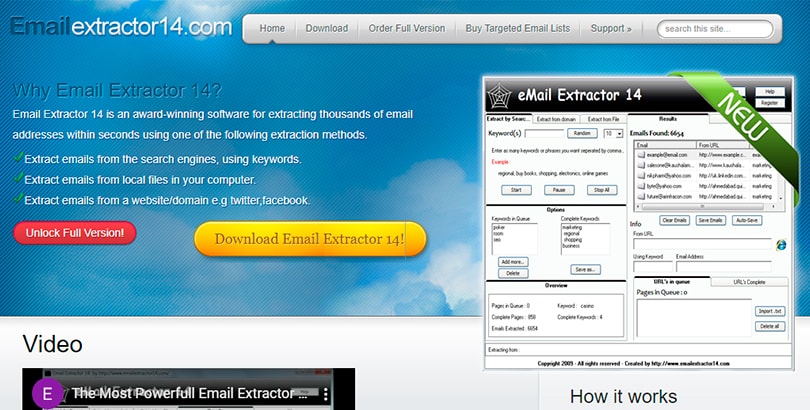 Price: $81 Free Trial: Available but with limited features. 
Email Extractor 14 (EX14 or EE14) is a convenient yet affordable automated spider software program, which finds the World Wide Web to provide you email addresses of your potential consumers. Email marketing highly depends on reliable data; for example, email addresses, to function perfectly.
EX14 accelerates the accuracy as well as the efficiency of the process of collecting email addresses. Email harvesting is a super-effective way of increasing your customer base, enabling you to rapidly accumulate the email addresses of potential consumers.
EX14 goes onto online search engines, for example (Google, Yahoo, and MSN), searching for websites matching your designated criteria for finding potential clients that will be interested in your services or products.
Use the search results for creating email marketing contact as well as distribution lists for marketing leads. Three search criteria alternatives are available: "Extract from the website," "Extract by Search," or "Extract from the file."
Features
Can extract emails from search engines & websites quickly

Capable of extracting emails from social media-based sites

Can extract emails with the help of keywords

Free software updates
What we liked 
You can save your precious time by automating your search for emails with the help of Email Extractor 14. The software searches and lists emails, also removing duplicates. It's faster than any human can do.
Don't waste your marketing time and resources finding, typing, pasting, editing, copying; just set the criteria of search for the email addresses according to your interest and run this software. Redeploy the entry of your data, marketing & advertising staff to other high value-added activities.
The EX14 offers email addresses, which are easy in exporting to other applications. This automated spider email search program will run in your system's background, while you can easily perform other tasks. Your campaigns of marketing will have bigger success rates, in case you have valuable emails that you can collect with the help of Email Extractor 14.
The Email Extractor 14 utilizes basic display features & an intuitive user interface display. The common scrolling bars it uses for viewing the lists on your display screen is appreciable. Most importantly, this email spider software is user-friendly.
Verdict
Now, the Email Extractor 14 is another highly beneficial tool for small and big firms. The tool can conveniently generate a huge amount of emails in some seconds. Most of its clients are cheerful with the interface of Email Extractor 14, as it's easy to use. Thus, overall, this email extractor software is worth installing, and it will help you in extracting tons of emails quickly.
Best free email extractor Expert score: 8.8

Price: Email Checker: $15 – $1169 Email Extractor: Free 
Email Checker is a tool for checking about an email address, which is correct and active. This checking is carried out live and without sending any messages. Email Checker is among the longest-running email checking services. This tool has a very big presence across North America as well as the Middle East.
Email Checker basically works on an Email Verification API, which is versatile enough for working with all kinds of websites and applications, for example, Point of Sale (POS) Systems, Online Enquiry Forms, and Economic Checkout Pages. Email Checker is also among the most reliable email checking tools available in today's market today.
Features
Extract emails effectively from the content

Verify emails

Avoids duplicate emails
What we liked 
Email validation through API can be a need for an organization. The API has a well-detailed set of parameters, which are returned in each response. It'll provide additional insight & flexibility. However, many APIs just return Good/Bad, and that's it. Also, you must integrate 5-6 other email validation APIs before you find emailchecker.com and it'll surely perform the best.
Verdict
Now, the Email extractor is rapid as well as highly efficient in extracting emails. In case the way you extract emails is just copy & paste, then an Email extractor can be the best choice for you. The email verification system of this tool will provide you the knowledge about whether the email is good/valid for a small fee or not. Both Email extractors & verification can be used for creating a targeted as well as effective lead generation campaign.
Best free email extractor Expert score: 8.7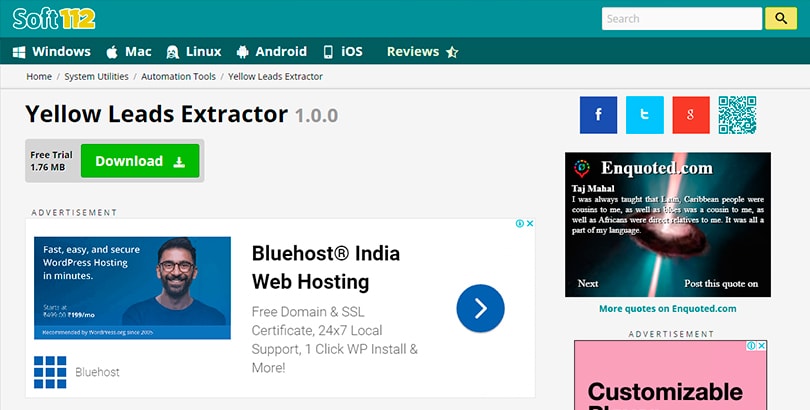 Price: $89 Free Trial: Available but with limited features. 
Yellow Leads Extractor is an effectively powerful tool, specially built for scanning the most famous yellow pages directories, and it'll capture phone numbers, business names, addresses, and emails easily.
Just select a business category & location, then start the search, and when the first page of results appears, simply tap the "Get Data!" button, and the rest magic will be done automatically! All data will be saved to an Excel or CSV file. It supports the USA, French, Germany, Canada, Spain, Italy, and some other Yellow Pages too…
Yellow Leads Extractor is basically a "free trial" software application built by Automation Tools subcategory and is a part of the System utility category. This application is now available in English. The last update of this app was released on 2017-01-23.
The program can be easily install-able on Win7 x32, Win7 x64, Win98, Win2000, WinVista, WinXP, WinVista x64Win8, Win10. Yellow Leads Extractor enables its clients to make 100% customizable searches in their browsers.
Having this program installed in your device will do your lots of work for getting information from the yellow pages, just enter the category and location. After filling this information and tapping on the "get data option," then after, all of your information will be extracted.
Features
Extract emails, phone numbers, and addresses from yellow pages.

Capture company data from the whole world.

Save information in CSV or MS Excel format.
What we liked 
You can save whatever data you extracted in CSV format or also in your Microsoft Excel. Thus, just utilize this reliable tool and get all the essential information that you want from the yellow pages. If we talk about the yellow pages directory, the program enables you to capture company information from around the globe, thanks to YELP & Infobel directories.
It is worth describing that the tool shows the results in real-time as this tool extracts them from the Yellow Pages of your selection. The data will be displayed in a well-structured spreadsheet, which incorporates the business name, address, category, city, state, postal code, country, where applicable, phone, fax, email, website, map link, and also the link in which you can find further details.
It's worth describing that you can customize the information to be displayed from the window of Settings. Consequentially, in case you prefer only the email addresses for the local business in a specific area where you need to promote your service or products, for example, then you can without any hassle grab them along with the companies' names.
Verdict
Y-leads extractor is a unique sort of tool in the sense that this tool scraps information from huge yellow pages. You can easily get hundreds of emails with the help of this email scraper tool. The price is affordable and supports freelancers and small businesses, who are not having big spending budgets on tools.
Syntax & Format Checking is fantastic in this tool, and it's the most typical check done by an Email Checker. This includes the checking of "@" in the email address as well as reporting the same. Having "@" in any email address is an essential criterion of every email address.
However, there's a possibility of different clients needing different options of integration, and the client can have automated file retrieval with the help of Batch API/FTP access to the account or the method of manual addition.
A few unique characters are written in an email address column. However, that is not a part of the email address. The APIs optional error correction feature is available in the Email Checker in which these characters are removed. Grab this tremendous free email extractor from the website right now!

Best free email extractor Expert score: 8.5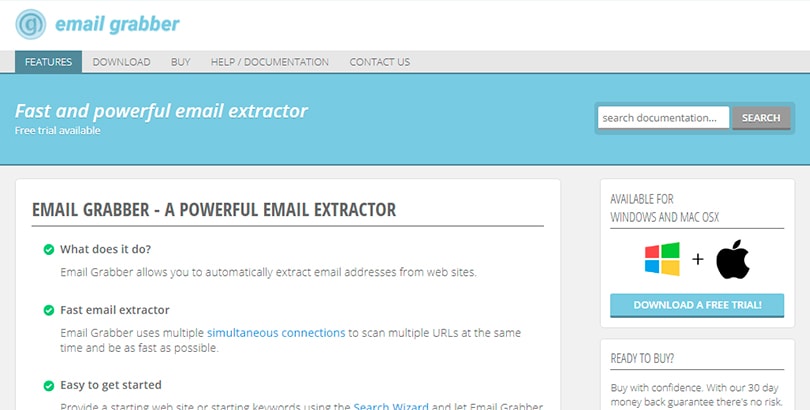 Price: $16.95 Free Trial: Available but with limited features. 
The main objective of Email grabber is to gather email addresses from Websites via the HTTP protocol. It can work via a proxy server. Email Hunter is a perfect fast-speed program, and multi-threaded Web page loading is what it perfectly supports.
The current version of this software comes with numerous limiters of site scanning range. Limiting scanning depth is possible. There is enough flexibility in this program, and it's easy to use. Mostly, all you need is, enter a valid URL and obtain results.
Email Grabber's interface has a graphical aspect; it's something we call wizard-based. Hence, any sort of user, regardless of how inexperienced he is, can conveniently use this program's functions without issues. Email Grabber permits searching for email addresses by entering a keyword or a website address.
Using Email Grabber, you can see all the search links in real-time. Besides that, it also displays every single found email address in an easily understandable and drop-down list. You can halt the extraction process any time you want and extract the email addresses list to numerous file types, such as text or CSV, for importing into email clients such as Microsoft Outlook.
Features
Filtered search

Syntax validation and removal of duplicate emails

Extract emails from different websites

Save search sessions

Use simultaneous connections for searching for numerous URLs
What we liked 
Extracting addresses go pretty easy with Email Hunter as using an internet search engine. Just type in the keywords/phrases you desire, and Email Hunter will start searching the internet and extracting email addresses from all the Web pages containing those words. This keyword search feature provides decent flexibility and full marks to the functionality.
These features help you in using the email contact grabber in a much targeted manner. This results in highly relevant contact lists. These features undoubtedly help you in skyrocketing your business recognition.
Here, you get a straightforward step-by-step wizard. It permits any sort of user to freely configure the extraction process. On top of that, the extraction speed is impressive and permits the processing of tons of URLs simultaneously, thus saving time. Besides that, you can conveniently export the list of found email addresses to numerous file types, including CSV or text.
Verdict
Email grabber is a nifty free email extractor tool, which enables you to extract a huge number of emails. However, this tool only scans websites and won't allow you to grab emails from accounts and copied content. This lightweight application will extract the emails quickly and effectively, with just a few clicks, and you will be done! 
Best free email extractor Expert score: 8.4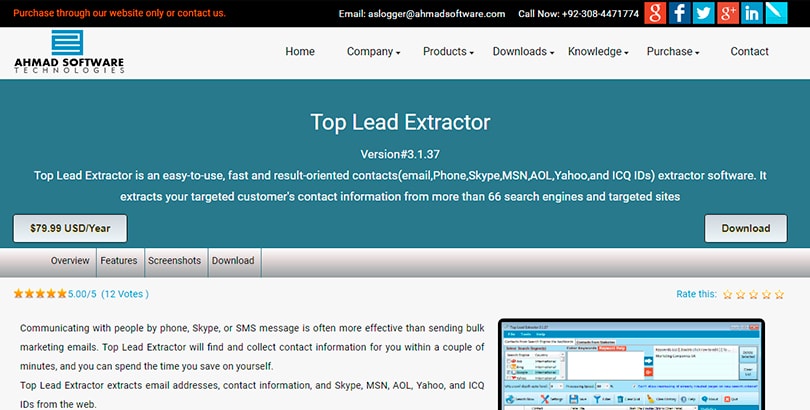 Price: $79.99/year 
Don't you think Communicating with clients by phone, SMS, or Skype is pretty more effective in contrast to sending bulk marketing emails? Certainly, it is! Top Lead Extractor is among the best email lead extracting software and is capable of finding and gathering contact info for you in a few minutes. You can save time and spend it anywhere!
These Lead Extractor tools not just extract info regarding email addresses or contact information, but also Skype, Yahoo, MSN, AOL, and even ICQ IDs from the web. Google, Yahoo, Bing, etc. come in the targeted searches that Top Lead Extractor supports. In a certain way, the top Lead Extractor has much to impress you!
Top Lead Extractor has a very long list of customize-able options in which customizing your search & search results according to your target and requirements is so simple. This great software comes with a multi-threading system, in which it will contact the search data and can be easily found at a super-fast speed, without compromising your desktop's performance.
Features
Internet connection detection

Option to avoid searching the websites, which are already crawled

Unicode support is there

Crawl website as well as search engine
What we liked 
Because of this software's great multi-threading power, the process runs rapidly, and in last, you'll enjoy the targeted customers' email list. Top Lead Extractor is capable of searching not only email addresses as well as phone numbers, but also information like AIM, MSN Messenger, Skype, ICQ, and Yahoo Messenger IDs.
There's no requirement for any additional plugin to do this. For saving bandwidth and also your precious time, this software comes with an option called "Don't allow re-crawling of the pages that are already crawled in new searches."
Sometimes desktop or software automatically shut-downs unexpectedly; anyway, don't worry; you are recovering your search results can be done just by one tap. Top Lead Extractor also supports Unicode contacts. Fetching contacts in Unicode format is possible with this software.
Top Lead Extractor supports over 65 search engines searching according to your country is possible too.
Verdict
Finding the best email lead extracting software? Then Top Lead Extractor is a feature-packed and highly reliable free email extractor tool with a bunch of customization options. This extraction software is usable in case you have a low budget (less than $7/month). Top Lead Extractor has great advanced features to make a huge email list.
Best free email extractor Expert score: 8.2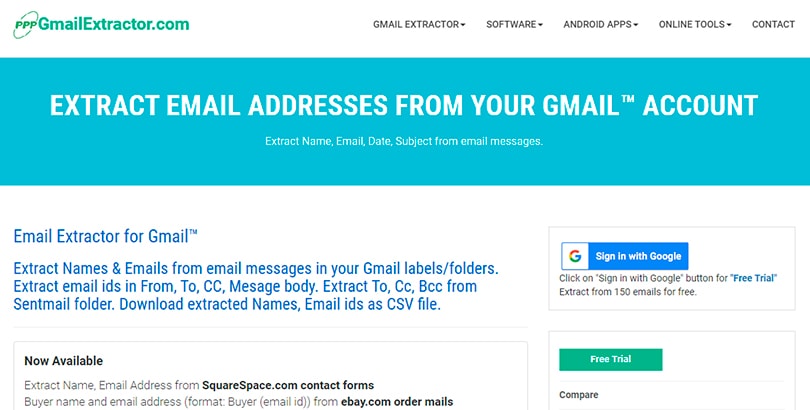 Price: $39 Free Trial: 15-day 
It's the last one in our best Free email extractors countdown!
Gmail Email Extractor software is a tiny yet very effective tool and is among the best free email extractor tool, which has great tactics in fetching email ids from accounts of Gmail. This tool comes packed with all options, which are important while fetching email ids from Gmail.
Users will be able to harvest email ids from Gmail's folders, for example, Inbox, draft, sent, and so on with the options offered. Along with that, this tool also has the selection to fetch email ids from different fields like To, From, BCC, CC, etc. and can save the list of Ids as well.
Features
Can extract emails from your Gmail & Gsuite accounts.

Export email list to TXT/CSV.

Remove duplicate emails.

Customized searches.
What we liked 
Gmail Email Extractor software makes the task of email ids harvesting from the Gmail account effortlessly and fast. The software is having all the essential features, making your work completely effortless. A selection is available here for harvesting email ids from Gmail folders, for example, sent, inbox, spam, etc.
Selecting the desired option and getting the Ids is possible here. Not only that, but Gmail Email Extractor also serves a choice for extracting email ids from multiple fields such as From, To, CC, BCC, etc. following the same process.
Verdict
Gmail email extractor is an easy yet effective tool for extracting emails from Gmail accounts. This software is highly helpful for extracting email fields from your inbox, sent, receive, and spam folders. Gmail email extractor is great in case you have a huge contact list of Gmail. The app will save a lot of your time by extracting emails from your account. As the countdown of the ultimate best email extractors has ended, we've got to say, we aren't recommending anything else ahead of the Gmail Email Extractor and the other nine presents on this list.
Best free email extractor Expert score: 8.1
Best Email Verifier Ever!
So, you've grabbed your desired emails, and now what's the next process? Obviously, you have to verify your list, as you don't want to get spammed, right? Here's a superb tool for you!
 The conclusion
So, which of the best email extractor choices did you choose?
Undoubtedly, these tools and extensions can bring unbelievable marketing advantages, but the condition is, use them smartly! Most importantly, the operation of these tools hardly brings complications.
No matter you are a digital marketer, SEO guy, or a sharp spy, who deeply tracks competitors' websites, you certainly need an email extractor! At last, all free email extractors recommended above are cool enough, but our ultimate recommendation is there on the top!
As new stuff keeps on arriving with time, we've updated the list in case we find something that's worth adding here.
(Visited 3,722 times, 1 visits today)