Email marketing is a higher priority now than ever before. According to a continuous report, 44% of email recipients made an upfront investment from an email marketing campaign within the last year. As such, email marketing is a high priority for businesses regardless of type or size.
Not using email marketing is harmful to those business marketers who don't utilize it as everyone relies on email as a primary communication channel.
The creation of complete email strategies along with a clean email list is required for an effective email marketing program.
To get the most out of your marketing emails, in order for each email to promote your business, essential success factors need to be present.
Here is how you can utilize success measures to improve the return on your email marketing efforts.
What is Email Validation?
Email Validation is the process that examines consumer's email addresses to find whether it is valid or not. This service assures that the email you send doesn't bounce back.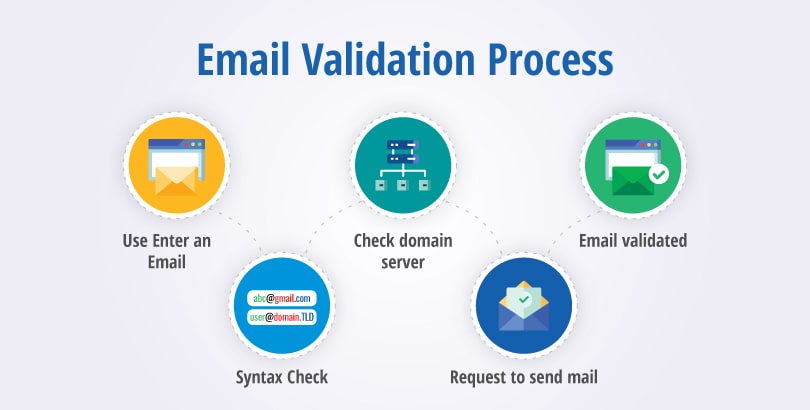 Are you searching for How does email verification work? No need to worry! Our expert has brought the core info which helps you to find out the detailed process.
Here are the details mentioned below about the email address verification process:
Syntax Verifier: It checks each email address syntactically with IETF standards. Once a syntax error is found, the email verifier removes the email address from your email list instantly.
Domain/MX Record Checker: It can also identify domains that are invalid, inactive, or parked, and then remove those emails from your database. If an email address doesn't have a valid email domain, then email validation can also help you to detect it.
Catch-All Detector: If some domain name mail server set up as catch-all, then any email addresses at that domain would be accepted.
For example, abc.com domain mail server has set up as catch-all, then all email addresses like [email protected], [email protected], [email protected] would be accepted.
There is a high possibility of bounce with the "Catch-all" email address.
Temporary Unavailability Detector: Owing to the deep-level SMTP validation, email validation service executes on every email address; they detect temporary unavailability with ease. Such email addresses are excluded from receiving emails until they're available.
Role Account Detector: It detected role-based email addresses that are not associated with a person but instead an organization, group, business, brand, etc.
Such email addresses excluded from receiving emails because they negatively affect the deliverability rate.
Improved Yahoo Emails Validation: It has improved validation for Yahoo email addresses for not only free addresses but also businesses using Yahoo as their email service.
Free Domain Checker: Email verification engine detects if the email belongs to the free domain e.g., gmail.com, yahoo.com). The detection of the free domain happens in real-time.
Detailed SMTP Response: Complete response from the SMTP server with the exact reason for the rejection and diagnostic details. The detailed SMTP response displays the precise purpose of the invalid status of the email address.
High-Performance Real-time API: Get the email address validated before it reaches your email list with our fast and easy-to-integrate API. With instant validation, you can use direct integration on registration forms of the website.
Greylist Domain Detection: Reduce deliverability issues with new anti-greylisting technology, identify greylisting-enabled domains, and reduce repeated SMTP connection requests.
Lowest Turnaround Time: Full assurance of the faster processing of high volume email lists in the fastest time. The quicker processing capability ensures that you get the email list validated within the lowest turnaround time.
Toxic Domain Verifier: An Email verification service helps you to detect abusive or bot created email addresses from your email database.
Why Email Verification Is Important for All Businesses?
If you are ignoring your bounce back emails, you are self-inflicting severe damage to your brand as a high bounce rate ruins your IP reputation.
Large businesses with huge mailing lists integrate email validation directly to their contact forms and mail channels to keep out spammers.
The user's mailbox provider has its technique for estimating whether mail senders are indenting a high bounce rate by sending stuff to invalid email addresses.
Being consigned to spam, which resembles being thrown into a marsh, is dirty regardless of whether you get away from it or not. Being marked as a spam marketer prevents your emails from arriving at the right consumers.
So, your first assignment as a valid company that uses proper email marketing techniques, is to clean up your email list by throwing out invalid email addresses.
How to verify your email?
To validate individual emails (single email verification). Use the real-time API to capture them on your site.
To validate a whole email list (bulk email verification), submit the list for batch processing, and download the results.
Email list cleaning should be done regularly to protect your sender reputation. That means all marketers should stick to consistently clean up their email lists, and persist with the use of email verification as a safeguard.
Email List Cleaning Service
Email list cleaning service or, bulk email verifier helps you to remove all unwanted emails, spam traps, or other junk email addresses from your email list. You can purge your email list through email list cleaning service.
As per recent data analysis from MyEmailVerifier, they have verified email list of 5000 and we got result base as below: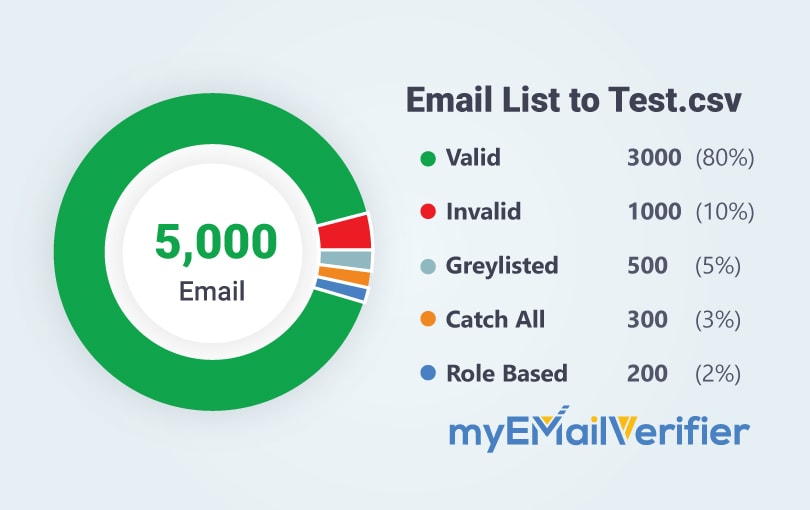 From the 5000 email list, valid email addresses are 3,000, invalid are 1,000 email addresses, catch-all 300 or Role-based 200.
You can upload email lists manually for cleaning or transmitting through API integrations. When the validation process is complete, it usually downloads all the results in common file formats, such as .csv, .txt, or .xslx.
Email Verification Services handle lists of addresses with ease. So, it is appropriate for all scalable businesses; from small e-commerce businesses or startups to multinational corporations.
You need to clean your email list at least twice per year to keep your delivery stats high, otherwise, bounce back from failed deliveries will lead to unacceptably low open rates and list deterioration.
It's great if you are able to verify email addresses in real-time as they arrive via API. Many companies prefer to do so more regularly, especially before sending any important communications.
The Essentials of a Good Email Checker
The expert email checker doesn't stop at examining the structure and language of the mail address. Experienced email validators dig deeper, giving real-time email validation by verification. 
They'll confirm everything – the algorithms, program database, and archival database – to see how the email fares. A good validating and verifying convention should present the following status reports on any email address and take suitable action:
Valid: A valid email address exists – it is actively used, and there's a high chance it'll accept the inbound email.
Invalid: The invalid email doesn't exist – it is abandoned or is inactive, and can't accept the email.
Duplicate: Duplicate will check if the email is a duplicate of the validated or invalidated email address and whether it is loaded in the same email list.
Catch-all email address: These domains accept any random emails from the mail server. The only way to confirm whether it is real is to send actual mail. These types of email addresses have the potential to get a high bounce rate.
Unknown/ Greylisted: For some reason, if the domain doesn't respond to verification requests and the email address appears OK, it is an Unknown Email address. This happens when the domain doesn't respond in the first attempt. So, it is advisable to retry it after 5-10 hours.
Facts of Email Validation Service
According to Radicati Group, there are 4.9 billion email accounts in the public domain, and it's expected to grow by 6% annually to 2021. Consumer emails account for 76% of all emails in circulation. Here is the graphical representation for email accounts: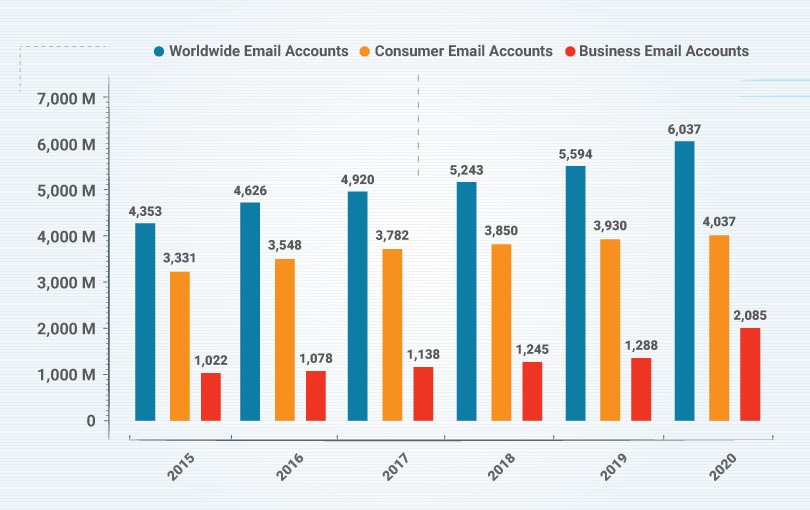 Email marketing is still considered a primary form of communication. Another survey indicated that 67% of consumers are spending a minimum of ten minutes to an hour reading promotional emails.
Email Validation assures that your emails hit the spot every time
By verifying your email list, you'll be 98% successful in eliminating bounce rates. The lower your bounce rate, the better your reputation.
Your emails encourage open rates, which should translate to higher conversions.
You operate email service providers that suspend email accounts for spamming consumers.
You save your time, energy, and position yourself to receive higher revenue by eliminating invalid emails.
Your sender score will be higher, and inbox placement will be spot on. Your emails only go to who you target.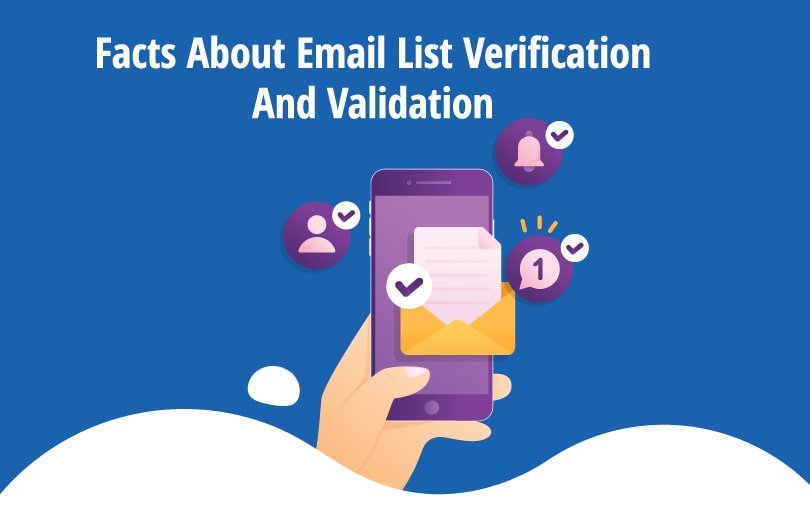 It also stands a better chance at cracking permission-based email marketing. You'll likewise discover how you can quickly improve your email marketing return on investment (ROI) with each email marketing campaign.
Why email validation require?
Different experiences substantiate the motivation behind why marketers are putting such an extraordinary amount of money into email marketing.
As per the statistics, 57 percent of email clients spend somewhere between 10 and 60 minutes looking into marketing emails every week.
Currently, 81% of B2B marketers use email newsletters for email marketing. What happens when individuals leave businesses or make changes to their email addresses?
List quality can immediately deteriorate as their users surrender email accounts. Also, various companies depend on collecting email addresses with the intent of an offer or even from a mobile device.
When entering verifying information on mobile, typos can easily be made by the email user which may not be found later when marketing emails go undelivered.
These become a problem when you strive to reach your primary targets. A verified email list is essential to the greatest possible return on investment with offer-promoting emails.
Almost all marketers send thousands of emails to their clients and customers every day. If emails bounce back, the sender has effectively reduced their sender score.
Generally, the sender score is a rating between 0 and 100, which identifies your sender reputation and shows how other mailbox providers view your IP address.
Sender scores play an essential role in the success of email marketing. A higher sender score means most of the email campaign will reach inboxes.
A low sender score implies messages will instead end up in recipients' spam folders.
Outcomes of Unmanaged Email Databases
The outcomes of an unmanaged email database include:
Lost revenue
Increased email marketing costs
Sales inefficiencies
Poor customer experience
Damaged sender reputation
While email validation can turn these negatives around, it's essential to know email validation isn't a fix-all or a one-time fix.
Benefits of Email Validation
Email Validation is a potential answer for incorrect or invalid email addresses.
Email verification helps you to keep your interactions with loyal subscribers for better email marketing results. Utilizing an email validation procedure enables real-time validation of subscribers on your email list, both as new customers enter their email and in bulk with your existing customer list. It is ideal for ensuring the accuracy of both new and old emails in your email lists.
When you send an email campaign to countless email addresses, imagine how much a precise rundown will benefit your marketing program.
1. Save money and improve ROI
The most significant advantage is the measure of money you can save through reduced marketing costs. Each message sent costs money, so each marketing message sent to invalid email addresses results in lost money.
With an accurate, clean list, you'll likely report an overall higher return on investment for your endeavors. Everything considered, your campaign insights will never again be returned lower than anticipated. Executives begin to see huge outcomes from your email efforts when more dollars saved means more dollars can be put toward the future of email marketing campaigns.
2. Data Insights and Segmentation
Alongside poor campaign insights, an inaccurate email list won't offer insights on future engagement strategies or content themes. That information is key to your return on investment. The tune of bounced emails gives way only to clamor.
A validated email list will reveal to you who is an active client with various bits of insights. This gives a way to deal with an additional part of your email marketing strategy.
You can send separate messages to each group, boosting group people to return or offering them updates related to their ongoing purchases.
3. Sender reputation
When your bounce rate increases and email providers begin restricting their services, your IP reputation as sender suffers. Nobody wants their brand marked as "spammer."
This way, email validation can go toward keeping up your status as a reputable brand with your target audience, Email Service Provider (ESP), and Internet Service Provider (ISP).
While we as a whole need to manage emails appropriately and change our data when we need to, marketing subscriptions consistently become lost regardless of diligence.
Your audience won't review or answer you when their addresses change. That is the reason you need an email validation strategy in your email marketing efforts to stay applicable and get the various rewards of an email marketing campaign otherwise your message is merely failing to attract anyone's attention.
Wrap Up 
Email marketing is an inherent part of digital marketing. Sending emails is not an entire process of email marketing. You need to monitor it's delivery rate regularly. Email verification can offer — most importantly, revenue — by ensuring that you're mailing to valid or active email addresses.
(Visited 1,018 times, 1 visits today)