Email collection is an essential part of digital marketing. It is crucial for an effective communication channel. Approximately 83% of U.S. organizations regard emails as the most important means of communication.
So when it comes to email marketing, the most important thing to consider is whether your subscribers receive emails or not. Email verification or validation helps to check the validity of email addresses. It also helps you to rebound from bounces.
You may not be aware of email verification, but it is the security layer of your email marketing goals. It is the best weapon against bounce emails as it reduces the bounce rate, thus helping you to reach more potential customers.
With the help of this service, you can clean your email database and ensure that you are sending emails only to valid and safe email addresses.
Here, I'll show you how exactly email verification services work?
Email Verification Service
Email Verification service helps you to clean your email lists, improve your email deliverability, and reach your potential customers.
It also helps you protect your IP's reputation. It refers to the process of confirming that an email address is valid and active.
With this, you can sort your list into valid, invalid, unknown, catch-all, and greylisted email addresses. According to these results, you can send your email campaign to your potential customers.
Why should you verify an email list?
An example would help us understand this better. Let's say you have a car, and you want to keep using it for five years without maintenance; even if it is possible, you probably won't try it.
Your email list is probably worth more than your car. Now, do you remember the last time you checked the list? If you can't, then you are wasting money, time, and efforts on people who are not even interested in your business.
Only sending emails is not a complete process of email marketing. So, it is essential to check the deliverability of your emails. Suppose you have a list of 10,000 emails and over 2,000 are undeliverable, it means 20% of the emails are bad.
For this reason, you should verify your email list from time to time. With the help of this service, you can able to reach more of your potential customers. Verifying your email list ensures you get a higher deliverability rate and also preserves your IP reputation.
We always recommend you clean your email list frequently, especially before sending any vital information.
MyEmailVerifier is a web-based email verification service. With the use of an email verifier, you can freshen all the inactive email addresses from your email list and provides the best results.
Our email address verification service provides a real-time verification API for your businesses that rely on email marketing. It boosts conversions by improving email deliverability.
It helps you to get rid of junk emails from your email list. Our email verifier finds invalid, valid, greylisted, and role-based email addresses from your database. 
Verifier system processes thousands of email addresses to detect non-working emails and provide you a detailed report. 
Email address verification removes email complainers and improves your sending reputation. Compare to the market, MyEmailVerifier is the cheapest email verification service at affordable prices.

Email validation integrates with the most important email platform like MailChimp, AWeber, ConstantContact, SendGrid, and GetResponse.  For data privacy and security MyEmailVerifier is compliant with EU GDPR compliance.
Our service also provides Free Email Extractor Tool (No ads, 100% Secure, Instant free email validation). In addition, Extractions are performed locally on the client-side (Your computer only). No data is sent to or received from the server.
How does our email verifier work?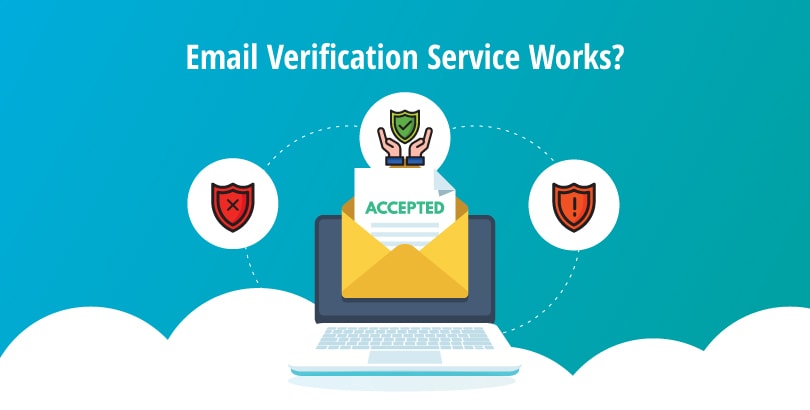 MyEmailVerifier provides you with two types of verification: Single Email Verification and Bulk Email Verification.
For a Single Email Verification, go to the client area on the left sidebar and click on Email Verification >>> Single Email Verification.


Type your email id in the box above and then click on the Validate button. You should get the result shown below: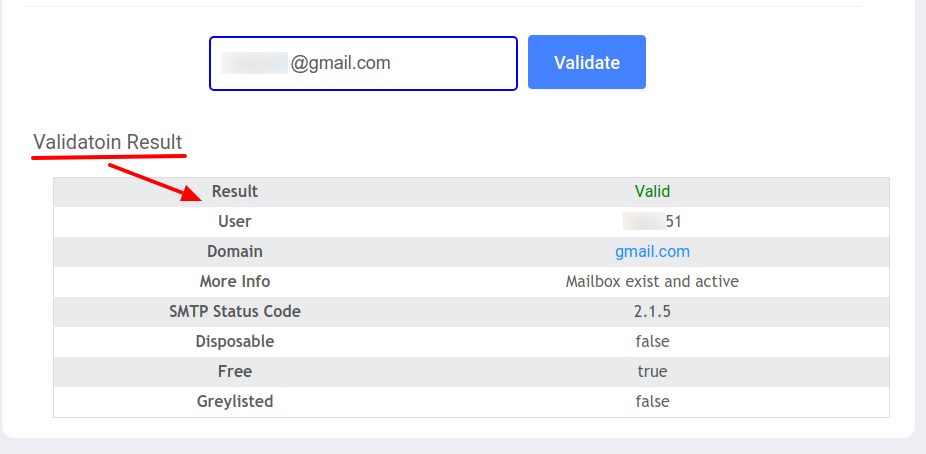 Note: You can verify your single email on our Home page also.
For Bulk Email Verification, there are three simple and easy steps to verify your email list:
→ Upload your email list in the client area. Go to the left sidebar and click on Email Verification >>> Select Verify New list. You can click on the Validate List and Upload your email list in CSV or TXT format.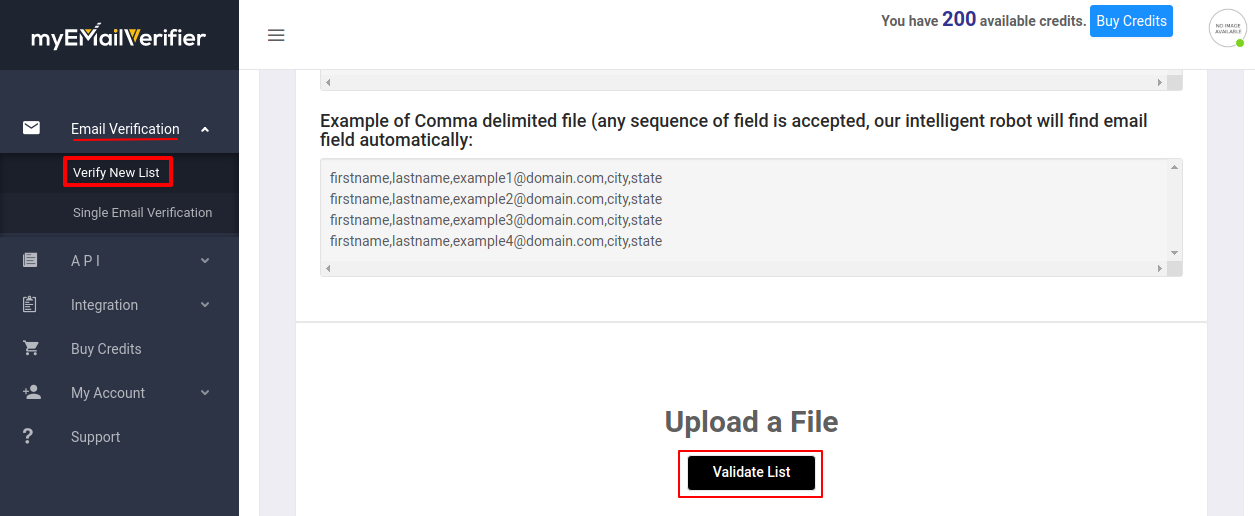 → Once you've uploaded your list, select your verification mode, Rapid mode, or Relax mode, and our system will start working on it in the background. You will receive an email when the process is complete.
Start Verification Relax mode: In this mode, the process will be slow, but there will be less unknown results.
Start Verification Rapid mode: In this mode, the process will be fast, but there will be more unknown results.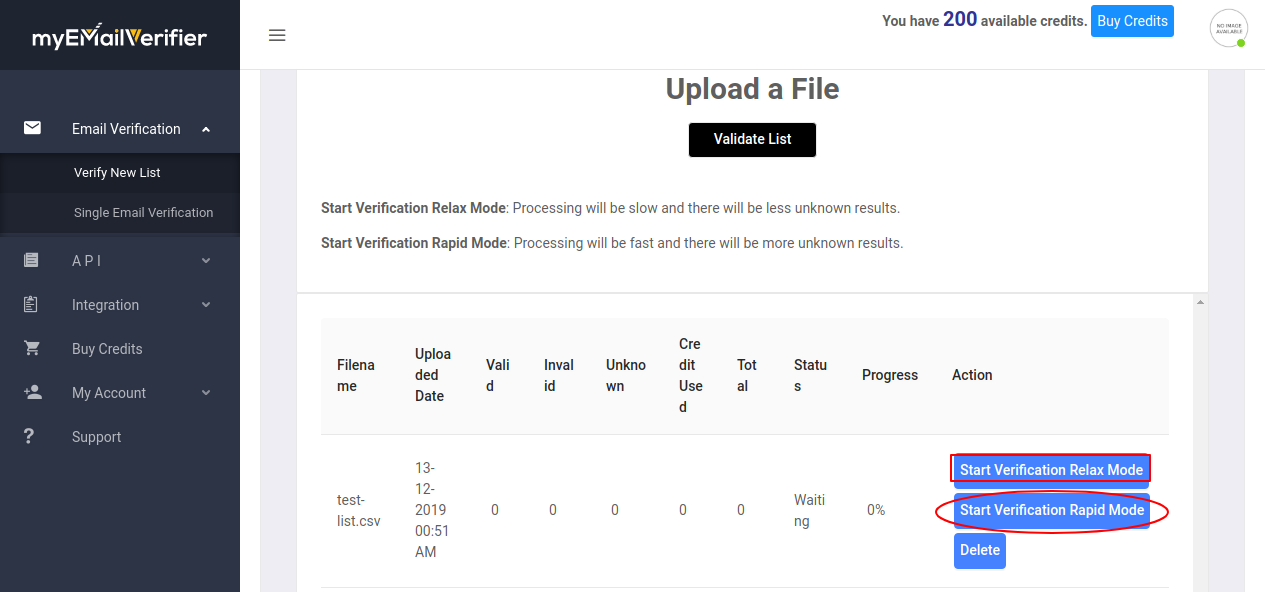 → After your verification process is done successfully, you can download your file in three formats: TXT, CSV, or XLSX.
Note: Once the verification process starts, you can't take any action until complete. Once your file progress reaches 100%, the verification process is complete, and action buttons like Download and Delete pops up.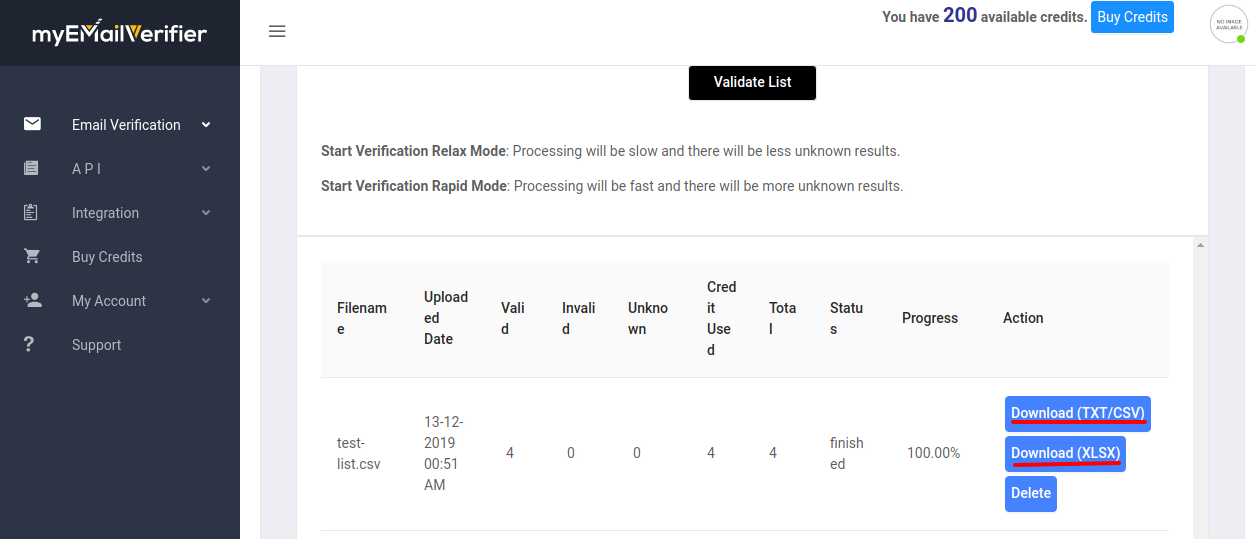 You can also Delete your file from the client area by choosing the DELETE option. If you don't delete any file from the client area, then after 30 days, all the older files will be automatically deleted.
Here are the complete details on how to verify your email list through the MyEmailVerifier service:
How to buy credits (PayPal and Credit Card):
You can purchase credits through PayPal or a Credit card.
–> Login to the client area.
–> Click on buy credits.
–> Add credits on HOW MANY EMAILS DO YOU WANT TO VALIDATE?
–> Use different coupon codes as below for the discounts:
500-20K – 40% OFF – MEV40F2019
50K-250K – 50% OFF – MEV50F2019
500K-5M – 60% OFF – MEV60F2019
–> Click on the PayPal Checkout button

1. If you have a PayPal account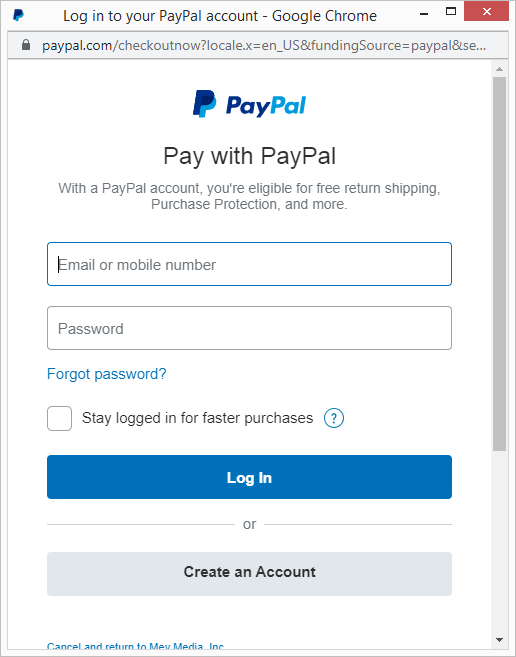 –> Simply Enter your email, password and click on login and continue checkout.
If you wish to pay with a credit card: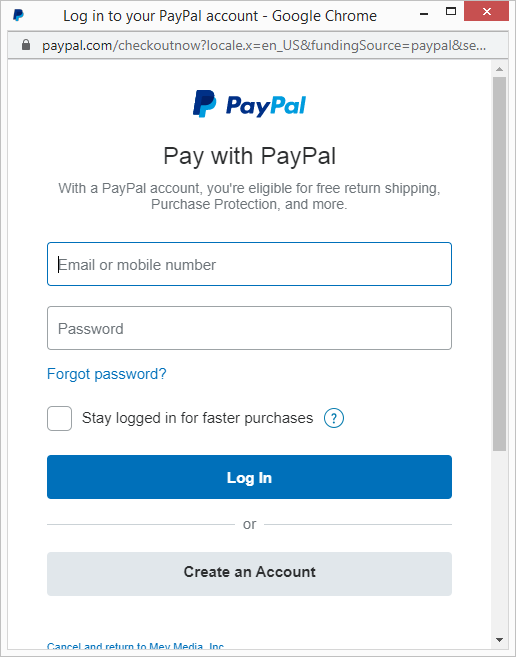 –> Click on Create an Account and continue with Guest Checkout as shown below: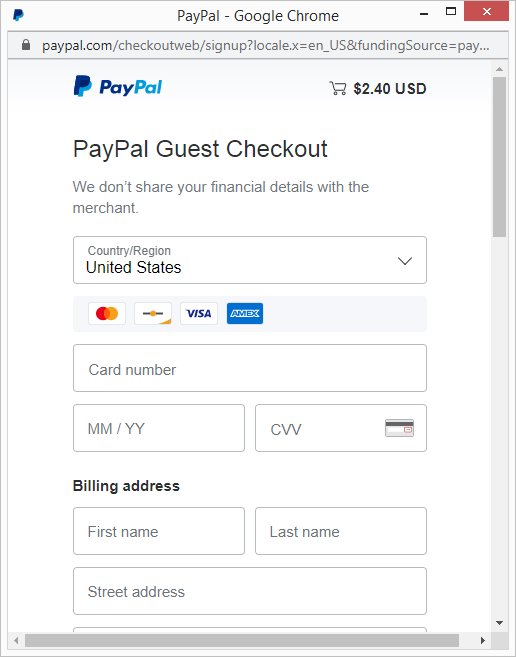 IMPORTANT:
–> Once you confirm the order, your credits will appear in your account within 15 seconds. If your PayPal email address and Registered email address are different, then our system will send a confirmation link on your PayPal email address.
–> Please check the inbox/spam folder of your PayPal email address; there will be an email regarding your order. Please click on the Confirm Order link to confirm the order. Once the order is confirmed, a credit will appear in 5 seconds. This step is necessary to prevent unauthorized payment.
MyEmailVerifier sorts of verification results in six categories:
→ Valid: This means email addresses are real, exist, and active. You can send an email to these ids. At this email address, your message will be delivered successfully without any issues. You can set these email addresses as the first priority to send your users.
→ Invalid: These email addresses are not real or inactive at the recipient's mail server. You can't send your email to these email addresses.

For Invalid email addresses, the possible results are defined as the Unknown user, Invalid syntax, and Disable user.
→ Unknown/ Grey-listed: Due to some reason system can't verify valid or invalid email addresses. This happens when some domain doesn't respond in the first attempt. It is advisable to retry after 5-10 hours to get verified.

For Unknown or Grey-listed, the possible outcomes are like No response from the server, Greylisted – SMTP; 550 5.7.0 Anti Spam System.
→ Catch-All/ Accept-All: These domains accept any random emails. The only way to confirm whether it is real is to send actual mail. If you send emails to these ids, then it is possible to get a high bounce rate.

For example, If the MyEmailVerifier mail server were set up as a catch-all, then any email addresses at MyEmailVerifier at the myemailverifier.com domain would be accepted, such as [email protected], [email protected], [email protected]. 
We recommend that you set low priority for the "Catch-all" status valid email addresses as there is a high possibility of bounce with the "Catch-all" email address.

→ Disabled (Yahoo/AOL):  These email addresses are disabled by Yahoo/AOL service. The outcome results of the Disabled (Yahoo/AOL) are Email exists, but we are not sure about its deliverability.
→ Role-Based: These email addresses are not associated with any person, but with a company, group, or department. Email addresses like sale@, admin@, help@ consider as role-based emails. MEV detects these email addresses and gives you TRUE results for role-based.
Bulk email verification service results
All service has a different approach to display their results, but the basics are the same — you can download your detail reports from the client area.
Our email address verification is faster and gives you highly accurate results. We have verified millions of emails, and it is increasing day by day. 
MyEmailVerifer provides you a detailed result, an indication of the cause of invalid email addresses. In addition, to return the CSV file, we also return a beautiful XLSX file where you can perform filters and get all categorically different emails in different sheets.
According to the bulk email list of 10000 emails verified by MEV. The result shows as Valid: 8000(80%), Invalid: 1000(10%), Grey-listed: 500(5%), Catch-all:300(3%), and Role-based: 200(2%). Here is the sample results are given by MEV you will get a detailed report in different categories.

Below is an example of our Advance XLSX file.
1. All emails you will get sample results as below:

2. For Valid emails, you will get the results as below: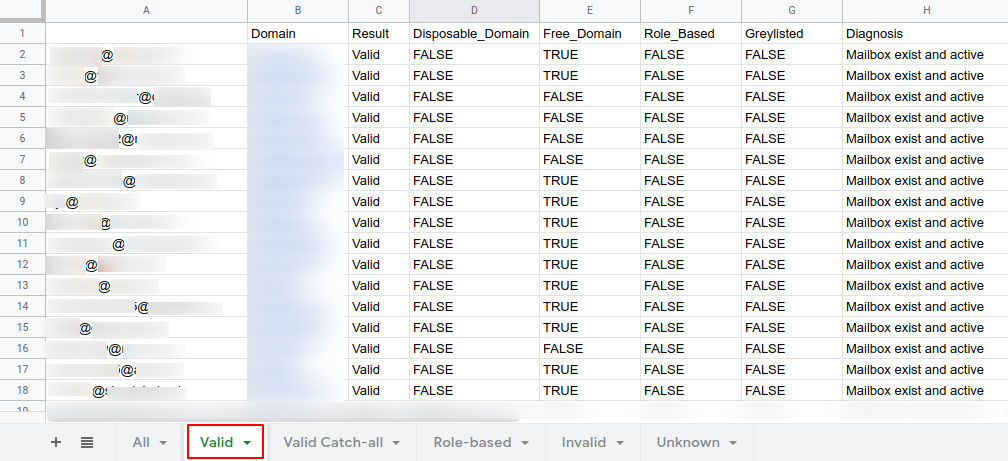 3. For Valid Catch-all, you will get results as below: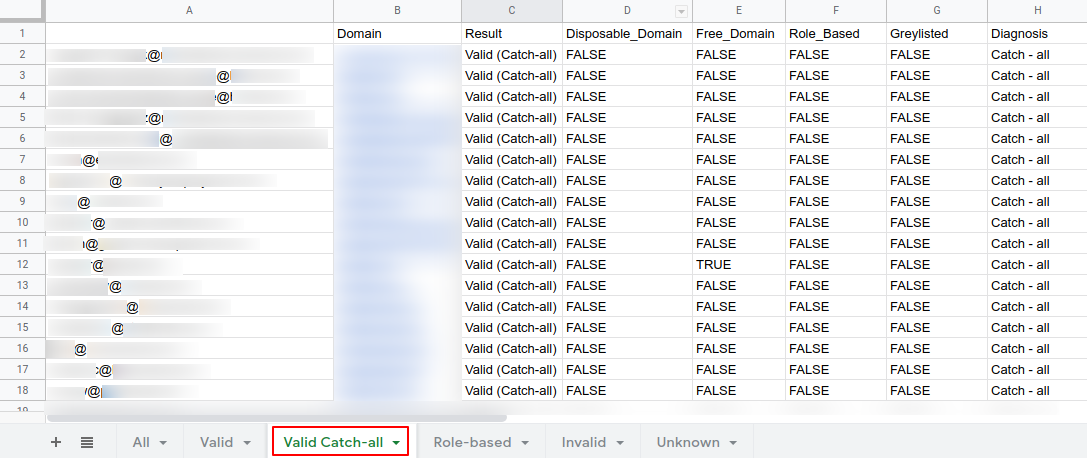 4. For Role-based emails, you will get results as below: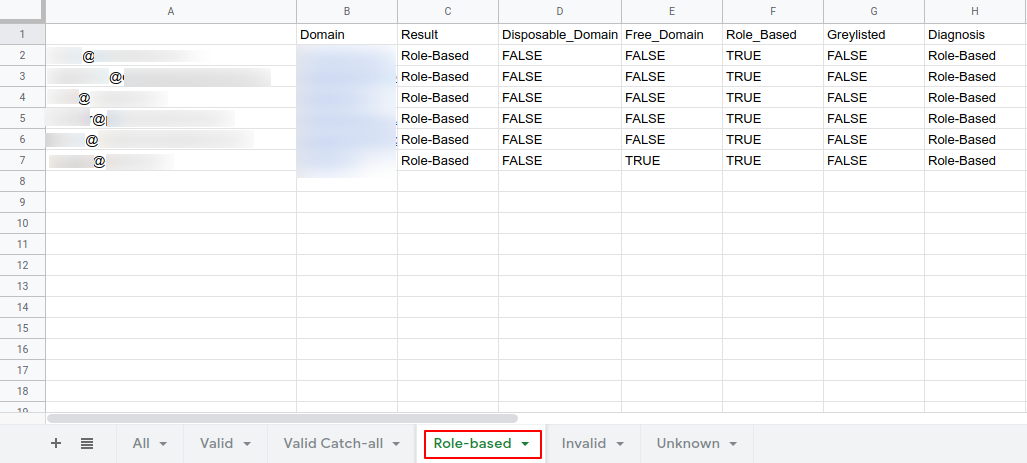 5. For Invalid emails, you will get results as below:




6. For Unknown emails, you will get results as below: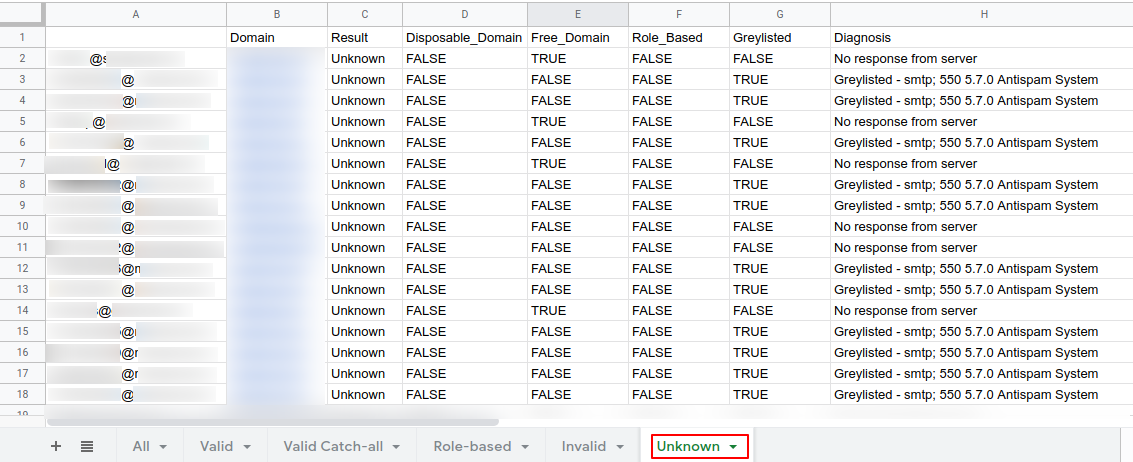 Our free email verifier offers you up to 10K free email credits in different ways:
100 free email credits

– To get 100 free email credits, do

sign-up

on our email validation service.

500 free email credits

– To

evaluate our email verification service

, you can request us at

[email protected]

.
5K free email credits

– To get 5K free email credits, share your experience by writing a review of our service on

G2Crowd

.

10k free email credits

– To get 10K free email credits, share your expience by creating a video testimonial of at least one minute for "MyEmailVerifier".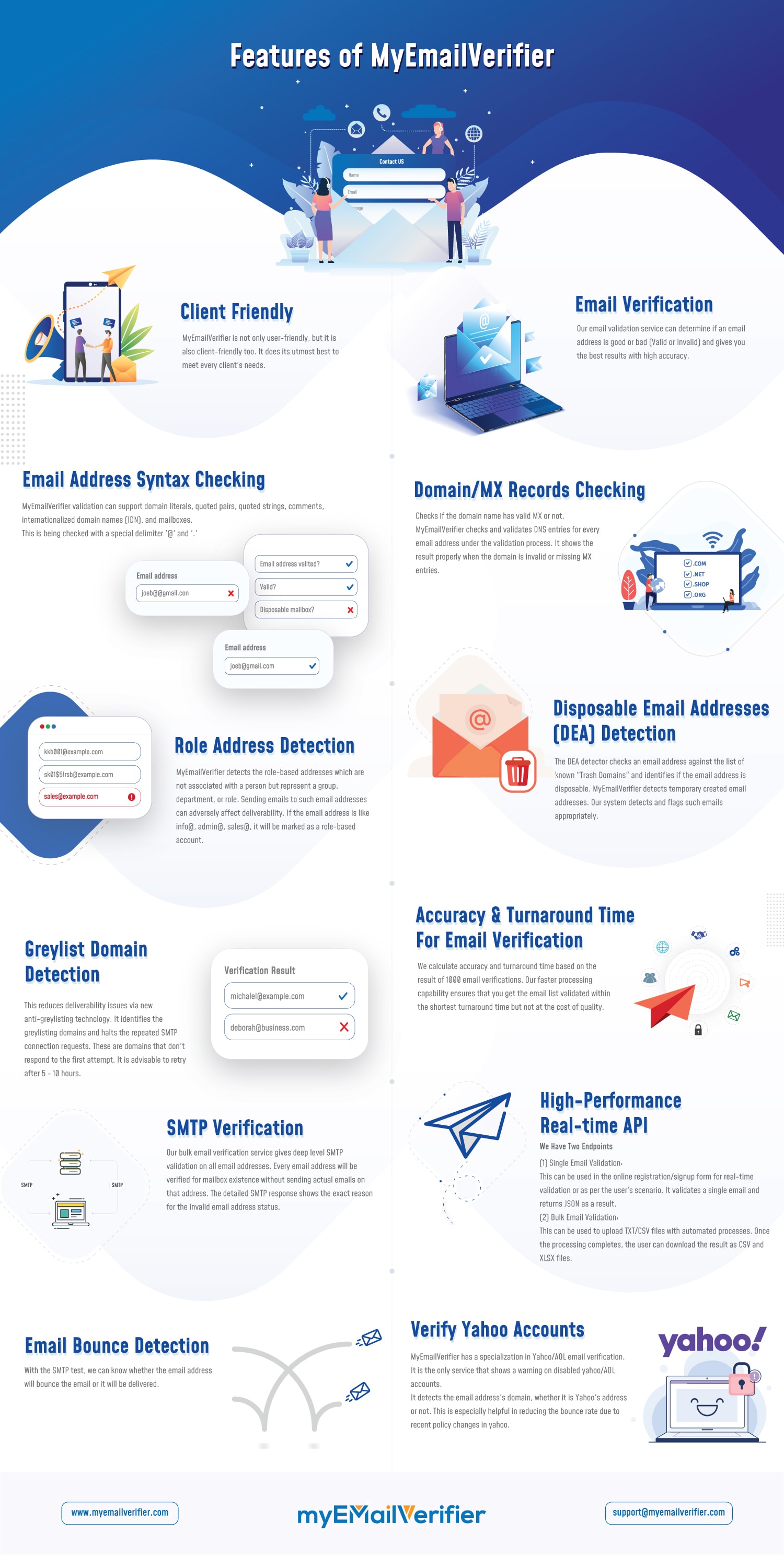 How much time does email verification take?
It depends on the variety of domains present on your list. Some respond quickly, whereas some take time. For example, if it contains only Gmail ids, it will process rapidly.

If you have "mail.ru/bk.ru/inbox.ru/list.ru/mail.ua" in your email list, it will take time to get verified. "Hotmail" emails take the longest. So you can find @live, @outlook, @hotmail, @msn emails and upload in a separate file. It is essential to understand that our service works in automatic mode.
Reasons why your verification takes longer
Greylisting anti-spam system. When email services come in contact with email ids that have never sent emails to their service, they deny the connection, and the caption "we are not ready, try again later" pops up. It can happen for a few hours before the service allows the verification of the email.
If your file contains lots of emails from the same email provider and we start "bombarding" your provider with a speed of 20 emails per second, your provider will go dead or ban us. We have certain limits that we need to stay within.
Some email providers like hotmail/yahoo/mail.ru closely inspect the connections, and if the sender/verifier feels "suspicious" to them, they will ban it and won't verify the email.
How to get verification results faster
You need to understand that if your file contains only emails that are "easy to verify" such as @gmail, it will be processed very fast. But if your file contains both "easy" like @gmail and "hard" like @hotmail, then the file will be processed until the last, hard email is verified.
You will not get results for "easy" like for @gmail emails until "hard" like @hotmail emails have also finished the verification. That is why you should split files into "easy" and "hard" emails and then upload them separately. The file with "easy" to verify emails will be done quickly, but a file with "hard" emails will take much more time.
Benefits of Email Verification
Approximately 78%of Of organizations have seen an improvement in marketing campaigns by cleaning their email database. Email verification has important key benefits, as outlined below:
It improves your email campaign performance with better deliverability
It minimizes the risks associated with bad list hygiene
Enhances customer loyalty and satisfaction
Gives a clean email list, enabling you to reach more potential customers, which translates into more sales.
It saves money and can help you to improve ROI
Final Word
Email verification is an essential part of any email marketing campaign. Every email marketer has bad emails on their lists. To remove that, you need to clean your email list periodically. Cleaning an email list is key to a successful email marketing strategy.
By keeping your email list clean regularly, you can
Improve the deliverability of your emails
Improve the integrity of your email list
Keep a connection with your potential customers
Have high conversion rates
Have a better reputation
Save time and money
Is your email list safe to send? Please feel free to reach us; we are here to help you anytime! Contact us on – [email protected].
(Visited 6,741 times, 1 visits today)