Today AI or artificial intelligence is everywhere as the world is going digital.
A blogger or writer need not worry about content writing as half of its job is done by AI writing software. It helps to detect any grammatical error, performs spell check, suggestions, etc.
Let's talk about AI writing software!!
What is AI writing software?
An AI writing software uses machine learning techniques to write, modify and create error-free content.
AI writing tools are a boon in the content marketing industry. Content creators can use AI writing software to create blogs, emails, and polish text to capture readers' attention.
Common features that an AI writing software possess
Plagiarism checker
Auto-correction tool
Language support
Money-back guarantee
Chat support
Templates
Translation
Word dictionary
Fonts and styles
Grammar detection tool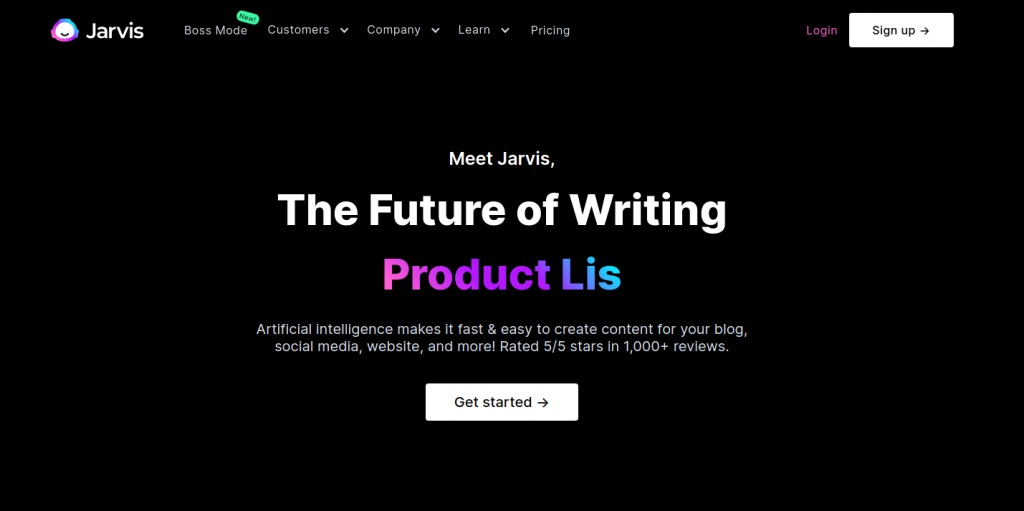 With Jarvis, write fast and easy content in a very time-efficient manner. Jarvis, founded in the year 2007, was previously branded as Conversion.ai and you can finish writing your content 3X faster with Jarvis. 
Features 
Superficial content management tool system that helps detect grammatical errors ensures correct sentence format, checks tone of the words. In addition, Jarvis's plagiarism check tool helps you create original content that eventually boosts SEO rank. 
It is available in 25+ languages, making it easy for you to write in your native language. Jarvis recommends ideas for content generation, making it an efficient AI writing software. You can easily search for keywords, synonyms to use in your write-up. 
Pricing & Plans 
Jarvis pricing plans are crafted in a well-organized way setting limitations yet giving splendid offers. 
Starter Plan – $29/Mo and include features – 
Unlimited users 

Five project folders 

20,000 words 
Pro Plan – $109/Mo and its features include – 
One user ($40 per additional user)

Unlimited project folders 

You can write long-form content 

Workspace document

Unlimited words 
Boss Mode Plan – $199/Mo and its features are –
Unlimited runs

Jarvis commands 

One user ($50 per additional user)

Unlimited project folders 

Unlimited words
Overall, Jarvis offers in all the three plans include – 
50+short form copywriting templates 

25+ supported languages 

Chat support 

AI copywriter's community 

Seven days money-back guarantee 
If you want to create exclusive content that will generate revenue and click-rates, then Jarvi is one good option.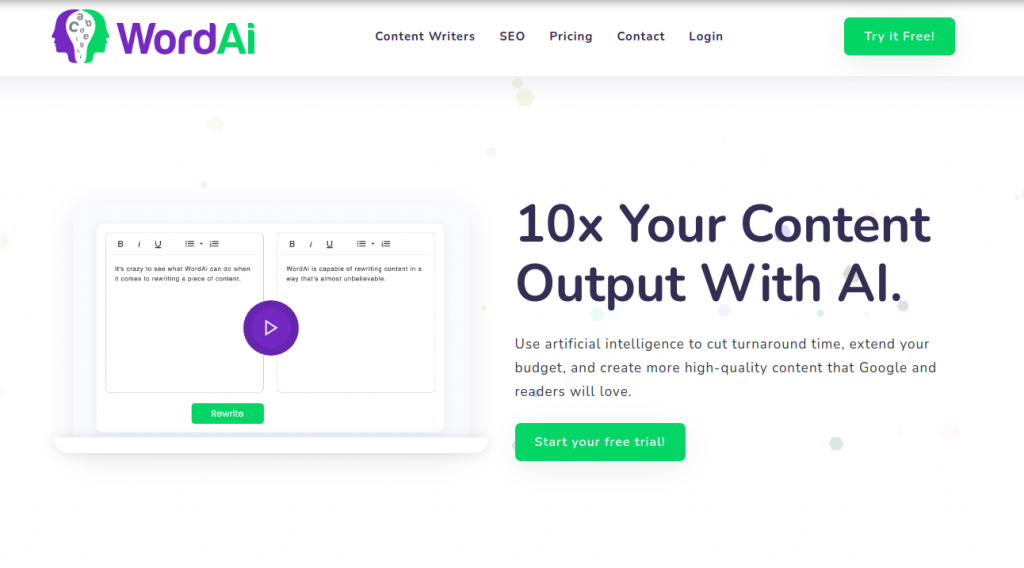 WordAi is a cloud-based content management tool established in the year 2011. It is reliable software that helps produce high-quality content. 
Features 
WordAi assists in the complete restructuring of the sentence while not changing the overall meaning.
Enriches your text by adding appropriate keywords, omitting duplicate content, and preventing grammatical and spelling errors. 
Its robust content management tool splits sentences clubbing into short and simpler ones. 
WordAi is multilingual, supports four languages: English, Spanish, French, Italian. 
Pricing & Plans 
WordAi comes with premium plans and offers a three-day free trial to users plus a 30-day money-back guarantee.  
The monthly plan starts

– $57 per month 

The yearly plan starts

– $27 per month, that is, $324 annually

To opt for WordAi

Enterprise custom plan

– contact them directly
In a nutshell, WordAi is a very simple and easy-to-use software to create awesome content and drive in more clicks and $$$!!

Some articles of great interest: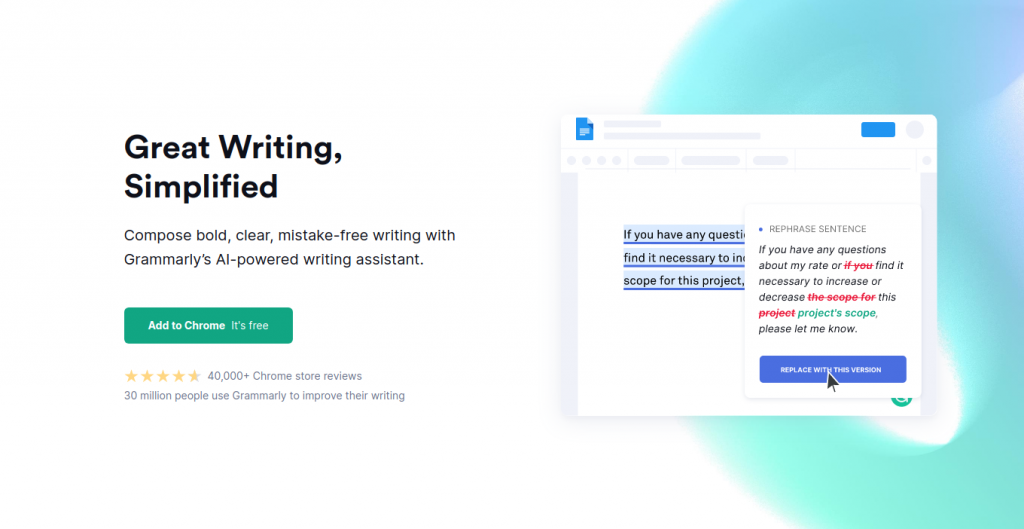 Grammarly is one of the best AI writing software with cutting-edge technology. Founded in 2009, Grammarly has grown manifolds in the AI field. Every day 30 million people worldwide use Grammarly. 
Features  
The snippet feature of Grammarly is a time savior. You can insert reusable phrases, sentences, and even whole paragraphs in your text. 
Grammarly premium features help to check grammatical errors, detection of plagiarism, vocabulary enhancement. 
Its tone detector feature helps identify the tone of your text and makes it look more eye-catching and simple.
Grammarly offers a free version of it to make people familiar with it and not a free trial. 
Grammarly only supports the English language. 
Pricing & Plans 
Grammarly has flexible plans that ensure everything you write is clear, polished, and engaging. 
Free plan

– It includes some basic writing suggestions

Premium plan –

$12/Mo

Business plan –

$12.50/Member/Mo
Grammarly is a great tool for almost any writer. It assists in giving a definite shape to your writing and highlights all the possible errors.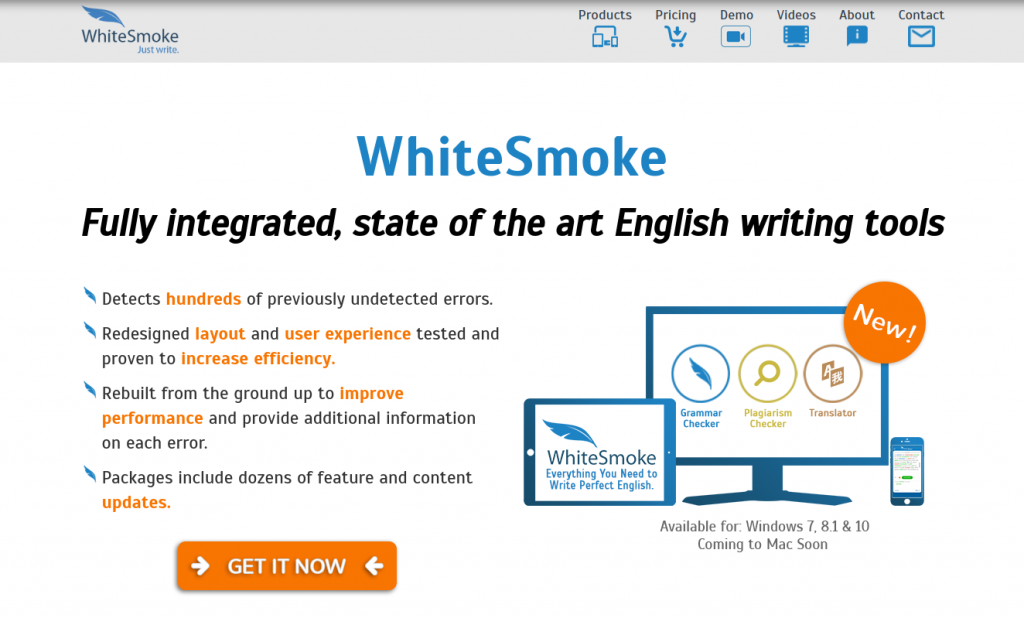 WhiteSmoke is an all-in-one AI writing software that was incorporated in the year 2002. With its advanced technological solutions, it assists users in generating grammatically correct, precise, and well-written texts. 
Features  
Its AI-enabled translator features translate full text and word-to-word to and from 55 languages. 
The grammar checker tool ensures that the writing is pristine and error-free.
WhiteSmoke's spell checker tool detects the wrongly spelled words used in the context. 
The style checker feature of WhiteSmoke identifies the stylistic error in the writing. 
If you are confused between colon, semi-colon, hyphen, and dash, then the WhiteSmoke Punctuation checker tool is no need to worry now.  
Pricing and Plan  
Web plan at $5/Mo
Premium plan at $6.66/Mo
Business plan at $11.50/Mo
Features included 

Grammar checker 

Grammar checker 

Grammar checker 

Plagiarism checker

Plagiarism checker 

Plagiarism checker 

Translator

Translator 

Translator 

1-computer license 

3-computer license 

One-click instant proofreading 

One-click instant proofreading 

Integrated with all writing platforms 

Integrated with all writing platforms 

Phone customer support 

Extended download warranty
Though WhiteSmoke does not provide a free trial, overall it is easy-to-use software with distinctive features.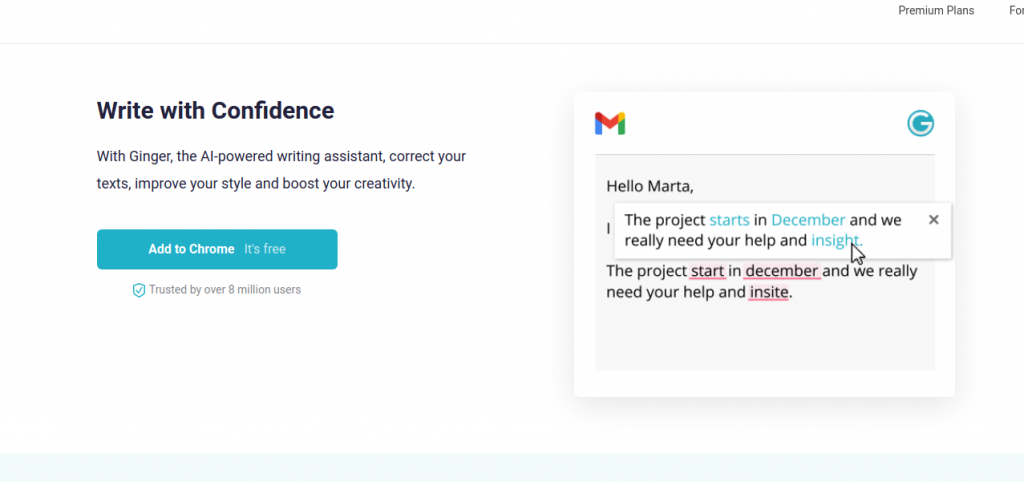 With over 1 million + weekly active users, Ginger makes it to the best AI writing software list. Ginger was established in the year 2010, and since then, it has kept on
 adapting as the world is changing. 
Features 
The sentence rephrase feature of Ginger makes your writing style unique by rephrasing sentences like a thesaurus. 
A unique feature is added to Ginger that is a personalized English trainer to make you learn English through your writing. 
Ginger's integrated translator assists you in expressing yourself in over 40 languages.
The grammar, punctuation, and spell checker tool are the finite features of Ginger.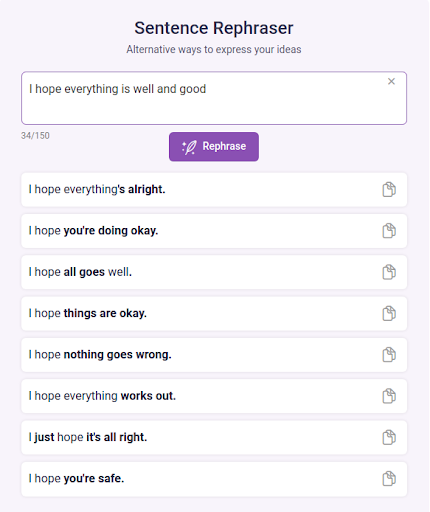 Pricing and Plans 
With a seven days money-back guarantee and no free trial, here are Ginger's pricing and plans – 
Monthly plan

– $13.99/Mo 

Annual plan

– $7.49/Mo

Two-year plan –

$6.99/Mo 
Ginger lacks a plagiarism checker but its robust content management system outweighs the cons.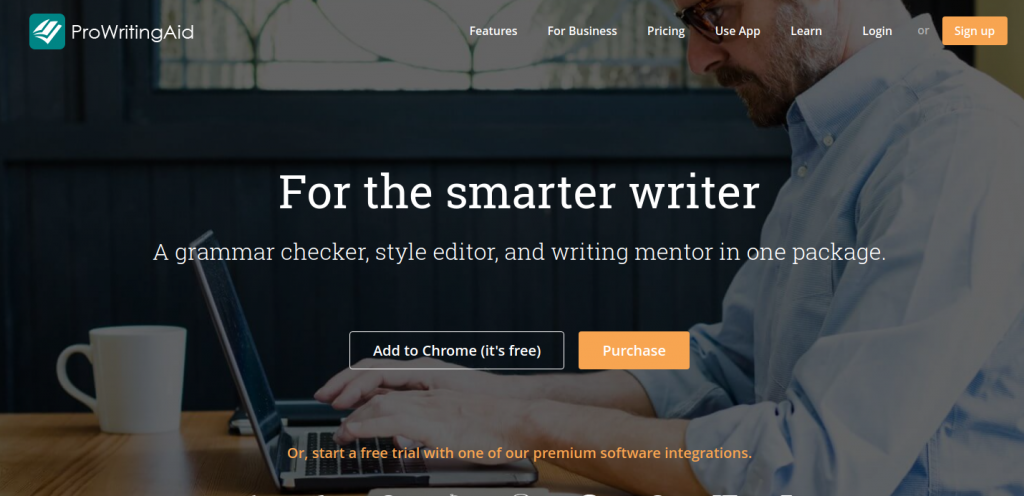 ProWritingAid is an efficient grammar checking tool established in the year 2012. It helps improve your writing through some of its advanced features. 
Features 
The work explorer feature of ProWritingAid is very dynamic and diverse. You can easily find the meaning, synonym, spelling, rhyme, and much more all in one place. Below is the image to make you understand :

Collocation dictionary allows you to find words that are commonly found together easily. 
The word cloud feature is a unique one than other software as it allows you to create word clouds based on texts. 
The other features include grammar checker, plagiarism checker, writing techniques tool. 
Pricing and Plan  
ProWritingAid offers a 14-day free trial and has a very flexible plan for users. 
Individual plan

– $4.83/Mo

Team plan

– $17.61/Mo

Enterprise plan

– contact directly and can book a demo 
Overall, ProWritingAid has some exciting and new features and is user-friendly software.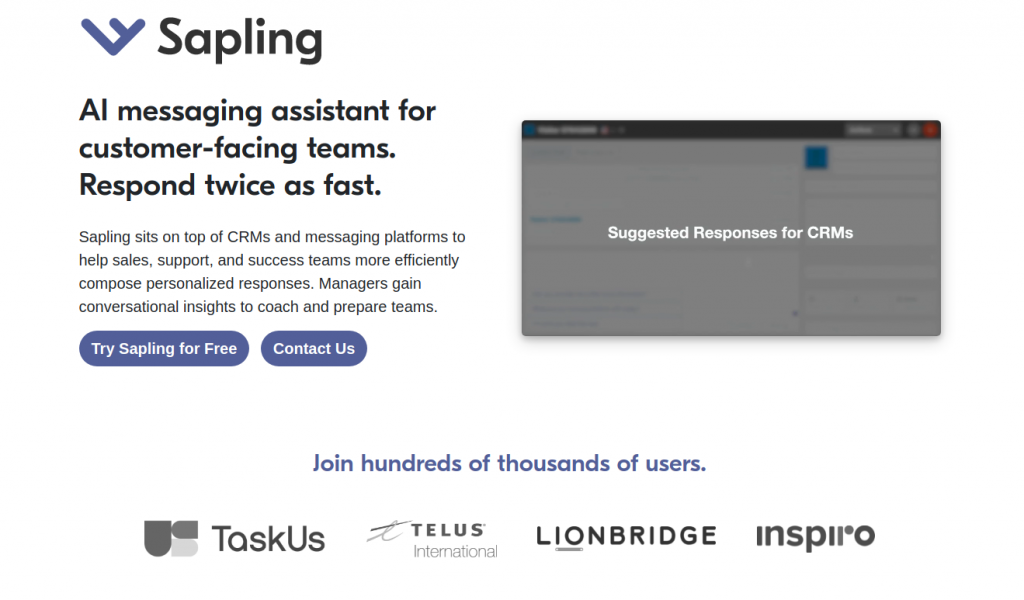 Sapling is the youngest player on the list, founded in 2018 is an AI writing software. It has an efficient grammar checker tool that makes your writing more elegant and error-free. 
Features 
Its enhanced language quality submerges the grammar checker/spell checker that detects any grammatical errors in your text and corrects it immediately. 
 You can finish writing at a three times faster pace with the autocomplete solution of Sapling. 
The snippet feature of Sapling allows a user to reuse common phrases and messages in your content to draw the reader's attention. 
It does not have a plagiarism checker tool and has no money-back policy.
Pricing and Plans  
Sapling offers a one-month free trial at $0/Mo.
Pro Plan – $25/Mo (best for individuals)

Enterprise Plan – You have to contact Sapling (best for teams)
In general, Sapling is an environment-friendly app with minimal yet significant features at an affordable rate.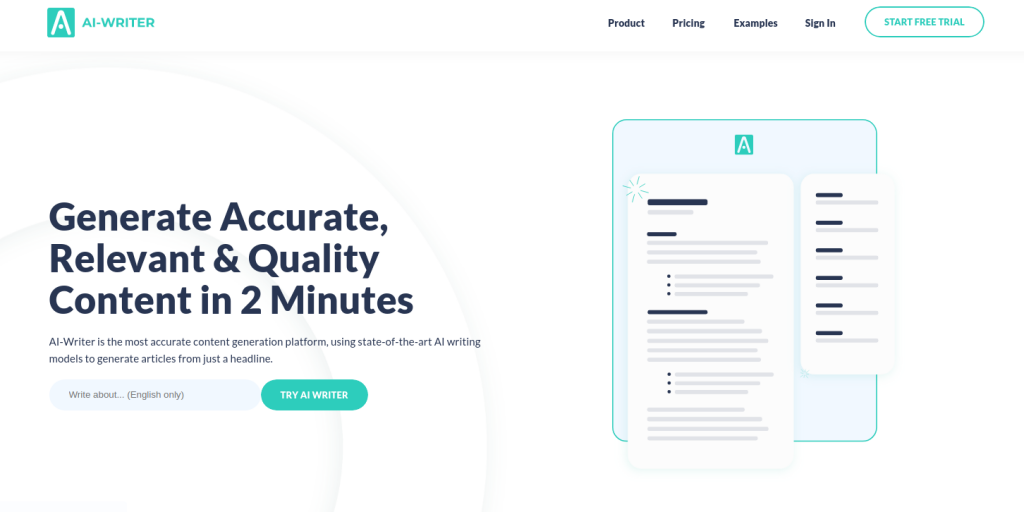 AI-writer assists you in drafting content easily and quickly using state-of-the-art AI-writing tools. 
Features 
The robust system of AI-writer is useful in generating articles from just the headline. No need to write articles from scratch again. 
Text rewording is another feature that assists you to re-publish the same content but with a new twist. 
Verifiable citation is an extravagant feature that provides all the information and sources you want to add to your content, thus saving your time. 
Pricing and Plans  
Basic plan – $19/Mo
For bloggers, start-ups, 

Upto 40 articles per month
Standard plan – $49/Mo
For freelancers 

Upto 120 articles per month
Custom plan – contact AI-writer for further information regarding the plan
For enterprises and agencies 

As many articles as you need 
The final thought about AI-writer is that it is an efficient tool. The citation and rewording feature makes it an elegant one to go for.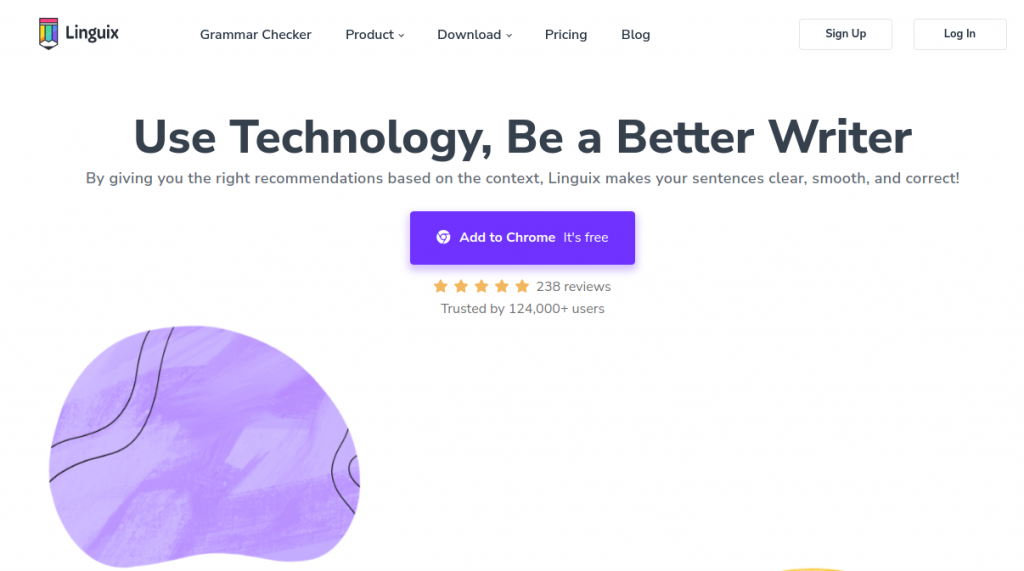 Linguix is AI-powered writing software that has attracted audiences globally, though it is a newbie in AI writing software. It was founded in 2018. 
Features 
The free-to-download Edge/Mozilla/Chrome extensions allow users to check spelling and grammatical errors wherever the user writes on the web.
Linguix also has a huge language library with a comprehensive list of words, synonyms, antonyms. 
You can also use spell-checking, grammar-checking, and style-checking tools to make your content look more professional. 
The content template library saves your precious time so that you do not have to research how to structure your document professionally. 
Linguix shortcut is a brand new feature that saves your money and time by speeding up the writing process by 90%. 
Pricing and Plans  
Free plan

– you are offered some basic grammatical corrections

Premium plan

– $18.95/Mo 

Team plan

– $10/Mo/Member
Linguix offers a 10-days money-back guarantee and no trial for premium subscriptions. 
Linguix has great potential to offer even more advantages, though its imminent features make it to the top 10 AI writing software.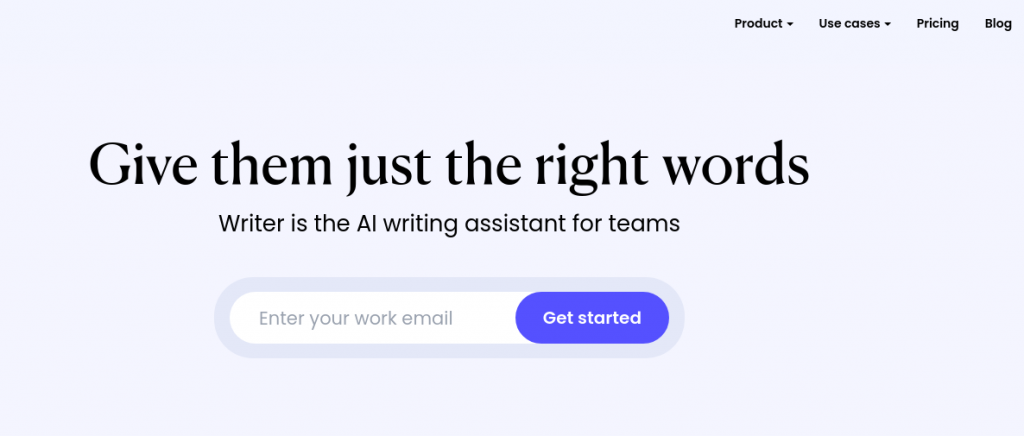 The Writer is an AI writing software and an educational tool that helps users learn how to write. Founded in 2015, Writer is an efficient tool that corrects grammar, spelling, and punctuation errors. 
Features  
The plagiarism, punctuation, grammar checker tool is available free to detect any errors in your text. 
A style guide feature helps design content, adding value to your blog, thus generating good ROI and more clicks. 
The snippet feature is available in most of the AI writing software through which you can reuse any text, phrase in your texts. 
Pricing and Plans  
With the

free plan,

Writer offers a free trial where you will be offered the basic suggestions. 

Pro plan –

$11/Mo (a 30-day free trial is available)

Premium plan –

$18/user/Mo (a 30-day free trial is available)

Enterprise plan –

contact Writer for further details 
The writer has all the common features that an AI writing software possesses, but its learning platform stands different from others.  
Executive summary  
Unique features of AI writing software

Jarvis 

Surfer SEO tool

WordAi

–

Grammarly 

–

White smoke 

Error explanation and video tutorials

Ginger software

Personalized grammar coach

Pro writing aid 

Collocation dictionary + word cloud gallery 

Sapling.ai 

–

Ai-writer 

Verifiable citations 

Linguix 

Linguix shortcut tool

Writer 

Interactive learning platform
The above table shows the unique features of the AI writing software. Like data is the new oil, artificial intelligence is the new phase in the history of human evolution and will soon assist humans in every stage of their life.
Meanwhile, the best AI-writing software is the biggest tool to carve your niche in the field of writing. 
(Visited 133 times, 1 visits today)