Best Email Marketing Tool For Shopify: Email marketing keeps up to drive phenomenal outcomes for businesses across the spectrum of eCommerce websites. We've analyzed the most famous and best-rated email marketing tools for Shopify for bringing you our top picks of paid and free, solutions in this guide.
You've your email list, making it among the best approaches to reach audiences at a time when search engines & social media platforms are throttling the opportunities for organic search as well as referral traffic. 
Undoubtedly, the marketing world is coming back in love with email marketing. 
Whether you're just beginning your campaign or searching to take your whole email marketing strategy to a higher level, there's always the requirement of a tool to suit your needs. Obviously, the first step in a successful email marketing strategy for Shopify is to verify your email list with this magical tool having a free trial period of 7-days!
Also read:
Best Email Marketing For Shopify
Obviously, there are some email marketing services, which are better suited to Shopify in comparison to others. However, ones that offer direct integrations permit you to send triggered emails, for example, abandoned cart campaigns, and permit you to access your store data directly through your email marketing tool.
So which email marketing tools are the best for Shopify email marketing? Read further to find out which tool really permits you to do the most with the Shopify store you've.
Omnisend is a high powerful omnichannel marketing automation platform that is built targeting high-growth eCommerce businesses. Comprising customer segmentation features, advanced automation workflows, and a multitude of numerous channels to reach the clients (via SMS, push notifications, Facebook Messenger, email, and more), Omnisend is an entire, all-in-one solution for all eCommerce marketers having outgrown the generic email marketing for Shopify tools. 
You can Join 50,000+ other victorious merchants that have trusted Omnisend for their eCommerce marketing automation. Omnisend operates perfectly with all e-commerce platforms, for example, Shopify, Shopify Plus, Bigcommerce, WooCommerce, Magento, and others. 
What we liked
Omnisend can certainly boost your email marketing for Shopify's effectiveness as it combines it with several channels to create an awesome omnichannel customer experience. 
Add Facebook Messenger, push notifications, SMS, or synchronize your Facebook, Instagram, or Google audiences to reach your clients at the correct time & place. You can use Omnisend to personalize the customer experience even further and improve their engagement, use segmentation across channels, and send an always-relevant message. 
Skip the time-consuming and tedious newsletter setup process. Omnisend's drag-and-drop Content Editor is amazing and gives you every single tool you require to enjoy tremendous results at the speed of light. You can improve your performance with highly attractive email templates, the interactive CTR boosters, the one-click Product Picker, and we can't forget unique Discount Coupons. 
Verdict
Omnisend's forms are fully customizable and mobile-friendly. You can grow your list with the welcome and exit intent Popups, non-intrusive Signup boxes, customizable landing pages, and a fun Wheel of Fortune. Omnisend's eCommerce marketing automation is free of cost for 14 days. 
After that period, you can select whether to keep using their paid plans – Standard or Pro – or just continue enjoying the Free plan, which includes fifteen Thousand emails per month (as much as approx 2,000 emails per day).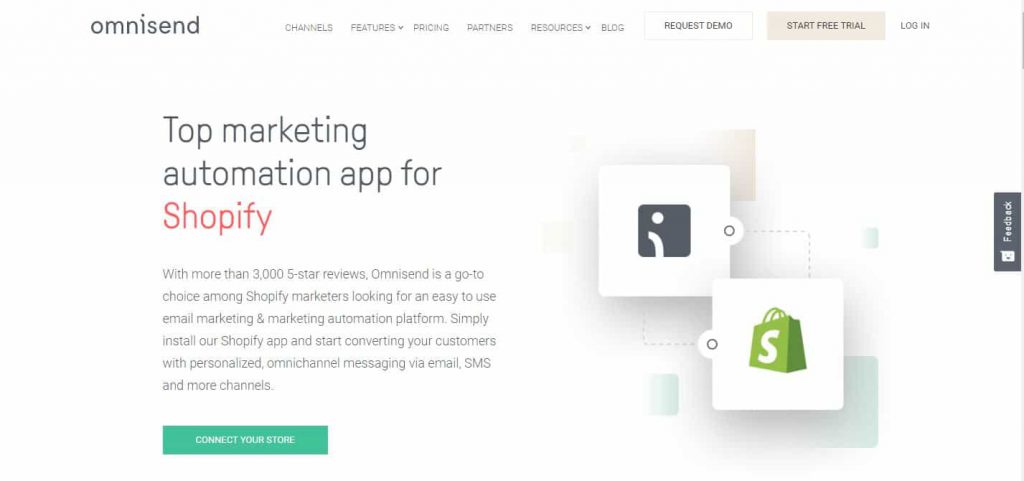 As a single-stop email marketing for Shopify service, ActiveCampaign that starts at $9/month has much to offer, for example, unlimited emails that are available in all of its plans, a wide variety of auto-responders and third-party integrations. This results in a busy interface that can be difficult to take in at first look. 
What we liked
ActiveCampaign at just $9 per month also offers a short free trial of 14 days, when most competitors provide a minimum 30 days (but at least it doesn't need a credit card). ActiveCampaign has a huge library of online support resources & onboarding services, receiving help thorough live chat is possible here, but not by phone. 
Like numerous other email marketing programs, ActiveCampaign extends the features it has into marketing automation too. The company organizes its plans depending on the subscribers' number you want to reach. Most importantly, snatching ActiveCampaign's 14-day free trial is easy as there's no credit card required. 
Before you add the contacts, you'll need to create a list, just as with Campaign Monitor. Autoresponders might get triggered by subscribes, email opens, unsubscribes, link clicks, and events, for example, birthdays & anniversaries. ActiveCampaign provides features for a relatively low price.
Verdict
With a third-party's plethora of integrations and custom auto-responders, numerous users will be satisfied with the service this tool offers. It beats out the same Campaign Monitor by a nose. However, it still doesn't provide quite the level of service, which you might indicate on Campaigner and MailChimp.
The dashboard of this tool is a bit overwhelming at first glance. It's difficult to know where to begin. However, you'll get used to this dashboard soon. On the right rail, there's a social activity feed, incorporating social shares, click rates, unsubscribes, and so on. Copying and pasting contacts into a form is possible with this tool, or you can add them one-by-one. 
The response that begins at $15 per month is a reliable email marketing solution for Shopify, which is well-suited for especially small to midsize businesses (SMBs) who may just be getting beginned with digital marketing. While it might seem sparse than more mature solutions, GetResponse's cost is correct and has a wide choice of third-party integrations. 
What we liked
For SMBs, which can create easy selection solutions, in case those integrations work with different solutions, the business might already be running. With a few basic analytics and an affordable expense scheme for fresh users, GetResponse is undoubtedly a notable choice even in case it lacks the great advanced features that you can locate in Editors' Choice honorees, such as Campaigner and Mailchimp. 
The Basic Plan starts up to a maximum of $450 for every month for 100,000 contacts. Every single plan of GetResponse is available on a monthly basis. In case you sign up for a yearly contract in this tool, then the price will downgrade by 18 percent for all plans. Prepaying for two years of service will offer you a 30 percent discount. 
Campaigner provides no such discount for annual sign-ups. GetResponse gives numerous options to create a subscriber list. The selection of approaches will differ depending on where clients are coming from. In case you're starting fresh and migrating from normal and basic spreadsheets, or moving from some other solutions. 
Verdict
In case you have a contact list that is relatively small, then copying and pasting email addresses is what you can simply do. For huge lists, you can upload the number of file types, or you can just connect to third-party services, for example, Google, Zendesk Support, Salesforce, and so on. 
Overall, GetResponse offers an outstanding user experience (UX) and fantastic third-party integration, and its free trial incorporates a large base of about 1,000 contacts. GetResponse surely has its powers and its pocket-friendly starting price with a rich range of features that can be any SMB's huge upgrade for designing their very first multi-faceted marketing campaign.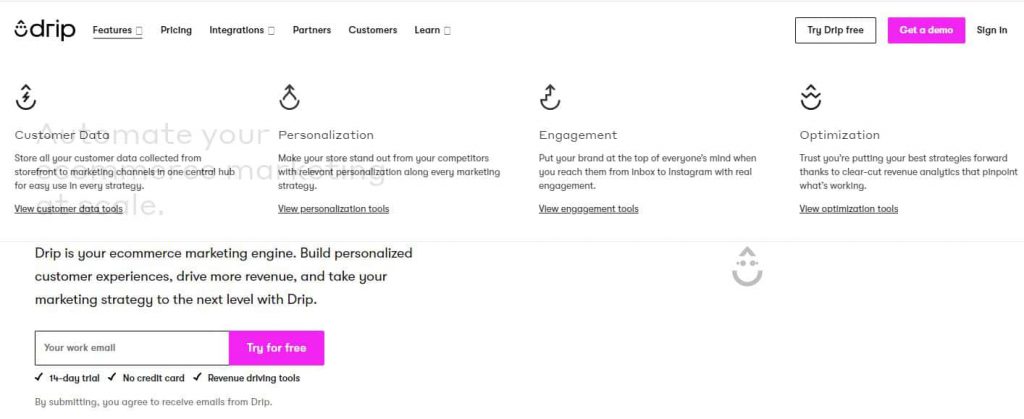 Drip is uniquely created for marketeers and specific small businesses. A lot of tools such as highlighting their automation features; however, in overall user experience, no other tool can beat the level of automation, which Drip offers. Drip is the very first ECRM–an Ecommerce CRM designed for the world for constructing personal & profitable relationships with the customers at scale. 
Ecommerce marketers near the world are beginning to locate their customers in full color with features of Drip like hyper-segmentation, robust email marketing automation, and comprehensive tracking. They're graduating from common email platforms, overhyped marketing automation tools, bloated CRMs, and making greater money with Drip. 
What we liked
You might already locate that Drip permits you to gather email addresses, add users to numerous drip campaigns, forward autoresponder emails, and also you can split test your campaigns. However, what makes Drip uncommon? 
Well, Drip is basically not your typical, cheap email marketing service for Shopify, which simply does its job. It assists you in understanding your audience by gathering possibly complete user data from your website, 3rd-party tools, plugins, and then permits you to flip those insights into revenue by forwarding personalized emails, which are likely to be engaged and opened. One of Drip's best unique features is the Event Tracking they have.
Verdict
Numerous email marketing services provide tags to help in handling your email list. Tags are basically used to describe the relationship you've with a customer. Assigning tags to each customer is possible here to show what their past is with your company.
For example, in case they've bought certain products, if they've seen certain pages, etc. Then you can forward an email to all of those people on the list you've, which have a specific tag in order to forward more personalized emails.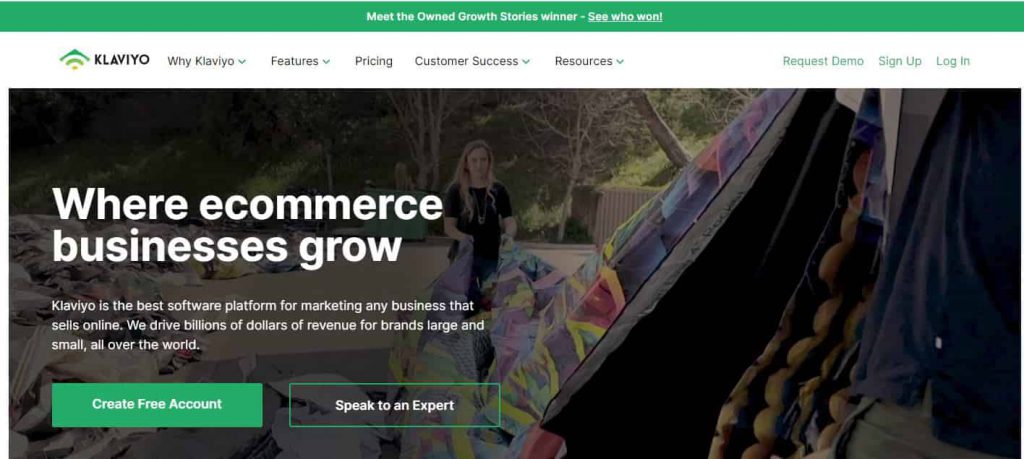 Klaviyo provides a full email marketing solution for the online store that you have in Shopify. At its core, Klaviyo also has a drag-and-drop email composer option along with numerous pre-built email templates for basic email campaigns. There are also automation tools, which are powerful and enable you to make complex automated email flows. 
Integrating Klaviyo with Shopify is possible along with a set of other tools and platforms, for example, Justuno, Stripe, Salesforce, and more. While Klaviyo is able to integrate with WooCommerce, BigCommerce, Magento, and other eCommerce platforms that are small, we'll be concentrating this Klaviyo, especially on their integration with Shopify. It's because Klaviyo's predominant focus is on the Shopify platform.
This permits you to create the designs of your email with relative ease and offers you a preview of what your email will be looking like in the inboxes of your subscribers. While creating emails in Klaviyo, which are fully mobile responsive, is possible, but Klaviyo is not the tool for making mind-blowing designs.
What we liked
This tool's strong suit is undoubtedly in how advanced & in-depth you can take email marketing when we talk about automation and targeting. With Klaviyo setting up multi-faceted segmentation rules is an easy task and email flows, which branch off in a multitude of approaches depending on complex rules, is easy too. 
All the high-end features and tools can arrive with a steep learning curve for individuals who are not quite familiar with Klaviyo or have experience in email marketing. Whether Klaviyo's high-end feature set is of great advantage, the liability comes down to what you need out of email marketing. 
Verdict
In case you're a seasoned email marketer and already know your way around software that is advanced, then it's likely a great benefit. The functionality's sheer amount, settings as well as customization arrive with a steep learning curve. 
This can create it intimidating to individuals, especially those who aren't completely familiar with email marketing. If you're searching for a truly advanced solution for email marketing for Shopify and have the knowledge and time to invest in it, Klaviyo is definitely a great choice.
An essential halt!
Hey, have you not selected a tool for Shopify yet? No worries, there are 5 more to come! We'd love to make you remember, every tool for email marketing for Shopify will prove to be nearly worthless in case you're not focusing on verifying your emial lists. Our magical tool costs only $1.55 for 500 credits! Pricing and features are truly heart-winning!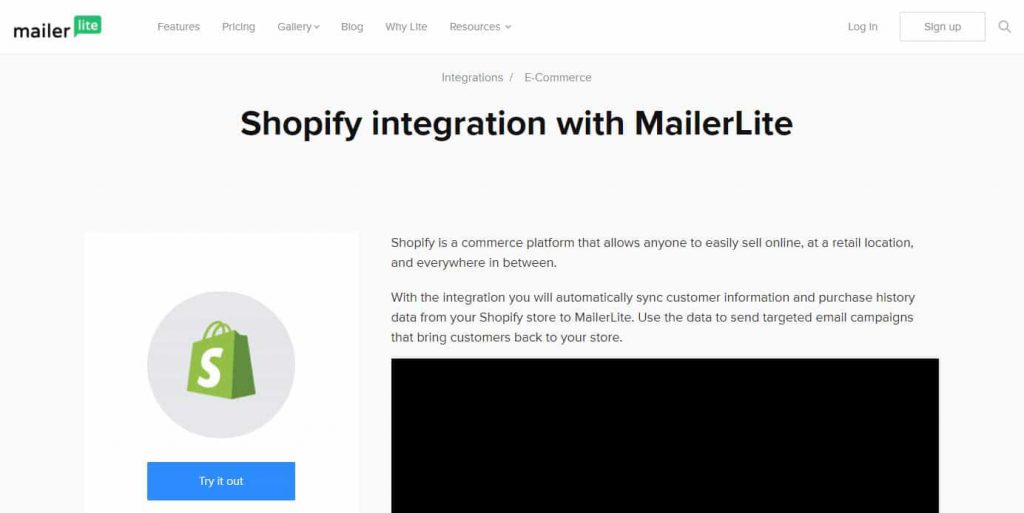 MailerLite is basically a web-based email marketing tool, which is trusted by over 600,000 users around the world. Beginned in 2010, this email marketing software is aiming to help freelancers & businesses from small to medium-sized enjoy the perks of email marketing for Shopify at an affordable cost.
It's perfect for individuals who own websites but don't have a large budget to spend. Five pricing models are available in this tool, incorporating a freemium version. However, in case using MailerLite for business is what you intend, then you should go with the $10 per month plan in which you'll enjoy the entire features and be permitted to send unlimited emails.
What we liked
Among MailerLite's major strengths are its ease of use, excellent customer support, and beautiful email & newsletter designs. Despite its simplicity, this tool boasts lots of nifty features as well as integrations.
Mostly, email marketing tools do have "tags," however, MailerLite uses "groups" and "segments." and in case you think segments and groups are the same as concepts, be aware! MailerLite treats both of these differently. This makes the approach of MailerLite quite confusing.
Verdict
MailerLite will permit you to create beautiful and high-converting campaigns of emails for your new blog post, review, webinar, or other events. Email automation among MailerLite's useful features and is basically used for creating workflows that are based on campaign actions.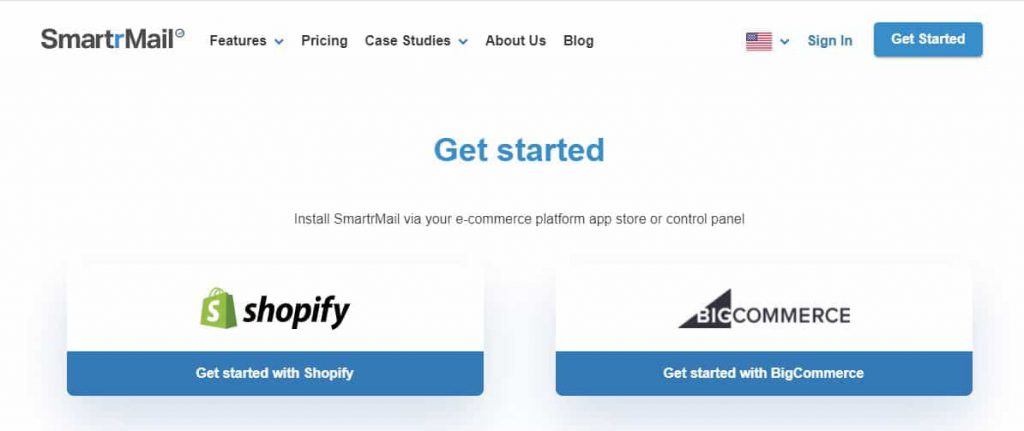 SmartrMail is the simplest approach to send emails that can delight your customers and drive more sales. iT's an email marketing app for merchants that are searching for fantastic email marketing tools, but without having time or resources. With this tool's seamless Shopify, WooCommerce, BigCommerce, and Neto integrations along with a world-class support team, you'll be forwarding emails in no time. 
A 15-day trial permits you to test out the SmrtrMail system on both Shopify as well as Bigcommerce. Also, there's a requirement of a credit card, and since both Shopify & Bigcommerce have their own free trials, a fresh store would be paying a dime for that first 2 weeks.
What we liked
Talking about the pricing, SmartrMail incorporates a premium tool for searching the exact price every month you would have to pay. The company just charges based on the amount of email addresses that you have in a database. So, you'll never be overcharged by having to select between a handful of plans.
In case you've ever worked with the email marketing tool, which isn't meant for eCommerce, you already know how tedious it might get to upload product images, copying & pasting descriptions, and pretty much-handling anything, which goes into the email.
Since SmartrMail integrates with the Shopify store that you have, the entire process gets shortened. No longer copying and pasting issues or resize images, since all of your products will be pulled upon choosing the one you want to insert. That means the description, links as well as price will all drop into the email automatically.
Verdict
You can also contact the SmartrMail's support team by scheduling the date & time. After that, the support team will call you, so there's no requirement of waiting in a queue for a longer time. An email address is offered for direct contact, and the page of FAQs will surely help out some folks. SmartrMail's support outlets are pretty solid too.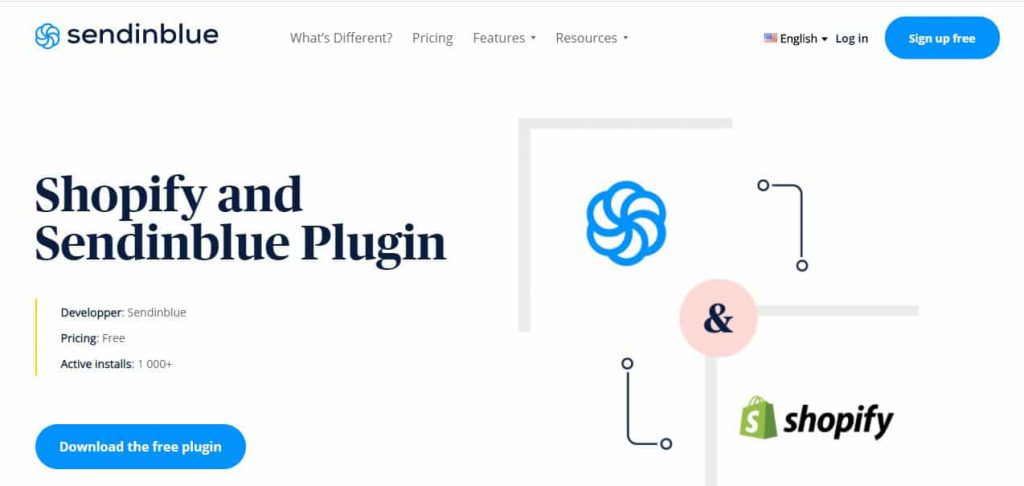 SendinBlue is a fantastic email marketing solution for SMB for small and medium-sized businesses who want to forward and automate email marketing campaigns, even in case they've got a limited budget. In simple words, SendinBlue is basically a cheaper solution, incorporating a free version and free trial, but with even greater functionality.
What we liked
The user interface of Sendinblue is easy to grasp and permits you to identify all the tool's key areas pretty quickly. The main menu is presented at the top – directing you to your automation, transactional email, campaigns and contact management. Firstly, Sendinblue charges "per email forwarded" and not per the size of the contact list you have. 
So, no matter if your list is having 100 people or 1,000,000, Sendinblue will not charge you any additional cost for that. Another essential point; there's a free plan too! The cap of 300 emails per day translates to 9,000 per month. (Email automation around 2,000 contacts.) Reasonably, in case you're just beginning out and the list of emails you have is between 100 to 500 people, then the free plan might fulfill your requirements.
Verdict
Sendinblue provides all that you'd expect – you can make an email blast and forward it to your list of contacts. There's a visual interface/email builder that is easy-to-use and makes creating your messages much more straightforward. Email marketing is a master key component for numerous online businesses, and there's a great reason for this! 
Even in the social media's age, there's still no other better alternative of contacting people directly than through email – and especially in the case it's for any type of business purpose. With that, every person would prefer to minimize any additional operating expenses, which permits them for keeping a larger slice of the revenue pie. For achieving that, Sendinblue is the best option!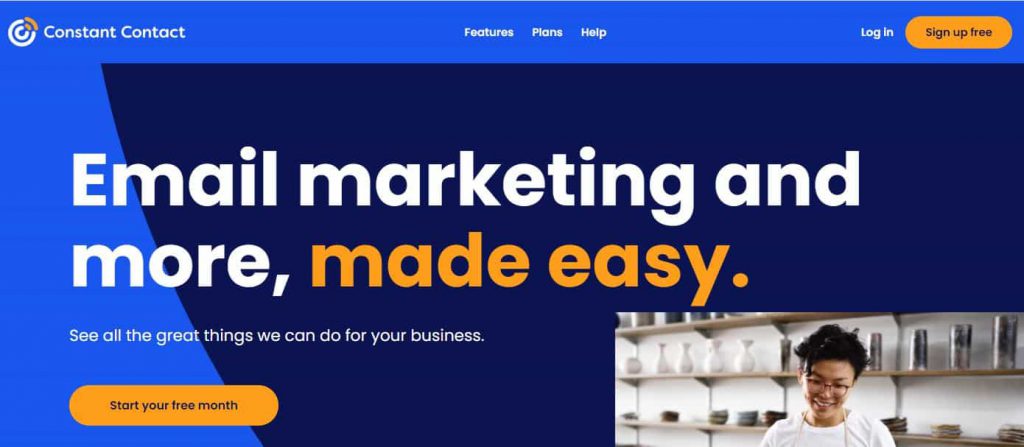 Constant contact has been in the game of email marketing since 1995. During that time, the tool has managed to become among the most used email tools around the world, boasting over 650,000 customers.
What makes Constant Contact special is that they've added numerous features over the years that none other competitors of them did, such as surveys & social campaigns. Every single of these adds to the diverse list of email alternatives available, in addition to automation as well as recurring newsletters.
What we liked
Constant contact begins at $20/month and offers small & midsize businesses (SMBs) a pretty and intuitive user interface (UI) having a modern and familiar design. In this tool, there's an abundance of features for the cost, and SMBs can give Constant Contact a whirl even before they determine on committing to a subscription as a 60-day free trial is there. 
There are coaches accessible at a toll-free number, and extensive Knowledge Base (KB) articles too. Also, contextual help is situated on each dashboard. Constant contact provides two types of premium plans according to the customer's email list size. The lower plan is called email, which begins at $20 for each month for about 500 subscribers running up to $335 for each month for about 50,000 subscribers. Custom plans are accessible in case your list contains 50,000 subscribers or more. 
Verdict
The Email plans provide features that most small businesses require to start an email marketing campaign, incorporating list management, customization, template building, and audience segmentation, among numerous others.
Email Plus is for organizations with greater sophisticated requirements, offering A/B testing, event marketing & registration, automated email series, online donations, online survey creation as well as management, and so on. Overall, Constant Contact is undoubtedly a great choice for email marketers, especially for Shopify!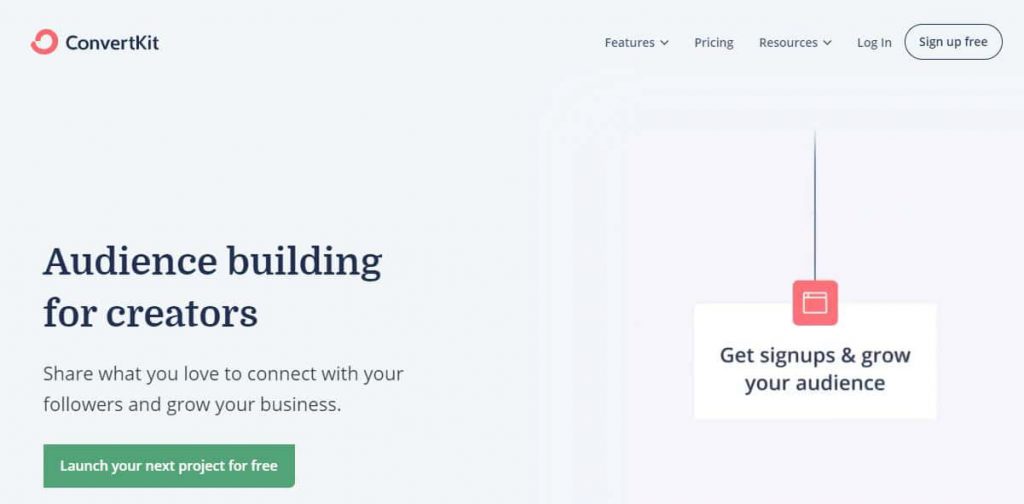 ConvertKit is software for email marketing for Shopify primarily aimed at bloggers and people that sell products through an online store. However, it may not be for people targeting multiple audiences. No matter whether it's intentional or not, ConvertKit isn't good or suitable for anyone who is a newbie in technical knowledge.
There are some options in ConvertKit within the email editor, which require inserting snippets made of codes. ConvertKit has an extraordinary set of features. Its subscriber management, autoresponder, and form-building capabilities are fantastic. The only email editor is an area that may not support non-techies.
What we liked
ConvertKit basically has a very limited free plan that offers unlimited free landing pages as well as 30 premium email templates. In case you want to forward emails for free (the major goal of email marketing!), then you must need to refer a friend. ConvertKit's premium pricing plans are a bit costly. It's the least expensive plan that is just for 1–1,000 subscribers, arrives at $29 for each month.
The price differs according to the subscribers' number, instead of the feature set. The lack of a free plan may not satisfy some users of ConvertKit, as the organization believes you have to pay expensively for creating winning email marketing campaigns. You get 2 months free in case you select to pay annually.
Verdict
There is no menu option available to create an email. Rather than that, you have to select either the Broadcast option (that sends an individual email) or the Sequences option (that permits you to send a string of related emails). This is a critical oversight, as making an attractive email is the bedrock of a campaign to become successful, so — unless you have design & coding resources — you will just be able to make a very simple email.
You can alter attributes of style like background and content font, color, and button's style & color. In case you want to personalize your subject line, you need to copy & paste a snippet of code. Thus, ConvertKit is a useful tool for email marketing for Shopify.
A critical halt!
We're sure you've already made your mind till now on selecting a tool for email marketing for Shopify, however, have you cherished our fantastic Email verification tool that is leading the industry currently regarding accuracy? You must not be skipping this!
Choosing the correct email marketing tool for Shopify
Every email marketing tool is a bit distinctive, though most of the tools provide the same basic features. Still, locating the difference between all of the available options and determining out which suits best for your needs. Following are some basic email marketing tool's features that all eCommerce businesses need in their email marketing service:
Ready-made templates, which can be easily customized according to your needs

Audience-segmentation features for forwarding targeted emails based on the profiles of your customers.

Smart automation to scale your email marketing efforts without frequent monitoring

Opt-in forms

, which can be embedded on your site or integrated with the Shopify store

Detailed analytics for gauging how an email marketing campaign is performing
Each solution method needs these features a little differently. Knowing about them will factor in your ultimate decision.
You'll need to ensure the tool you select can manage your intended volume. In case you plan to forward around 5,000 emails on a daily basis to 200,000 subscribers, you don't want a service, which caps off below the numbers mentioned above. Also, obviously, you'll require a tool, which falls within your budget. Fortunately, numerous email marketing tools for Shopify we rounded up provides free trials, permitting you to sample the value and work of each.
What Are The Best Strategies Of Email Marketing For Shopify?
Product Images: When customers make a purchase from your Shopify store, they depend on professional quality product images to assist them in determining perfectly about the product. High-quality images will assist buyers in seeing what the product will look like in real life. Your images must not be having them second-guessing: it must force them clicking the 'buy' button.
Marketing Funnel: Fine-tuning the eCommerce marketing funnel permits you to cover every single of your marketing bases to grab more customers' attention. Check all marketing avenues leading back to the Shopify store, for example, SEO, ads, social media, buy buttons and links on your website.
Customer Service: In case you're handling customer queries daily on your own, working with the help of bots or a fulfilled team. Forwarding emails means bringing greater shoppers to your Shopify store, without the correct customer service, you may end up losing them immediately.
Work on Your Email's Copy
Your email copy determines the volumes of your brand. After your audiences click on your subject line, the email you've might be your readers' first impression about you. So here's the method of email copywriting tactics to help you along the way.
Know About Your Audience & Brand Voice
When you're writing content for your emails, it's essential to know about your audience and what your brand voice will sound like in an email.
What's the purpose of considering these two things?
Well, your buyer persona, as well as the brand's voice, determines what you write in your emails. For example, a B2C Shopify store having a more professional tone will need a good newsletter:
Keep Your Emails Short
As technology is moving deeper into the culture that is "now" to cater to customer requirements, attention spans are getting more short each year.
So when subscribers of email have to read over 200-400 words in an email, then they're more likely to skim via and either opt-out.
This is definitely true for sending eCommerce emails; customers basically expect to receive short as well as concise emails.
Write About The Advantages and Features, Not Selling
Furthermore, to keep your emails short, remember that people concentrate greater on the benefits & features of the products instead of the product itself. Yes, you're sending emails to sell the products and earn money. However, smart marketers know the necessities, which products need to get sold, but the benefits and issues a product solves for customers. This means incorporating the following in emails:
Real-life testimonials

Highlight quality & ingredients: for an example, is it vegan-friendly, fair trade.

Show off-speed and convenience 

Demonstrate how consumers could include a product or service in the lifestyle they have and day-to-day activities
Email Design & Layout
After you've mastered copying your email, it's time to think about your email design & layout. As you've noticed, numerous Shopify and eCommerce owners have opted for emails that are designed instead of plain text.
Instead, emails that are designed with colorful text, images, and CTA buttons have been so common that customers almost expect to get them from the first welcome email.
While designing your email, think about the color choices before clicking send. It may be tempting to go complete monochrome and enter a picture or two, however, don't be afraid to add a set of colors to your emails.
Colors will have a strong impact on readers. They can evoke emotions, draw attention, and take actions to essential aspects or sections or your emails. 
Email Campaigns Your Shopify Store Need
Having your Shopify store up & running, you'll be required to handle your email campaign. The campaigns of email marketing assist in turning potential purchasers into repeat buyers. Here are some emails, which you should design, automate, and forward to your email subscribers every time:
Welcome Email Campaign
Welcome emails must be the first email fresh shoppers, and email subscribers receive from you. Even your subscribers expect to get an email. We found that around 73% of people expect to get a welcome email quickly after subscribing to your list. Maybe it's because welcome emails generate four times more opens and five-time more clicks in comparison to regular email marketing campaigns.
Following are three must-have tips while creating your welcome emails :
Put your welcome message in the first place and your sales pitch in the second. This indicates that your brand is genuine regarding onboarding readers & welcoming them to the community of your brand.

Show off your voice for your brand. In case you're funny, try adding a joke. If you care greatly about the environment, try to tell me about what your product is doing to help the environment.

Use the best images of your product. Welcome emails are the best to utilize an image, which customers love or one that has performed well during A/B testing.
Promotional Email Campaign
Once you've forwarded a welcome email, it's time to forward some promotional or discount emails too.
Promotional emails will surely help to reel customers in. These include customers:
Who might not have opened the welcome email you sent email

People who are searching for holiday deals

Who still hasn't finished a purchase on your website

Customers who didn't buy when they visited your site
Discount emails can drive buyers to check out and get traffic to your site when sales are slow. However, as good as discount emails are, there can be many good things too. There is a risk when forwarding back-to-back discount emails.
In fact, you'll undoubtedly grab the attention of potential sales. However, people get used to not paying full costs in your store. To avoid discount fatigue, you should forward discount emails seasonally, or you can also forward them during special occasions like birthdays or festivals.
Shopping Cart Abandonment Email Campaign
Over 85% of buyers select to leave the site without finishing a purchase.
Buyers abandon their Shopify carts even for just one reason; maybe they left your website after browsing for some products. However, something offline distracted them. There's also a possibility of buyers adding items to their cart for comparing prices to a competitor.
Product Email Campaign
Let's say you've resealed a new product, but you realize that sales are getting slower for a bestseller, that's where the product emails come handy.
Retargeting Email Campaign
Retargeting emails assist in reaching out to email subscribers who might not have opened any of the emails you sent them, or it's been a while when they made their last purchase. Once you made your emails correctly, it's time to automate them and send off your email campaigns.
Research indicates which time during the day for forwarding emails is best for your subscribers is between 10 to 11 AM, and in our research, we found that the best day to get high open rates is Thursday, whereas Tuesday is best for click-through rates.
However, there isn't one size, which fits all time to forward emails. Every brand has to indicate what works best for them. The same goes for how many emails you must send to the subscribers in a day as well. When the day ends, consistency is the key.  
Whether you forward emails once every week or 4 times a day, the very end thing you want is taking forever to forward your next email. People subscribe to your emails as they require to receive them frequently or maybe monthly. The moment you stop forwarding emails, people will forget your brand and move onto another for getting the best deals in their inbox.
That's why email automation will help Shopify owners like you to be frequent with your email marketing. However, don't just click "forward" and forget it: you must monitor some other things in emails too — personalization, segmentation, and monitoring your results.
Segmentation & Personalization
Segmentation & personalization make an ultimate duo for any campaign of email marketing. Personalized emails offer 6x higher transaction rates (and who wouldn't need more orders for their Shopify store?)
Also, another fact is that 55% of marketers agree with email segmentation; it's the most effective technique to personalize email marketing.
You can segment & personalize the emails you've based on the following:
Type of customer: Who are you forwarding emails to, B2C or B2B?

Location: You can forward emails & product suggestions based on the geo-location and season of your email subscribers.

The interest of the product: Personalizing emails is possible based on search or past history of purchases.

Engagement level: Segmenting email subscribers is good based on how frequently they open emails or buy products.
You've already seen the segmentation & personalization power in email marketing, right? Begin with this Ultimate Guide to know how you can make your subscribers sign up your newsletter!
Measuring Your Email Performance
A common mistake that mostly Shopify owners do is when they begin sending emails and forgetting to check the metrics and verifying their email lists.
While forwarding emails, here are the essential media metrics to follow:
Click-through Rate: It's based on the percentage of subscribers, which click a link (any link) in your email

Open Rate: The percentage of subscribers, which opened an email

Bounce Rate: The percentage of emails, which don't make it into the inbox of subscribers because of a technical issue, spam filter, or an email of the subscriber being inactive

Opt-Out Rate: It's the percentage of subscribers, which unsubscribed from your email list
Best Email Marketing For Shopify: The Conclusion
Review them every week of a month and learn which emails are driving the most sales and eliminate other emails that aren't performing well. 
Some actions' examples are; subscribers clicking and links opening, subscribers updating one or numerous contact fields, subscribers joining a list, or subscribers upgrading their freemium plan to premium plan. MailerLite's automation is simple, neat, and easy to navigate. Such descriptions are hard to say for other email marketing software automation tools for Shopify.
To build new automation, make a workflow first after that set up a workflow trigger. When you're done setting a trigger, you can add steps, for example, adding a delay or sending an email, condition, or action. Creating yes/no branches at distinctive points to forward separate emails is possible whenever subscribers meet/don't meet certain criteria. Using automation is also possible to set up autoresponders or to update your groups.
Thus, do forward emails to boost your email marketing for Shopify, but if a given number out of those bounce back, your campaign and (especially reputation) is gone! Better to be fail safe than sorry! Do verify your Email list, and we're also offering the free trial in our top class email verifier tool!
(Visited 293 times, 1 visits today)