A business that deals with selling, buying, investing, or managing real estate properties is known as the real estate business. There is always someone in the market for a new dream home or business property. When this need arises, consumers seek out professionals in the real estate business.
These professionals within the real estate field will help you achieve your goal of owning a property. Rather than the buyer sorting through information regarding thousands of properties, the real estate agent can find the properties that may satisfy their client's requirements.
Approximately 88% of real estate buyers purchased their homes through a real estate agent or broker. This share has been increasing firmly from 69% since 2001.
The majority of sellers also relied on real estate agents. Only 9% of sellers sold their homes on their own. For real estate agents, email lists are extremely helpful.
Presently 99% of computer users check their emails regularly. Real estate agents utilize this form of communication as well. Emails make it simple to communicate with their clients through emails.
The email conversion rates are at a three-time high compared to what can be accomplished with communication through social media.
With email marketing, there are 50% more chances to receive leads, and these leads typically generate a 20% higher sales value.
Emails help you drive your business and when you send a follow-up email, you can encourage the buyer. When you are easy to reach and communicate with, this makes you that much more credible in your field.
Email Marketing: Why is it Useful in the Real Estate Business?
In simple words, email marketing helps you make money and drive additional sales. This form of marketing also helps you drive more profits in terms of lead generation.
Building relationships with clients is an essential part of the real estate business. However, managing a relationship with new or existing clients can be tricky. When interacting with dozens of people each day, maintaining timely, high-quality communication can become overwhelming.
So, how can you maintain conversations with everyone you meet and build relationships with them? Email marketing can make this issue easy and straightforward.
Email marketing allows you to communicate with a large group of people at once. This means you can increase high-quality client relationships than if you were to try to interact with all of your clients and prospects individually.
Email marketing is the best way to stay connected with people, and it also gives you a chance to keep communication channels open.
There is no other tool that is as effective in allowing you to stay in touch with your clients and helping to drive more sales with trust.
According to Mailify, email marketing provides a 4,3% return on investments. That means email provides a large return on your email marketing investment. It will help you to increase your real estate business net profits.
Approximately 21% of buyers prefer email over other channels of communication. Emails are a simple marketing strategy because it doesn't take a long time to create an email, send it, and read the contents.
Benefits of Email Marketing in the Real Estate Business
There are a variety of ways that makes email marketing beneficial for real estate agents:
Increased conversion rate
Brand awareness is increased among clients
Email marketing is cost-effective
Emails can be sent globally, with the possibility of producing more clients
Communication is an instant process between the real estate professional and his clients
Receive new buyers via email marketing
Connect the real estate agent with new buyers
Build confidence through email marketing automation
Notify a new listing through email marketing
Track client interest through email marketing automation tools
Generate 50% more leads at a 30% lower cost compared to other marketing strategies
Instantly transfer all real estates information such as images of the property, information about property size, price, and other related information
Note: If email marketing is done in the right way, you will get all the above benefits.
Pro Tip: Do you want to improve email deliverability? Try our cheapest bulk
Email Verification
service.
How do you Run an Effective Email Marketing Campaign?
Is there a correct way to run an effective email marketing strategy? When starting an email marketing campaign, one of the first questions to ask is: "Do your subscribers receive your emails or not?"
How can you be assured that you're sending your emails to only real customers? This is when email verification or email validation services should be used.
How do you use the Email Verification Service to Clean your Email Database?
Email verification services help you clean your email database. It can help you decipher real versus invalid email addresses from your email database.
Email list cleaning services assist you in removing invalid or unwanted email addresses from your email list.
This effective strategy helps you send your emails only to valid and safe email addresses. By spending a few dollars for an email verification service, you can increase the ROI of the whole email marketing campaign.
This also helps you save time, money, and effort since the email verification service does the work for you. It helps you connect with your potential customers and improve your email deliverability rate as well.
How do Verified Email Lists Help in Email Marketing?
Email service providers do not give any guarantees for email deliverability rates. The average inbox rate for a Sender Score of 91 or greater is 88%. Having 1% of your unclean email list can drain your inbox percentage by over 10%.
According to Jupiter Research, more than 20% of email registrations contain typos in domains, syntax issues, and other errors. If your email list is too old, you never know which email addresses are invalid or not working.
Email verification or email list cleaning services help you edit and organize your email lists before getting caught up in an invalid email predicament.
Using an email list cleaning service can improve the percentage of emails that reach the client's inbox. It dodges the risk of being blocked by ISP providers.
If you are investing in your business by using a maintained email database, it's worth it in the long run. Your reputation as a professional will remain untainted. Not only that, but email verification services help you achieve success in your email marketing campaign as a whole.
A clean email list will help you achieve all the positive marketing statistics that exist by using a successful email marketing campaign,
Another issue that can be avoided is spam traps in your email list. This will affect your email marketing if you're sending your emails to spam trap addresses.
When this happens, you are most likely to be observed by ISP or blacklist providers, which will negatively impact your marketing campaign success.
If consumers continue to mark your email addresses as spam, then it will become extremely complicated to attract customers and keep the marketing drive going.
According to recent research, 2000 emails sent were on a verified and unverified email list. With the verified email list, there is a 100% chance that your customers will receive your emails and open them.
There are fewer chances of an email bounce, and there is not a single possibility that your email failed to send.
However, if you see an unverified email list, chances are that your email failed. When this happens, it means that the customer did not receive your email. The bounce rate chances may then increase, which can cause your sending reputation to plummet.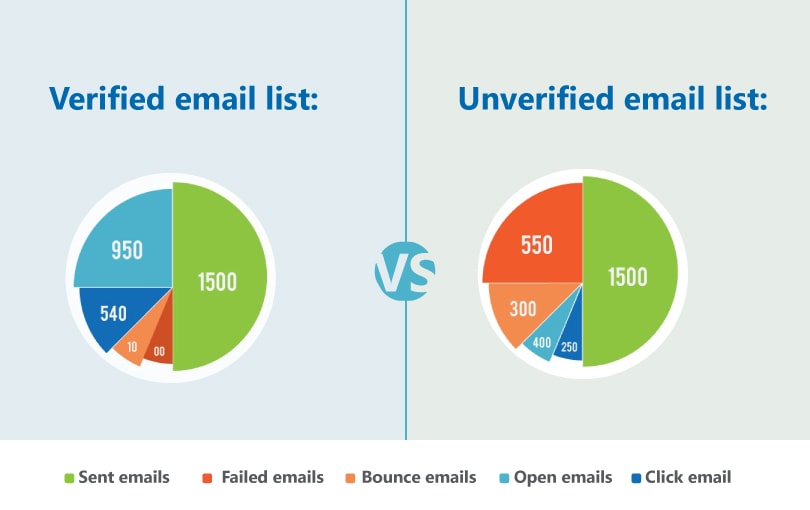 What Happens when Email Addresses are not Verified?
Email addresses are a valuable part of marketing campaign data. If your email database is fresh and accurate, it can be a helpful, positive asset for your email marketing campaign.
Almost all email marketing service providers are not going to defend your email database against repeated attempts regarding invalid email addresses. So, email verification helps you secure your marketing campaign by including only valid email addresses in your database.
For example, one of your best friends settled in the USA one year ago. You are unfortunately not in contact with him regularly. After some time goes by you realize his birthday is arriving soon and you want to send him gifts as a surprise. You have his old mailing address, and so you send the gifts to this address.
Was he able to get your gifts?
Of course not! You needed to verify where his current mailing address is, especially since he moved. Without verifying the correct mailing address, a complete stranger may pick up those gifts instead. Not only have you given up a thoughtful surprise by not confirming an address, but you have also wasted money.
This same issue happens within an email database. If an old email database is being used, you need to confirm if all the email addresses included are valid or not.
Only move forward with sending emails after verifying that the email addresses are valid. If you don't verify the email addresses, valuable information may either be sent to the wrong person or no one at all. When you allow this to happen, you are simply wasting your time and money.
Pro Tip: If your email lists are not cleaned, You are wasting your time, money, and efforts. Try our bulk
Email Verification
to improve your ROI.
Conclusion: The Importance of Email Marketing in Real Estate
When email marketing is done in the right way within the real estate profession, additional leads are generated, Faithfull relations are developed, and streamlined communication is maintained.
If you use email marketing for your own real estate business, you will find that it helps you stay connected with valuable clients, which also helps you earn more money, a positive reputation, and overall success.
You can increase email marketing campaign effectiveness with the help of an email verification company. Choose the company that best fits your needs. You will be sure to witness the success of these high-quality services and receive an abundance of professional achievements.
(Visited 530 times, 1 visits today)