Email marketing is essential for building strong relationships with your customers. You already know that.
You've also probably wondered what the best techniques are to ensure the process delivers the desired results.
Killer or catchy subject lines and compelling copy get the most mentions. However, none of these are remotely relevant if your marketing emails don't reach your audience to begin with.
If subscribers can not receive your emails, then what's the use? So today, let's look at some factors on how to increase email deliverability and make sure your marketing emails are landing in your subscribers' inbox.
Reputation plays a vital role in email marketing, and what's a better way to build trust than the use of a subdomain? While not for everyone, registering a subdomain exclusively for an email marketing purpose will build trust over time.
Moreover, a subdomain permits domain-specific monitoring of your IP reputation so your emails can triumph over some domain-based certification filters.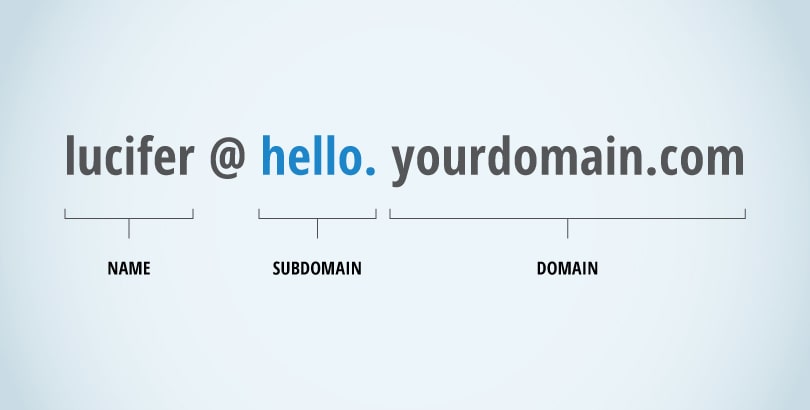 Single opt-ins are the go-to these days, but the double opt-in is more efficient.
With a single opt-in, the user agrees to receive your marketing emails by ticking a checkbox. It's easy, automatic, and a seemingly great way to build your email list.
What you might be unaware of is its high rate of spam complaints. And these could be detrimental to your sender reputation since ISPs tend to block such sending servers.
Double opt-ins help fix the issue of spam complaints as it encourages a cleaner, engaged, verified email list. The new user is required to give their consent after submitting their address. This is done by validating the address via a confirmation email.
By using a double opt-in, you're confident that subscriptions are not just intentional but wanted.
Besides, you could employ an Email Validation Service to validate your email lists and reach a more genuine audience.
Email service providers employ the use of domain blacklists, such as the DNSBL and the SURBL systems, to eliminate spam emails before reaching the users.
These DNS-based blacklists defend users from IPs with an unreasonable amount of spam reports. In other words, blacklisting is for mail servers that are known to send lots of spam messages.
So if your URL or IP is on a blacklist, it doesn't need to be you sending the spam. It could be a shared mail server affecting your email deliverability. It's paramount to ensure that your IP isn't on any blacklist, regardless of your level of expertise.
This is where MxToolbox comes in. Using this or a similar web app, you could put the IP address of your mail server against 100+ realtime blacklists (otherwise called DNSBL or RBL).
If by any chance, it's been blacklisted, the next step is to find out why (technical, policy, or evidence-based) and work towards getting 'unblacklisted.'
Implement a sender policy framework
An SPF record is a cross-check of the domain name against the related IP address to determine its authenticity.
With the SPF (Sender Policy Framework) protocol, senders can specify the IP addresses that are authorized to send an email on behalf of a specific domain.
It's a DNS record to preclude email address forgery. What does that say? This: without an SPF record in place, your emails are more likely to be rejected due to spammers falsifying headers.
Moreover, this record helps protect your customers, brand, and business from phishing, spoofing, and similar attacks. It draws you closer to your email marketing purpose.
Adhere to a Consistent Email Marketing Schedule
With the use of a dedicated IP address, you're required to warm up your IP (more so if it's been more than 30 days since you last sent an email).
Warming up gives room to send more emails as you establish a good sender reputation gradually. (More on it at the 10th point.)
Low sender score and IP rejection are two common issues faced by email marketers due to random broadcast activity and spending spikes. Hence, maintaining a schedule with consistency is a must.
Include Branding in Your "From" Name
Apart from reducing spam complaints, including your brand name in the "from" line takes your open rates forward.
Here's a suggested approach: use "from [Business Name]" right after the individual name. Why a unique name, you reckon. A plethora of businesses prefers using an individual to man their email marketing to give off a more intimate touch.
How Much of a Reputable Sender Are You?
The sender's reputation is a score that an Internet Service Provider assigns to the mail server of a sender. There are many factors affecting sender reputation—domain reputation, for example—but you don't have to consider everyone.
If you're receiving non-delivery reports, having a low sender score is a key culprit. This is because ISPs automatically reject emails that fall below a specific rating.
Therefore, have a mind to keep your sender reputation high for improving the deliverability of your emails.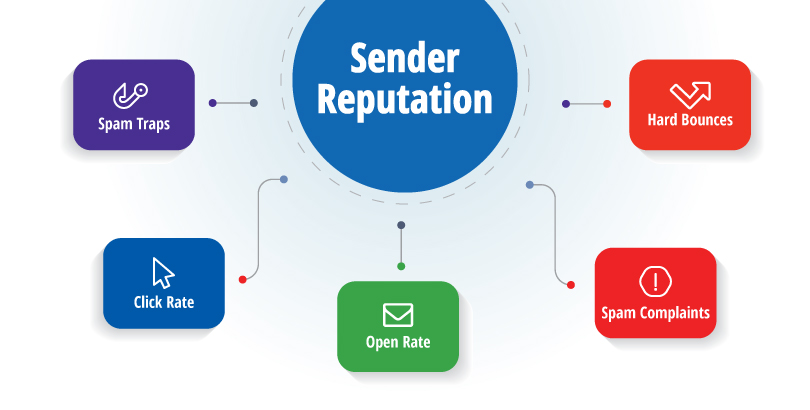 Top-tier ISPs accumulate feedback into the Complaint Feedback Loops or FBLs. This lets you see the recipients who have complained about your sender email.
Getting this data point from AOL, Microsoft, and Yahoo! is easy. In the case of Gmail, only ESPs (email service providers) are permitted to access it.
Gmail users can set a Feedback Loop header that uses an ARF format different from the traditional form of most FBLs.
Since ISP filters are solely maintained to rule out spamming, showing the filters that your IP is trustworthy does the trick. Here, progression is key.
You start your campaigns by sending emails to only addresses you're already connected with. As the messages are received and opened by engaged users, ISPs notice this and trust in your IP strengthens.
Now, expand the number of emails cautiously until you reach your peak volume.
Use Branding in your "from" name
To reduce spam complaints, You can use your brand's name in your "from" line. It can also improve your open rates.
You can use this approach, Use "from [business name]" after the individual name. Increasingly some companies use an individual, to head up their email marketing to give it a more personal feel.
Remember to Warm-up Your IP
How do you warm-up your IP? First, by starting your campaign with low volume, and as you work up the volume, by analyzing open and click-through rates and spam complaints. These data points give an overview of how recipients react to the emails you send them.
Carry out this process before each email campaign as it establishes a positive sender reputation and assists email deliverability. To avoid sending a large number of emails (which result in bounces and opt-outs), adhere to the rules of each email provider to boost deliverability for effective email marketing campaigns.
Well, around 20% of emails never reach their destination, so you have some work to do. Email marketing works wonders, but that's only if those emails are delivered effectually.
Email deliverability depends on multiple factors, but the points mentioned above will surely get it on track and improve it. The key is to be focused on improving your sender reputation and ensuring that ISPs trust your IP.
Email marketing works wonders — but only if you get those emails delivered.
Here's Canadian author David Newman with an email marketing quote: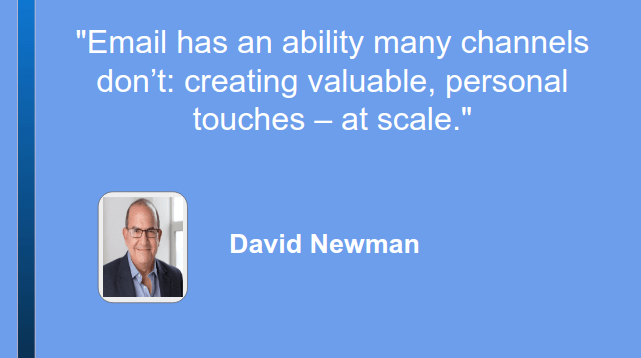 Enjoyed the post? Kindly drop your thoughts in the comment section below. And if you're new to this, let's know the challenges you've faced setting up your email marketing campaign and building your email list.
(Visited 105 times, 1 visits today)