Mailchimp omnivore warning: Have you ever gotten this warning? If YES, how will you solve this!? Don't worry! We have to bring the best way to solve this issue.
Let's cherish the details!
Mailchimp: An All-in-one Marketing Platform 
Mailchimp is a marketing platform that offers a variety of channels for creating the right message for your business.
This platform makes promoting your business easy. Reaching your goals is also quicker than ever due to all tools being in one place.
With Mailchimp, you get the tools to create landing pages, digital ads, social media posts, postcards, automations, and signup forms.
Once you have created your message campaign, you can also use the email tool to reach your audience. 
Choose from a variety of plans. There is a free plan that is particularly useful for small businesses or startups.
There is also the essential, standard, and premium plans, which vary in pricing and features. No matter your business size or type, there is a plan to fit your needs. 
Not only does Mailchimp include all the tools you need for your next marketing campaign, but it also has software built in that keeps wrongdoers from abusing all this tool has to offer.
Mailchimp's Omnivore software sends warnings for when Mailchimp is abuse.
MailChimp Omnivore Warning: Pros and Cons
Receiving the MailChimp omnivore warning can put you behind regarding your latest email campaign. Precious time is lost when you see the warning splashed on your computer screen.
Your overall bounce-back rate reputation can harm due to receiving this warning. Spam complaints begin to overload what you thought was otherwise informational, perfect content. You can even get suspended from using Mailchimp at all. 
Although the Mailchimp omnivore warning can feel like an inconvenient ordeal, it always means to be helpful. It reduces or even prevents spam from reaching certain audiences (for example, the contacts within that audience is not who you are looking for).
It gives you the chance to double-check your information to ensure your campaign is reaching its proper destination.
Overall, the Omnivore warning is like a second chance to prove your campaign's worth and the information you have to share.
Mailchimp's reputation is not regarding for any reason. Utilizing software such as the Omnivore and its warnings guarantees Mailchimp's high-quality reputation.
Pro Tip:
Don't buy email lists
that scattered with bad email addresses. If you send a bad email list through mailchimp, you can get that list suspended.
The Ins and Outs of the Mailchimp Omnivore Warning 
If your business uses Mailchimp as its go-to email marketing software, you may have come upon the Omnivore warning. Mailchimp abuse often occurs through spamming content. 
For example, even if your email is not spam-related, a contact within your Mailchimp contact list can mark your email as spam in their email account (such as Google, Yahoo, or Outlook). 
When this contact marks your email as spam, Mailchimp moves this user from your active audience list to the spam complaints list. When you continue to receive this kind of feedback over and over, Mailchimp will eventually send you a warning that caught through the Omnivore software.
As you create and edit your marketing plan, you may need to revise your email marketing strategy as well. If your audience continues to move you into their spam folders, Mailchimp will also suspect you as a spammer. 
An Omnivore warning can often happen accidentally as well. You may be simply trying to submit your email marketing campaign across your chosen network, but then the dreaded Omnivore warning seems to randomly pop up.
This considers both a hindrance to your work as well as assists you positively in the long run. To decide which of these categories you might be in, it is best first to do all the research regarding the Omnivore warning. 
Ask yourself the following questions: 
Why is this warning popping up now? 
Is this warning necessary? 
How do you fix the issues which caused the warning in the first place? 
Can this warning be proactively prevented in the future? 
By answering these questions, among many others you can think of, you may begin to understand why Mailchimp uses the Omnivore warning and why it is a positive asset. 
What is the Mailchimp Omnivore Warning? 
Mailchimp uses the Omnivore warning to prevent abuse and spammy content. Omnivore is simply an algorithm-based program that filters and prevents spam, blacklisting, malevolent email addresses, and other harmful related content. 
For example, when you upload an audience list into Mailchimp, Omnivore will track each email address to see if it used ever before.
It will also trace email addresses to high bounce or abused rates. If any of these addresses trace as bad, Omnivore will send you a message telling you to fix it. 
Omnivore's algorithm filter works well to predict if particular email addresses are likely to be given spam complaints, hard bounces, or spam traps. 
When Omnivore brings attention to problematic addresses, double-check how you came up with that audience list. Do some additional research before moving forward.
A healthy audience is extremely important when you are trying to build traffic to your marketing campaign. 
This program is supposed to be positive for Mailchimp, but it can also feel problematic at times when you are a new user simply trying to get your work done. 
How does the Omnivore Warning Look Like? 
The Mailchimp Omnivore Warning will be sent to your email address that is tied to your Mailchimp account. You may also view the warning in the Mailchimp SaaS. The warning will come up highlighted in red at the top of the screen. 
The highlighted phrase will say: "There is a problem with sending this campaign. Please check the delivery checklist and try again." In large, bright letters right below the highlight, it will say "Looks like there's a problem" and "Review the feedback below before sending your campaign."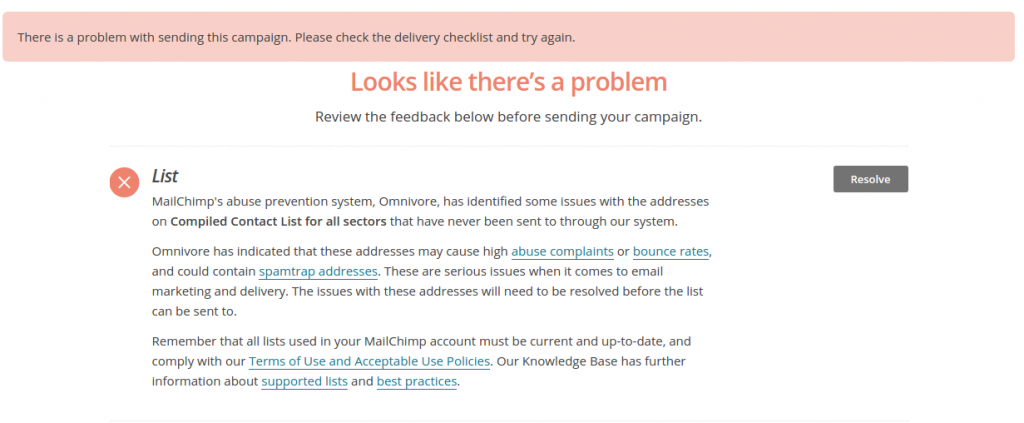 The issues called out in the feedback must be addressed and cleared. The campaign will not send until these issues are resolved. 
A few possible reasons your campaign may not be sending is due to invalid email addresses and possible spam, Specifically, be careful entering in email addresses. If the address is no longer active or you insert a spelling error, Omnivore will catch this.
Your bounce rate caused by multiple incorrect emails can harm your sender reputation. This triggers spam filters. Along with all of the unwanted spam, your campaign will also unfortunately not be sent. These problems need to be fixed and avoided when possible. 
Why is the Omnivore Program Necessary? 
Omnivore is not meant to be a hindrance to its users. Mailchimp uses Omnivore to keep an actively positive reputation. By filtering out spam, malicious and invalid emails, and other possibly harmful information, this creates a positive standing for Mailchimp and its users. 
Do not ignore the warnings that you are marking you as spam. Instead, rethink your campaign strategy. Start small and you will begin to notice less mail marked as spam.
Your message will begin to reach a larger percentage of its destination. Your exceptionally informed and creative marketing content strategy for your email campaigns will begin to take shape thanks to Omnivore. 
How do you Fix a Mailchimp Omnivore Warning? 
If you receive an Omnivore warning, there are ways to fix it. 
First, take heed of these warnings. There is a red highlighted description at the top of the page explaining why your imported information was flagged for a reason. 
Before you can move forward with your campaign, correct any errors. You may need to delete a previously imported email list. Comb through this list and rid of any stale emails (emails that are no longer in use). Double-check spelling and email formatting. Brainstorm a new approach that may work better. Your audience will be the life of your business or the end of it. Tailor your strategy to your audience rather than trying some new flashy marketing scheme. 
Next, double-check your work, and maybe even triple check it as well. Download add-ons that may make your work easier when combing through the details. Make sure the information you provide to Mailchimp is of high-value. If it is not, Omnivore will likely catch it. 
Lastly, download your carefully revised information into Mailchimp. You should be well on your way to completing quality work and reaching your ideal audience. 
What are the Top 3 Ways the Mailchimp Omnivore Warning can be Prevented?
The good news is that you can prevent the Omnivore warning. All humans make mistakes, so this program is helpful when catching an issue not caught by the human eye. 
1) Pay special attention to detail
Avoid errors by proofreading your email addresses and other sensitive information. Although it may seem tedious, ensuring the information is entered correctly will be helpful in the long run.
Overall, this prevents bounce-back rates and will keep your sending reputation in good standing. If you do this correctly the first time, you will also save precious time combing through longs lists of emails later. 
2) Update your email sending list regularly 
Sending your email campaigns to invalid or old email addresses can harm your bounce-back rates. When your emails are bounced back often enough, your sending reputation suffers. This shows as possible evidence that you are attempting to spam. Everyone prefers to ensure that your email addresses are current, no one wants to accuse as a spammer.
You must send campaigns to active audiences to receive helpful feedback. When you send to incorrect addresses, all you are doing is causing suspicion and wasting your hard work on emails that do not exist. 
3) Invest in an email validation service 
Do you not have time to proof every single email? Are there so many old emails with the new ones within your account that you've lost track? If your answer is yes to either of these questions, an email verification service may be the way to go.
There are free services and paid versions depending on your business size and how much information you might need to sort through. With an email validation service, you will no longer have to count on the human eye to catch errors. 
An email validation program will sift through "bad" emails and verify your good ones. What consists of a "bad" email? There are several instances of low-quality emails in which an email validation service may find unacceptable or invalid information and will alert you. 
Email addresses with jumbled letters, numbers, and symbols (Example: asdf1234jkl;#@email.com) 
Incorrect email formatting (Example: @john_smith.email.com) 
Invalid or stale email addresses that have been sent through Mailchimp before 
Pro Tip:
Email validation
service is the fastest and most reliable way to eliminate most of the omnivore warning triggers.
Conclusion: Mailchimp's Omnivore Warning is a Positive Support Software 
Overall, the Omnivore warning will continue to exist on Mailchimp's site due to its supportive functions. 
Omnivore checks all emails your input. You can try your best to avoid improper email usage, or Omnivore will catch it for you. 
Misspellings, incorrect formats, and stale addresses will not get through thanks to Omnivore's help. 
Dodge unwanted spam complaints, hard bounces, and spam traps by utilizing Omnivore's warnings and comments regarding the information you input. 
Avoid low-quality email content which Omnivore will call out. Bring your best foot forward when it comes to your strategies, plans, and goals. 
Re-evaluate your campaign plan with the feedback you receive from Omnivore. For example, consider the percentage of contacts who have marked your content as spam. 
Mailchimp protects its loyal users by utilizing the Omnivore warning. Marketing strategies that are helpful to your campaign and audience will not go unnoticed. 
No longer worry about suspension from Mailchimp as long as you are inputting the correct information. Only the spammers need to worry about that dread warning popping up. 
Final Word
Mailchimp's software is one of a kind tool that has all your needed marketing content in one place. Not only does the Mailchimp software offers an exceptional service within a wide range of prices and features for all, but it protects its users as well. 
Mailchimp's reputation is partly due to Omnivore's careful sorting through content. Omnivore's warnings for both its users and for Mailchimp are useful in several ways.
It filters out the spam, unnecessary information, and even misspellings. It also keeps out any malicious intent that often bombards emails and the internet in general.
With Omnivore, Mailchimp is a safe place to practice creative and informative marketing. Here is a famous quote by Matt Blumberg: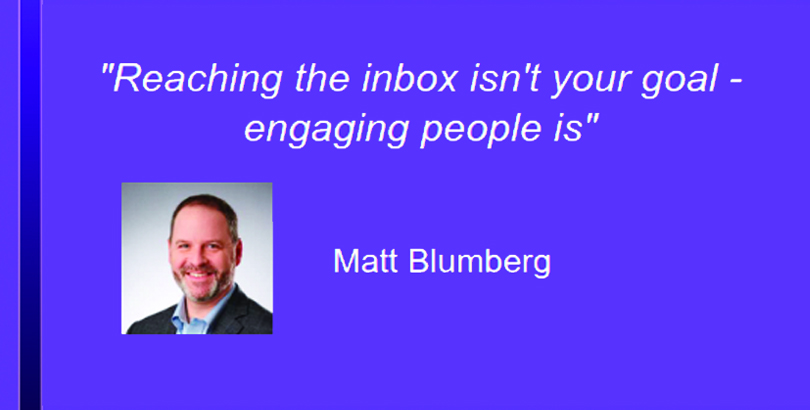 Have you ever get a Mailchimp omnivore warning? We would love to hear about your experience. Please comment below.
(Visited 1,664 times, 1 visits today)