Disposable email: It is also known as temp-mail, fake-email, 10minutemail, throwaway email, or trash-mail. Let's cherish the details:
(1) What is a Disposable Email Address?
As the name defines it as an email address that is disposable or temporary emails that may get invalid after a certain period, so it's called a throwaway or disposable email.
Many of the services or businesses require an email address during signup. Suppose that service is hacked, and now they are sending lots of spam emails to the primary account, which is used in signup. It can be a headache for anyone to clear the spam out of their personal or business account for the entire day. To avoid this issue, people are getting smart and started using DEA. Moreover, it is free to use. Now, you should have known why the DEA is tempting consumers to use.
If you think on behalf of a consumer, it is good for them, but how can it negatively affect the company that needs a good, active, and healthy email list.
(2) How Disposable Email Address harm Your Email Marketing?
No matter which forms the DEA is, it will eventually harm the company's email marketing campaign. It's clear that disposable emails are quite risky emails that should be avoided on your list. The following points are the potential damages they can make on your business.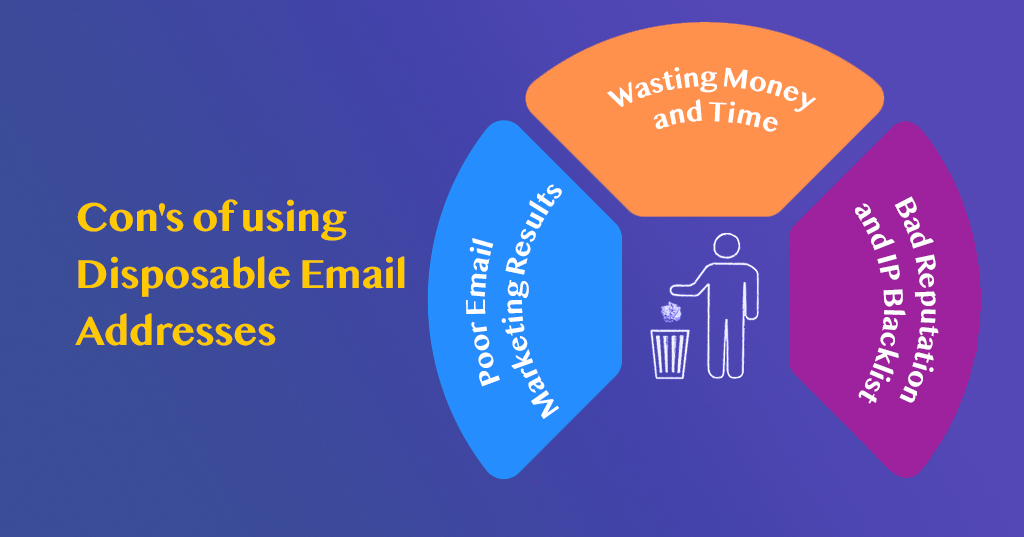 Poor Email Marketing Results
Want to promote your product/service? Then it's necessary to send emails to your recipients' inbox.  Marketing strategy only works if you get more open rates. But are you sure that your emails will be opened or read?
No matter how many email subscribers you have in your list, you will not be reaching out to all of them due to the use of DEA. This will result in very low open rates and be considered as a poor marketing result.
Wasting Money and Time
Bringing up an email campaign indeed requires time and money, but after that, sending marketing emails on disposable email addresses won't allow any positive outcome. So, it's a waste of effort that you added to your campaign.
Email Marketing pricing plans are based on the total number of active subscribers you have. But when you have an excessive list of risk email addresses, you may face a less amount of ROI ( Return of Investment ), 
Bad reputation and IP Blacklist
In case your email list contains any disposable email address, there might be a chance that these emails don't exist while you run a marketing campaign. This will lead to bounce back emails as emails are not in use at the same time. Increasing the bounce rate is never good for any email marketing and can affect your sender reputation and further cause an IP blacklist.
(3) How to Identify a Disposable Email Address?
You know why a Disposable Email Address is used, but how would you know that the email address you are receiving is Disposable or Valid?
Disallowing DEA  domain During signup is not possible.
Refusing the DEA domain while user signup is not possible. As an organization, you always allow a visitor to be a subscriber and become part of an organization just by signing up.
It is good that you have a large number of visitors who are getting converted into subscribers just by signing up on your website.
But at the same time, it's not easy to recognize that all of the subscribers are valid. You got a massive list of Email Addresses over there, but there is some amount of Disposable Email Addresses in your list.
(4) How can MEV Help to Get Rid of Disposable Email Addresses?
Disposable Email Address has always served a risk for every marketing campaign. Low open rates and high Bounce Rate are the complications that have been faced by every Email Marketer.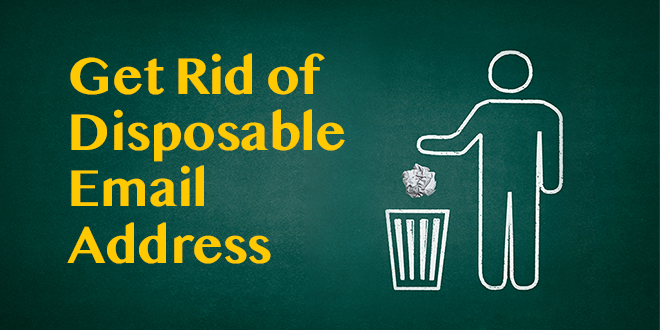 MyEmailVerifier – The email verification service is a very effective and helpful email validation service against disposable email addresses.
This service will recognize DEA and provide you a clean and verified email list. These email verifier will find such domains that host as DEA and separate them from your email list. 
Yahoo invalid email accounts are causing a higher bounce rate recently. MyEmailVerifier provides extra caution against Yahoo and separates the invalid Yahoo email accounts from your list to ensure you have a clean email list.
MyEmailVerifier provides you with 1000 email addresses verified within 5 minutes with 99% of accurate results with different categories that include valid email address list, catch-all, greylisted, invalid, role-based, Spam Trap, Toxic domain.
With all these advantages and additional features are provided with affordable and low-cost pricing.
Bottom Line 
DEA causes issues with your email list as we discussed above. You need to ensure that your marketing campaign doesn't contain such email addresses. Identifying and separating those emails using email verification lets you avoid these issues and provide better marketing results and high ROI.
(Visited 648 times, 1 visits today)