Is Your B2B Email List Still Good? COVID-19 is spreading rapidly and has affected many people globally. The CoronaVirus outbreak is a tragedy not only for the human lifestyle but also for world business. It is impacting millions of jobs and making many of the people unemployed. 
CoronaVirus is one of the biggest pandemics in history. It's hard to predict the effects of COVID-19 on a B2B email list. This pandemic has forced many organizations to shut-down, and Service-based B2B companies are now closed for a temporary period.
In this pandemic coronavirus effect, but here, we're detecting, does your B2B email list still valid and safe to use?
Certainly, there's much to find out!
The Pandemic' s(COVID-19) Effects: Is Your B2B Email List Still Good?  
Many folks are confused regarding whether the B2B email list is outdated, or it has sustained the pandemic hammer successfully? Here's what our experts' lengthy research says:
Why is your B2B email list outdated?
The main reason for your B2B email list getting outdated is the rise of unemployment due to pandemic. The employer email accounts are getting disabled. If you send emails to those ids, you will face a hard bounce.
With COVID – 19 effect emails you have in your database have a high potential to be invalid, whether it is a personal email, Hotmail, Gmail, etc. 
Currently, the U.S is facing the most massive unemployment rate globally. James Bullard, a federal reserve bank's president at St. Louis, predicts the U.S. will observe employment reductions of more than 46 million jobs for 2020 during this COVID- 19 crisis. 
The below statistics clearly explains the increase of the unemployment they're facing like never before.
5 million people were in search of jobs in Feb.
Initially, 3.3 million people recorded joblessness at the end of March 21 week when the record was exhausted for the week finishing on March 28, which shows
There is an increase in 16% of unemployment, which brings to 9 million in May.
20 million Americans lost their jobs in April, and that's insane!
According to Statista, the highest unemployment in the U.S history is 32.1% in 2020.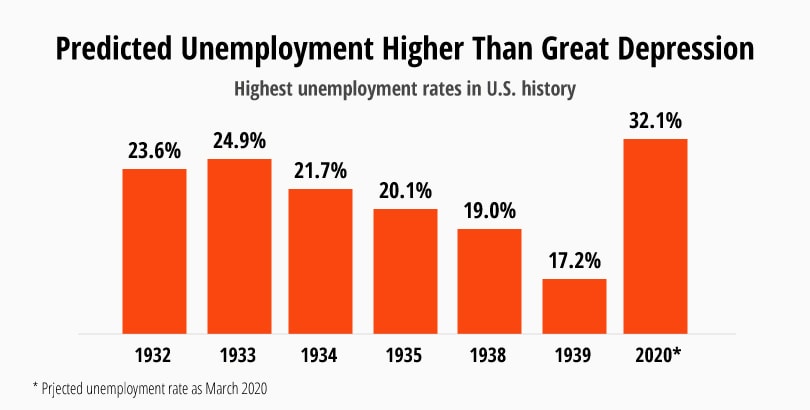 As shown in the above graph, you can see the unemployment rate in 1932 was 23.6%, and in 2020 it becomes 32.1%. That means almost 8.5% unemployment rate gets increased.
Now, you can assume how quickly your email list goes terrible in this COVID-19 effect. 
Why does your B2B email list go bad?
According to Marketing Sherpa research, B2B data decays at a rate of 2.1% every month. That certainly means 22.5% of your B2B email list becomes outworn every year.
The reason behind this is:
People abandon their email address and switch to other providers.
Employees are losing or leaving their jobs, and email accounts have become disabled.
Businesses are shutting down, and employee email became inactive.
All the dormant emails become Spam traps.
Invalid or dead domains are present.
If you have these kinds of email addresses in your database and you start sending emails to those email ids, you will get a high bounce rate. It will affect your email deliverability rate.
Overall, this can impact on your email marketing campaign success. Therefore, to overcome this issue, you need to maintain your email list hygiene or deal with all the invalid and dead contacts.
How to deal with invalid contacts or dead emails?
It's necessary to clean up your email list regularly that helps you to remove all invalid or unsafe email accounts from your email list. 
The solution to this issue is to use an email verification service, and that highly works. Our service helps you to separate the valid and invalid email addresses. Apart from them, it weeds out all the other junk or risky email addresses from your database.
Furthermore…
By using this service, you can be sure that your email won't bounce. Ultimately, this will help you to prevent bounce emails and improve your email deliverability. MyEmailVerifer verifies your email lists with 98% accuracy. In different categories, it will take care of:
Greylisted: When the server doesn't respond in the first attempt due to some reasons, the system can't verify valid or invalid email addresses. It is advisable to retry after 5-10 hours to get email addresses' verification.
Disposable emails: These types of email addresses are temporary emails. Our email verifier helps you to remove all the temporary emails from your database.
Invalid: These types of emails are not real or active, and you can't send emails to invalid email addresses. For invalid defined results, possibilities are like unknown users, invalid syntax, or disable users. 
Role-based: These kinds of email addresses don't associate with any person but with the groups, company, or department. Email addresses like sales@, hr@, info@ are known as Role-based email addresses. Our email verification service detects these types of email addresses and gives you TRUE results for role-based.
Spam Trap: If you have a spam trap on your list. Our email verification service helps you to identify them. These will help you to maintain your email list hygiene.
Toxic Domain: Our service helps you to identify abuse or bot created email addresses from your list.
All these advanced features are providing with low-cost pricing. Use Email verification service and reach your real or more customers. By using this service, you can be pretty sure that your email list is good to go.
The Conclusion
During this COVID-19 impact, it's mandatory to maintain a social distance to be safe. So, your B2B email list will help you to reach your customers and provide them with all the details concerning your business or service.
With this pandemic's effect, it's vital to email only relevant or real people. Send your emails to only those who have an interest or want to engage with you for a longer period during the pandemic crises.
Certainly, if you want to maintain email list hygiene, follow proper email marketing strategies, and that supports your business's growth, and pandemic crises won't bring any effects.  
(Visited 312 times, 1 visits today)