Are you searching for how to build an email list? Don't hesitate! We'll explain to you different ways that will help you out. Email list building is a crucial marketing strategy for your business!
There are many reasons to grow your email list in 2020. Not only have many businesses seen impressive ROI with email marketing, but 93% of B2B marketers also say they distribute content over email. 
This article is here to explain the top list-building strategies. So, you can achieve a high-return email list this 2020.
The challenges of list-building
Want to reach new and existing customers? There's no better way than with an email list. In 2019, statistics showed that over half of the world's population uses email. 
They are making it one of the most fertile areas for marketing. Many digital marketers are aware of the great benefits of email marketing, so often rush to compile their list. 
However, they quickly realize it is harder to work than they first thought. It can also become hard to build a list that keeps up with your business' growth. 
Yet, following our list building techniques, you can develop a list that is not only fruitful but grows organically alongside your business. 
Whether you're an email marketing beginner or more of a pro, we've compiled tips for businesses at every stage.
How to get subscribers for your mailing list?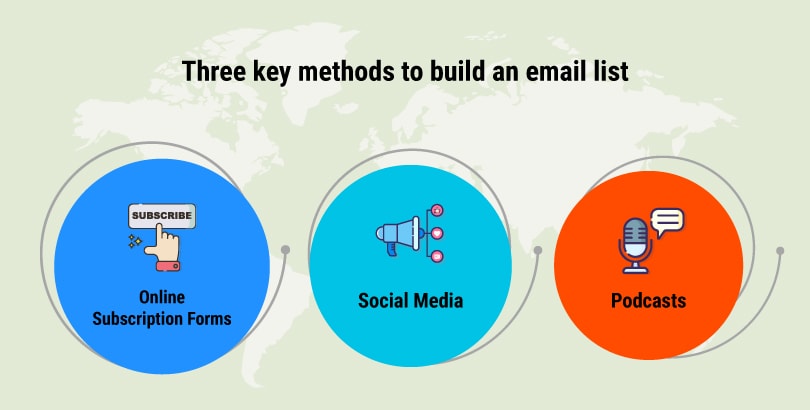 In this article, we'll cover three key methods for how to build an email list, including 
1. Online subscription forms 
2. Social Media
3. Podcasts
We'll cover what exactly each method entails, the pros and cons, and plenty of tips and tricks!
1. Online subscription forms
All about online subscription forms
If you've spent any time on the web at all, you'll have encountered an online subscription form. Hey, you might have even used one yourself. 
You will be browsing a website, and a pop-up appears asking if you'd like to sign up for their mailing list. 
But how effective are these online subscription forms? And what format should yours take? 
The types of online subscription form include: 
Welcome mats
This is the style of form that appears as a massive pop-up when you first visit the site.
It looks similar to a landing page and will usually spread across much of the screen. Typically a welcome mat will provide some sort of welcome offer that you can receive by signing up. 
Users can easily X out or scroll away if they're not interested. If your business is a blog or software services, this is an option commonly used in your industry. 
Pro: They're hard to ignore. 
Con: It could overwhelm and put off potential customers.
Scroll pop-up
A scroll pop-up will only appear to visitors on your site when they have scrolled to the bottom of your page. 
This usually means you are targeting the more interesting visitors, as they have read to the very bottom of a blog-post or web-page. 
It is a great way to target engaged visitors and invite them to subscribe to hear more from you. If they enjoyed what they just read, there's a good chance they may want to hear more. 
This fulfills an incredibly fertile opportunity window. You can also set this type of pop-up to appear when a user has spent a certain length of time on your page. 
Pros: Target engaged users. 
Cons: You have to create content interesting enough to get visitors interested in the first place.
Exit-intent pop-up
This is a pop-up designed to catch those customers that are a little more fleeting. It will bring back customers who almost left your site completely, never to be seen again! 
There are a variety of tools on the web, such as OptinMonster and Sumo, that help design a successful exit-intent pop-up.
Pros: Direct existing customers back to your business. 
Cons: You only have milliseconds to reach these customers.
Floating lines
Another common sign-up tool seen on e-commerce sites, blogs, and more. This is simply a bar that appears at the top or bottom of your website, grabbing the user's attention with a CTA and an email subscription. 
This is a great option if you have a welcome offer to provide new subscribers. 
Pros: Less annoying and disturbing than pop-ups. 
Cons: It could be a distraction for readers.
Our recommendations
The online sign-up tool you use will ultimately depend on the type of business and web-page you run. 
Consider the pros and cons of each and decide – which best suits your needs? A floating line is a fail-safe for almost any business, but a scrolling pop-up is ideal for reaching your most engaged visitors.
2. Social Media
Why use social media to build an email list?
Social media marketing is an entirely separate nut to crack from email marketing; however, using social media to list-build is wise. 
It helps bring audiences from across your marketing channels into one place – email! After all, email marketing can be far more budget-friendly than social media marketing. 
How to build an email list through Social media?
1. Facebook
If you're a customer-facing business, Facebook can be an invaluable tool for list-building. 
Facebook is growing in users every day, with an ever-broadening demographic. If your business already had a Facebook page, add a CTA that encourages followers to sign up to your list. 
Add a sign-up CTA to your Facebook posts, reminding followers that they can hear more from you – even more effective if you promote the post. 
You could also run a contest via Facebook that requires entrants to sign up. These are all valuable ways to fish for new leads. 
Pros: A wide range of leads available to reach and plenty of ways to reach them. 
Cons: It helps to have a pre-established Facebook page.
2. Twitter
The first thing you can do is use your Twitter bio to drive traffic to your subscription landing page. 
You can also, as with Facebook, add a subscription link to your tweets along with a compelling CTA. 
If you are sharing an article you featured, add something like "Get more articles like this direct to your inbox." 
Pros: Access to an audience interested in what you post. 
Cons: A more niche audience and layout means they may not always follow the link.
3. Instagram
Being a fashion blogger or a brand selling items that look great in stylish photographs, Instagram could be a great place to list-build. 
The first thing to do is add your subscription link to your bio. You could instead use your bio link to add an account, allowing your followers to access a hub of links to your products, pages, and subscription page. 
Instagram stories are another great channel for reaching engaged users. Utilize the "swipe up" feature in your stories with a CTA, directing your users straight to your online subscription form. 
Pros: Lots of great features for reaching new and existing customers.
Cons: Only one link allowed in bio.
4. Linked-in
It is especially helpful for freelancers and B2B companies, as it allows you to be seen by others in your industry. 
Linkedin does not allow you to link to your subscription page directly from your profile. However, you can post your most compelling content to Linkedin with a CTA to subscribe. You can also promote your email list to Linkedin Groups. 
Pros: Access to others within your industry. 
Cons: Cannot link directly from your profile.
Our recommendations
Facebook is a great option for all businesses to invest time and effort into, due to the massive audience it can bring. 
For publishers, Twitter is a must and will be a great place for leads. Instagram has become increasingly flexible, but still only worthwhile for more visual businesses. 
LinkedIn is great for being part of the conversation within your industry.
3. Podcasts
What is podcasting?
Podcasts have been around since the 00's, but recent years have seen them find a renewed popularity that is growing each and every day. 
If you don't like blogging, podcasting could be a great way to provide your audience with regular content.
Do blog, a podcast can still be useful as it opens up a new way for your audience to digest your content. 
For instance, many choose to listen to podcasts on their way to work – a period of time that they can't read blogs.
What to podcast about?
Use podcasts to deliver a lot of the same information that you would do in a blog. Such as tips on using your services or navigating your industry. 
Or a case study relevant to your business. You could also use your podcast for interviewing other experts in your industry.
Podcast platforms
Top podcast platforms include 
Apple podcasts 
Spotify 
iHeart 
Stotcher 
Deezer 
RSS 
TuneIn 
But it is also a great idea to consider sending your podcast to your existing email list via a link in your newsletter.
How to build an email list with a podcast?
Firstly, when you send your podcast to those already in your list, it could help re-target existing subscribers. 
Furthermore, you can post your podcast promo across your marketing channels along with a CTA to subscribe. 
Your podcast listeners should also be given a chance to subscribe to your list so that they know when you've uploaded a new one. 
Pros: Not only helps reach new customers interested in your podcast topics but helps connect with existing customers too. 
Cons: It takes a little extra time and resources.
Conclusion
We have highlighted three key ways to build your email list in 2020. These methods make the most of the most popular and consistent tools; however, there are so many more methods out there. 
Meaning, there is no excuse not to grow a healthy and fruitful mailing list with good ROI in 2020. 
(Visited 313 times, 1 visits today)