An Ultimate Email Extractor tool is used to collect more emails. It sorts all the email addresses faster and helps to get the desired emails within a few moments.
However, an Online Email Extractor will extract a particular list of emails more quickly.
This kind of tool can be used to acquire email addresses from the web or through an offline source.
With this tool, the user can assemble an extensive list of email addresses in a short period of time.
In this topic, we will discuss the email extraction and many of its advantages.
Now, Let's see how we can use it better and start our discussion on email extractors with what it is.
What is an Email Extractor?
Online Email Extractor is a free, all-in-one tool that will help you to find email addresses hidden in the content.
It is a powerful service designed to extract email addresses from sources like local files, websites, search engines, etc. 
It is an excellent tool for creating your customer contact list using your mailbox.
Because every email campaign requires so many email addresses, you can say this is a suitable tool.
It is impossible to extract the email addresses manually. Therefore, this tool is perfect for List Grabber.
How Does Email Extractor Work?
It's an amazing engine that will quickly extract emails from sites and top search engines like Google, Bing, and Yahoo.
It will automatically remove duplicate emails. Because this tool can be easily supplemented to your mailing list with thousands of email addresses. It will eliminate hours of tedious work.
Additionally, the programing features make Ultimate Email Extractor the fastest email harvester. It utilizes little of your computer's resources to run smoothly in the background.
Why do we need an Email Extractor?
With an online email extractor, you can extract emails from your text, websites, and even search engines.
It is a must if you are dealing with internet marketing. It's obvious the more people you contact, the more potential customers, and the more sales you'll have.
This tool will help you to gather more email addresses in the easiest way.
With an ultimate email extractor, you'll double or triple your contact lists and increase your sales. It looks like a great opportunity that can you grab.
By this, you will be able to double or triple your contact lists and increase your sales and your email address directories.
It looks like a great opportunity that you can grab.
Pro Tip: Make your email list clean through best
email validator
, Try our cheapest bulk
Email Verification
How do I get started with the tool?
It is very easy to get started. Simply copy the text on the given box and click on the Extract Now button. You'll get results in a few seconds.
All you need to get results is to enter a valid URL or type several keywords in the search bar.
Email search starts in a matter of seconds – that is all. Now, get extracting.
Use of Ultimate Email Extractors
It pulls emails from the Internet and other offline sources, like websites that contain email addresses, within a few seconds. Usually, it will take hours to days to find a couple of them.
This software is capable of searching for emails within minutes. Other email extractors have different strengths.
An employer can also make use of this software to find email addresses. So, they can use those emails to send any information or updates regarding their products or service.
The software can reach potential buyers/customers. The user doesn't put much effort into getting potential buyers. What a time saver!
In other words, several things can be done with an email extractor to help your business succeed. 
Why should Businesses own this tool?
Online email extractors are critical in today's businesses. If you are planning to advertise your product or services through email marketing, then you will require an Email Address Tester.
Creating an email list generator of addresses may be difficult to accomplish manually. However, with the use of this tool, you can achieve that in a matter of minutes.
Therefore, this software helps you to make collect more email addresses and increase your email database.
In summary, it makes things much easier for businesses and users.
Good Speed
You can extract email addresses from millions of websites with this tool. Because a suitable email extractor should be capable of obtaining bulk emails finder in the shortest time, you would not want to use one that will keep you waiting for hours.
Therefore, when you are looking for an email extractor, no matter the purpose, you should consider the speed at which it completes the scan. Do not waste your money on one that will keep you waiting for long.
User-Friendly
When you are searching for an ultimate email extractor, consider the ease-of-use. When you use an ultimate email extractor, you don't need any person to instruct you on how to use it.
The instruction guidelines provided in the user manual should be enough to get you started.
MyEmailVerifier Free Online Email Extractor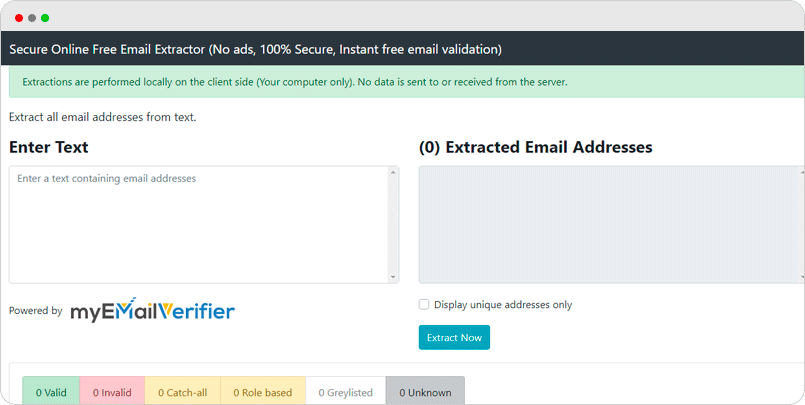 MyEmailVerifier provides Secure Online Free Email Extractor (No ads, 100% Secure, Instant free email validation).
No data communicate with a server. Your computer handles the extraction locally.
This tool extracts all email addresses from text. By using this extractor, you can directly check email address validation.
You can also do bulk email verification. Rather than making it manually, which is time-consuming and painful, try our free Email Extractor tool. 
Our highly secure Free Email Extractor tool lets you easily and quickly extract email addresses. Paste your text in the box, and the robot will automatically detect and remove all the emails from the text.
After the extraction of emails, you can copy the list to the clipboard. This tool is extremely useful while running email-marketing campaigns.
Here are the simple steps on how our Online Email Extractor works:
Step 1: Copy the entire text in the given box(Enter Text) and then click on "Extract Now."

Step 2: When you click on Extract Now, you will get your results immediately. It's work as simple as that.

You can find so many Ultimate Email Extractors on the web, so why our tool better?
Totally Free, with No-limitation (We display all the email addresses, not only first ones.)
Highly Secure: We DO NOT store any email addresses. Many other tools save emails for spamming them. We never save any email addresses, not in a database, not in a file on a server, nor anywhere else!
Very Powerful: With our highly accurate filter, Ultimate Email Extractor will extract 99.9% of the emails included in a text file. 
Online: You do not need to install or update anything. You only need to paste and click.
Extremely Fast: It is a high-speed tool. The extraction of all email addresses takes only a few seconds.
You can also verify your email addresses through our online email extractor.
Our Ultimate Email Extractor Tool is very easy to use. If you want to request any new features, Contact Us, and we will do our best to make them.
(Visited 1,680 times, 1 visits today)